Supergroups. The Raging Genius of Josh Homme
What happens when geniuses collide?
meetmeatseven
Ultimate Guitar
Posted Jul 15, 2017 12:14 PM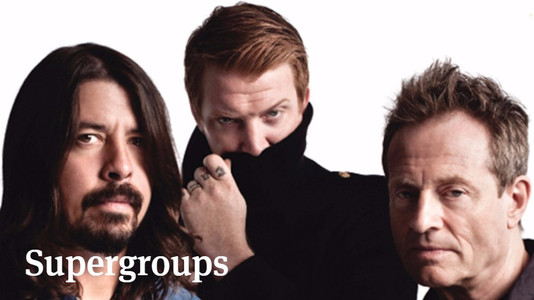 Let's face it — we all like it when musicians of some particular genre who got successes before, come together to make a great and powerful record (or maybe several). Big artists', exotic band's names and long-lasting months of waiting for the album. Sounds familiar, right? There are so many supergroups now, that you can easily get lost in the titles. And the amount of them is constantly growing. Maybe it's caused by the increasing number of excellent musicians who hit their 40's and 50's and want to try something new and fresh in their careers. But is any supergroup a definite success? In that piece, I'm going to talk about some good examples of them.
In the early 2005 rumors about one untitled supergroup began to spread across the internet. Originally it was Dave Grohl's idea to join forces with two legends — Josh Homme (from Queens Of The Stone Age) and John Paul Jones, a former bassist of Led Zeppelin. At first, Homme liked the idea, but no specific steps were taken to make it real. Until January of 2009, when Grohl celebrated his 40-th jubilee and introduced Josh to John at his birthday party. Next month newly formed trio immediately hit the Pink Duck Studio owned by Homme and recorded the material from February until July. The band chose to be named Them Crooked Vultures. They released a self-titled debut that was an incredible mix of good-old hard rock with a slight touch of Homme's classic stoner-flavor. Critics acclaimed their album as "one of the best rock albums of the past several years," and they deserved it. In addition to that just a few weeks ago in a short promotion-interview of his upcoming QOTSA record, "Villians," Homme mentioned that maybe he would try to resurrect Them Crooked Vultures for another record in the coming years.
Another example of a good supergroup is (oh God yeah) also connected with Josh Homme. In late 2015 he made another one but didn't give it a name in order to pay respect for the life and work of a genius (and actually a pretty wise old man) Iggy Pop. The title was simple — Iggy Pop. Just like it's one of his regular solo albums. But if we'll go into the details — we can easily appreciate their one and only "Post-Pop Depression" as a supergroup album. Matt Helders from the Arctic Monkeys, who keep on making one good album after another, on drums, Dean Fertita (also a very talented musician from QOTSA), Homme and Pop. Fertita, Homme, and Helders were not just a backing squad for Iggy's raging punk. As they say, they made the album together, and the contribution of each member of the team to the record is incredible. Anyone who knows Iggy's and Josh's works and has heard the album can definitely say that it's true. They came out of the studio with a fantastic mix of Homme's typical riffs and melodies plus Iggy's late-years' melancholic mood. And the name of the album perfectly expresses what they were going through after the sessions in Pink Duck and Rancho De La Luna studios (both belonged to Josh). The guys even have a documentary entitled "American Valhalla" coming out this summer.
Judging by my previous words, the universe of supergroups is circulating around Josh Homme but that's not true. In 2010 Cedric Bixler-Zavala, mainly known for his works in The Mars Volta and the recently brought back in action At The Drive-In, made a psychedelic rock band with elements of folk-music and progressive rock called Anywhere. Now they have two records and a few singles, and that's an entirely surreal experience. Why did I use the term "supergroup"? During their career, the line-up has changed a few times. But it included former The Stooges drummer and even Nirvana's Krist Novoselic. In case you didn't know about Anywhere — give it a try, it's worth listening to.
I'm going to continue the list of successful supergroups in my next articles. There are also questions that remained unanswered — who were the pioneers of supergroups? Were there any all-star bands that released questionable records? I'm eager to share some stories on the matter in the coming weeks.