That Time When Jimi Hendrix Was Fired by Little Richard
Never give up! Jimi didn't.
Maria_Pro
Ultimate Guitar
Posted Aug 01, 2017 02:24 PM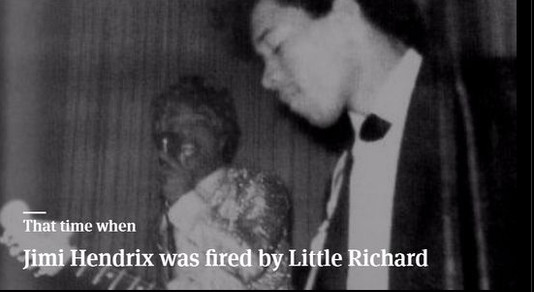 According to Jimi's younger brother, Leon, Hendrix initially encountered Richard in their hometown of Seattle when he was 12.
'Me and Jimi met Little Richard in 1959 because his mom and sister lived in Seattle. I took a bunch of greens over to a neighbor's house, Mrs. Penniman, saw this black limo and Little Richard. I ran home to get Jimi, we rode bikes up there and sat there in awe at him preaching at the Goodwill Baptist Church.'
In 1961, Hendrix was given a choice between two years in jail or joining the Army after a run in with the law for riding in stolen cars. He decided to join the Army and that same year he was assigned to the 101st Airborne Division. He didn't stay there for long though.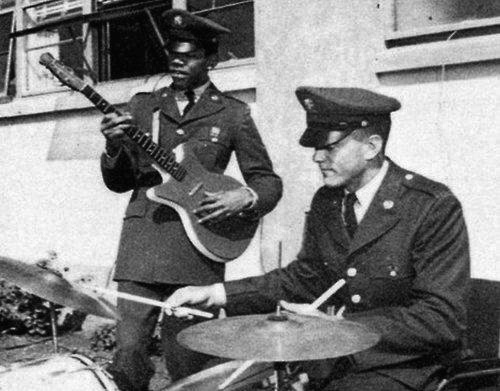 Just one year later, Hendrix was discharged for 'behavior problems, required excessive supervision while on duty, little regard for regulations, apprehended masturbating in platoon area while supposed to be detail.' Hendrix might not have been a great fit in the U.S. Army, but the

military's loss was rock music's gain.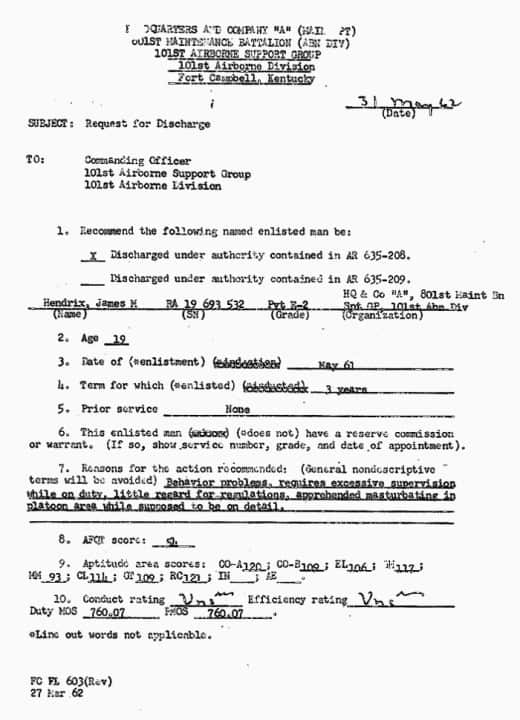 After the army, he earned his living as a traveling musician on the Chitlin' Circuit.

The Chitlin' Circuit was the collective name given to performance venues throughout the eastern, southern, and upper Midwest areas of the United States that were safe and acceptable for African American musicians, comedians, and other entertainers to perform in during the era of racial segregation in the United States (from at least the early 19th century through the 1960s). Hendrix backed such stars as Wilson Pickett and Sam Cooke, and played with his own band the King Casuals, successfully trying to win an audience with his famous stunts such as playing solos with his teeth and behind his head. His bandmates and employers were often irritated with his bombastic behavior. Hendrix was not a very good 'team player,' all he wanted was to do his own thing. After a few years on the circuit, young Hendrix decided to move to Harlem and try to make it on his own. He still had to work as a sideman for the Isley Brothers, Buddy and Stacy, Junior Walker & the All Stars, Ike And Tina Turner, etc. In the video below you can see Hendrix, grooving behind the vocal duo to the right from the drummer.
By the time Jimi Hendrix had joined Little Richard's backup band, the Upsetters, he knew his role as a sideman, but his flamboyance was still evident and has caused multiple clashes with Richard. His biographers state that it was between 1964 and 1965 when he was touring with Little Richard. They even have two songs recorded together: 'I Don't Know What You've Got (But It's Got Me),' and 'Dancing All Around the World.'
Long story short, Jimi was fired from Richard's band as well. Richard felt nothing should distract attention away from his star power and so Jimi shredded the role of back-line guitarist. He was born for the spotlight, and he knew it from the very beginning.
Richard's brother, Robert Penniman, later claimed that Hendrix was fired because 'he was always late for the bus and flirting with all the girls and stuff like that.'
If you ever come across a record called 'Friends from the Beginning. Little Richard and Jimi Hendrix,' know that contrary to the title, Jimi Hendrix did not contribute anything to the album. Little Richard's involvement in some of the songs has also been questioned.
AllMusic critic Joe Vilione describes the album as 'totally bogus' and adds:
'Fraudulent recordings like 'Friends from the Beginning' serve no purpose but to confuse the public and harm the reputations of the artists whose names appear on these travesties. It is a deception.'