The Beginners Guide to Gypsy Punk
A peaceful riot of the Romani people.
Maria_Pro
Ultimate Guitar
Posted Jun 26, 2017 08:08 AM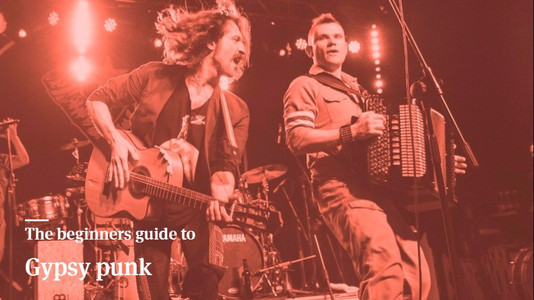 Since their migrations from their original homeland in India, the Romani have been so spread out that they 'lack a homeland'. Feeling as the permanent outsiders, they didn't have a choice other than to infiltrate into the music industry to declare their existence to the word.
The punk movement became identified in mass culture as the definitive statement of the annihilation of musical and societal norms. Gypsy punk is a mixture of traditional Romani music, popular western culture, and a flavourful melodic riot. It is music for dispossessed, misunderstood, angry and bitter, yet passionate and joyous people.
One of the first rock groups to incorporate elements of punk and Gypsy music was Motherhead Bug. The band was founded in 1989 and was active mostly in the early 1990s. The group featured three drummers, string and horn sections with accordions, xylophones and other unusual instruments featured prominently. Motherhead Bug released only two singles and one full-length album 'Zambodia' (1993), recorded by Brooklyn-based producer Martin Bisi. The project was abandoned after the release of 'Zambodia' due to the inability to manage so many band members.
A broader audience became aware of the genre after the band Gogol Bordello released the album 'Gypsy Punks: Underdog World Strike.' The American Gypsy punk band from the Lower East Side of Manhattan formed in 1999. The band has toured tirelessly throughout Europe and America. They have made numerous appearances at international festivals and have toured with such diverse bands as Primus, Flogging Molly, and Cake.
Alamaailman Vasarat (Eng. 'the Hammers of the Underworld') is an avant-garde Finnish band formed in 1997. Their music is influenced by Klezmer and other forms of European folk music, including gypsy punk.
Baildsais a band from Thessaloniki, Greece. Founded in 2007, the band performs gypsy punk, reggae, and ska together with Balkan elements.
Blackbird Raum is a folk punk band from Santa Cruz, USA. The band was formed in 2004 and is well known for their wild live shows and anarchist politics.
Balkan Beat Box is an Israeli musical group founded in 2003. The group plays Mediterranean-influenced music that incorporates Jewish, Eastern Europe and Middle Eastern traditions, Gypsy punk, reggae, and electronica.
DeVotchKa is a four piece multi-instrumental and vocal band. They take their name from the Russian word devochka (девочка), meaning "girl". Originally a backing band for burlesque shows, in their early years DeVotchKa also toured with burlesque performer and model Dita Von Teese.
Diego's Umbrella is an American gypsy rock/punk band. The troupe has released 4 albums: Kung Fu Palace, Viva La Juerga, Double Panther, and Proper Cowboy.
Kultur Shock is a Seattle-based gypsy punk band. Founded in 1996, the band combines Balkan folk music with punk, metal and art rock.
The Lemon Bucket Orkestra is a Canadian gypsy-punk band based in Toronto, Canada. Founding member Mark Marczyk met bartender and musician Michael Louis Johnson in 2009 after returning to Toronto from Kiev, Ukraine. By 2013, the group had swelled to 17 members.
Räfven comes from Gothenburg, Sweden, and started as a street performance band in the summer of 2003. They perform original music influenced by Eastern European folk music and the klezmer tradition.
The Mouldy Lovers are a Queensland Music Award nominated[1] Australian musical group with seven members, which formed in early 2010. They perform gypsy-influenced ska music with punk, reggae, Romani music and Klezmer elements.
Buffos Wake is a gypsy-punk band with a taste for the macabre. The story has it that they bonded over an Ouija board, bourbon and Tom Waits. They regularly appear at some of the UK's biggest festivals, including Glastonbury, Bestival, Secret Garden Party and Boomtown.