The Beginner's Guide to Reggae-Metal
An exotic mix of Nu Metal and sunny Jamaican tunes.
Maria_Pro
Ultimate Guitar

Maria_Pro
If you're going to be crazy, you have to get paid for it.
Posted Jun 20, 2017 12:45 PM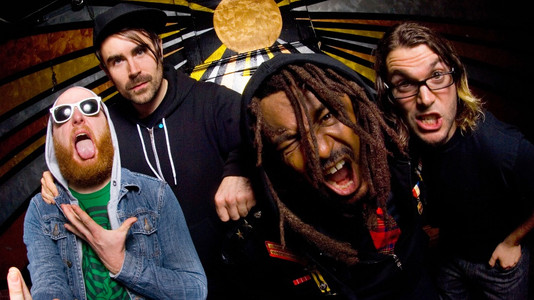 Reggae-Metal is a Sub-genre of Nu metal that has drawn elements and influences from a variety of musical styles, including ragga, reggae, reggaeton, dub, metal, funk, rock, and electro. The style, supposedly, was formed by the Freedom For King Kong band in 1994 in Lorient, France.
At first, ragga was just included as an element in some songs. But later bands like Dub War, Skindred, Fear Nutting Band, etc., began to develop their sound which later established the new style branch. Unfortunately, Reggae-Metal remains obscure to the general audience, to this day.
Who knows, maybe one of our readers will become the one to make the style commonly popular.
We have made a list of bands to get you started with this genre.
Boost
A French band from Strasbourg and Paris formed in 1996. Started by playing Metal-Hardcore heavily influenced by the Indus. On their debut album titled for 'A Toi De Voir' in 1999. In 2001 they released their second album called 'In-Difference' and split soon after.
Skindred
It was formed in in Newport, South Wales in 1998. Their debut studio album 'Babylon,' was released in July 2002 by RCA. The album was produced by Howard Benson, known for his work with Papa Roach, P. O. D., Sepultura, My Chemical Romance, etc. The song 'Nobody' was in the 'Need for Speed: Underground 2' soundtrack. The band has won several awards including 'Best Live Band' at the 2011 UK Metal Hammer 'Golden Gods' awards and the 'Devotion Award' at the 2011 Kerrang! Awards.
Dub War
Dub War are a four-piece metal band from Newport, South Wales, UK. Formed in 1993, the band offered an innovative mix of Metal, Punk, and Ragga influenced by bands like The Clash and Bad Brains. Their lyrics were thoughtful and idealistic, drawing comparisons with the former, though musically they were closer to the hard rock sound of the latter. Dub War split in 1999 after disputes with their label. After a short stint with the supergroup Mass Mental, lead singer Benji Webbe went on to form Skindred.
Fear Nuttin Band
One-half Jamaican, one-half American, FNB plays music comprised of their cultural diversity ranging from Reggae, Rock, Hip Hop, Dancehall and Metal. The band has been touring through the East and West Coasts of US and has made featured appearances at California Roots, the Vans Warped Tour, Bodog Battle of the Bands reality TV Show (FUSE TV), etc. They have played with everyone from Toots and the Maytals to Buju Bonton, Kanye West, and Blink 182. Right now they are working on a new album called 'Immigrant.'
Inbellum
Originating from the San Fernando Valley, Inbellum (Latin) meaning 'in war' is a traditional four-piece rock band. The band has captured a signature sound in their debut album 'Are You Still With Me?' released on February 23rd, 2013.
(hed) P.E.
(hed) P.E. is an American band from Huntington Beach, California Formed in 1994. The band sound is a fusion of punk rock, gangsta rap, reggae, and metal. Since 2006, the band has become known for its involvement in the 9/11 Truth movement, referencing it in many of their song lyrics and concerts, as well as the concept of the album 'New World Orphans.' To date, they have released eight studio albums, one live album, and two compilation albums.
Eyesburn
Eyesburn was a Serbian band formed in 1994. They combined Hardcore Punk and Crossover Thrash with Reggae and Metal. In July 2016, the band announced that they ended their activity.
Zeroscape
Zeroscape is a Canadian four piece band based in Toronto that formed in 2001. The three genres that are most prominent in Zeroscape's songs are Metal, Reggae, and Rap but are not limited to those three. In their upcoming third studio album (yet to be named) there is a Ska influence in the album as demonstrated during their 2009 UK Tour with InMe.
Ninjaspy
Vancouver's Ninjaspy is a trio of blood brothers that have created a metal fusion of hard, heavy, hook-laden music that runs the gamut of Reggae, Surf, Metal and more. Ninjaspy uses everything they have in their creative arsenal to make music that moves people. Their latest album 'Spüken' was released in Spring 2017.
Rhaatid
Four musicians from Jamaica, Germany, and Kasachstan blend Rock, Metal, and Reggae into a unique and powerful mixture. The singer and bass player of the band, Keith Powell Jr., comes from a musical background: his father Keith Powell Sr. is well known within the Jamaican music scene and has worked as a guitarist for legends like Peter Tosh and Dennis Brown.
Anodyne 29
The band was formed in 2001 in Germany. The sound is influenced by Nu Metal, Stoner Rock, Goth, Reggae and many others. They call it 'Ragga Infected Metal.'
Roots
The project formed by Bayu Setiawan (Bayu Roots) is the first Reggae-Metal band in Indonesia and South Asia.