The Legacy of Malcolm Young
An iconic guitarist, songwriter and visionary.
Maria_Pro
Ultimate Guitar

Maria_Pro
If you're going to be crazy, you have to get paid for it.
Posted Nov 20, 2017 10:27 PM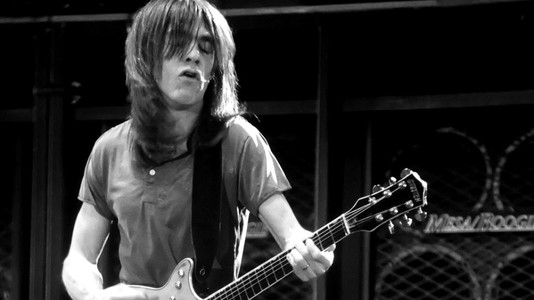 This Saturday, November 18th, 2017, the world lost Malcolm Young, best known as a co-founder, rhythm guitarist, backing vocalist and songwriter for the legendary hard rock band AC/DC. He was a part of AC/DC for 41 years, since the beginning of the band in Sydney in 1973 until his retirement in 2014 due to health issues. AC/DC sold more than 200 million albums during their career and even became Australia's biggest rock export.
Malcolm once said:
I don't think any bastard knows who I am anyway, so I never have any trouble getting mobbed off stage.
With all due respect, sir, we strongly disagree. Malcolm Young was a legend.
This is his story.
Brian Johnson said:
Malcolm was the man that started the band. He was the one that was behind AC/DC. He was our spiritual leader. He was our spitfire.
Malcolm was born in Glasgow, Scotland in 1953 and moved with his family to Australia 10 years later. Both Malcolm and Angus dropped out of school at age 14 years and 9 months, which was the earliest they were legally allowed to do so. Following the lead of their older brother George, who played with the Easybeats band, Malcolm and Angus formed AC/DC. After recording "Can I Sit Next To You, Girl" and "Rockin' in the Parlour," AC/DC replaced their lead singer Dave Evans with Bon Scott.
In 1975 they recorded their debut album High Voltage. The Young brothers were credited as co-writers of almost every AC/DC song from this album on.
Soon after they recorded T.N.T. The success of both records in Australia attracted the attention of Atlantic Records, and that's when the road to international glory began.
Malcolm once said:
People can go out and hear REM if they want deep lyrics; but at the end of the night, they want to go home and get fucked! That's where AC/DC comes into it.
Malcolm's endless supply of riffs, Scott's driving lyrics and Angus' flamboyant lead work was a perfect mix for the rock 'n' roll scene of the late '70s. Guitar Player magazine has stated that the secret to Malcolm's guitar technique was playing open chords through a series of Marshalls set to low volume with little or no gain. Four albums later the band released their iconic Highway to Hell and became recognized one of the world's major hard rock bands.
In 1980 their vocalist Bon Scott died after a night of heavy drinking, and the band found Brian Johnson to replace him. That same year AC/DC released Back in Black, and it went Top 10 around the world.
Every record from the '90s through 2014's reached the Top 10, and their tours sold out stadiums worldwide. In 2003 Young and the other members of AC/DC were inducted into the Rock and Roll Hall of Fame.
Malcolm stated:
We've always been a true band. You won't find one any truer. AC/DC will always be AC/DC. Sometimes we'll do well, sometimes not so well, but the music of AC/DC will always be the same.
Malcolm had to leave the band in 2014 after confirming that he suffered from dementia.
Malcolm's condition had deteriorated to the point that he could no longer remember many of the songs he'd written. Three years later Malcolm Young passed away peacefully in his sleep.
His family issued a statement that said:
As a guitarist, songwriter and visionary, he was a perfectionist and a unique man. He always stuck to his guns and did and said exactly what he wanted. He took great pride in all that he endeavored. His loyalty to the fans was unsurpassed.
Some say that an artist is alive as long as people keep listening to their music.
Well, in that case... Long live Malcolm Young!
Your music will live in our hearts forever.