The Royal Ladies of Punk Rock
10 famous female punk rock bands.
Maria_Pro
Ultimate Guitar
Posted Apr 27, 2017 08:41 PM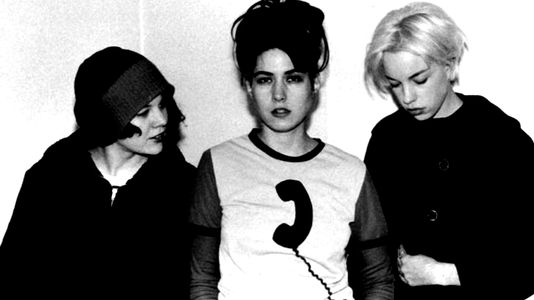 One of Kim Gordon's, the co-leader of Sonic Youth, famous feminist t-shirts reads: "Girls invented punk rock, not England". It may be a controversial statement, but still makes one think about how many punk-rock bands they can remember. Bands made up entirely (or mostly) of women are not a very common thing now, but more pop up every day and others are still going after all these years. Here are 10 female punk rock bands you need to know.
Bikini Kill
Reportedly formed out of rebellion towards the male-driven hardcore scene, 1990s punk rockers Bikini Kill from Olympia, Wash. drove a movement of feminism referred to as "riot grrl" unlike any other all-female rock band today. Bikini Kill's political and societal focused content partnered with their angst shed light on harsh issues such as rape, abuse and sexism.
Slant 6
Featuring members of the Washington D.C. gem Autoclave, Slant 6 was a tuneful titan of punk's third wave. Their music feels genuine, disassembled, and filtered through their adventurous life-stories.
Vulpes
Founded by a group of teens in Basque Country, Vulpes ("foxes," and sometimes styled as Las VulpeSS) became Spain's first all-girl punk band. The band's claim to fame was "Me Gusta Ser una Zorra" which means "I Like Being a Slut". Unfortunately, released eight years after the death of the Spanish dictator Francisco Franco, Vulpes' anthem for sexual freedom was far too much for the religious and traditional country. Soon after the scandalous song TV premiere the band split up.
The Red Aunts
The Red Aunts arose during the California punk revival of the '90s in Long Beach, CA. Their meaty drum beats and whirlwind bass lines make the entire sound quirky, loose, and resonant with a constant Stooges rock lust core.
The 5.6.7.8's
This Japanese bubblegum punk maniac trio is like a heavy dose of adrenaline that never dissipates. Perhaps they are best known for the western listeners because of their guest appearance in Quentin Tarantinos's "Kill Bill" movie.
7 Year Bitch
This punk rock band from Seattle, Washington and was active for 7 years, between 1990 and 1997. Their career yielded three albums, and was impacted by the deaths of their guitarist Stefanie Sargent and close friend Mia Zapata. Their loud music with buzzsaw guitars and gruff vocals was dedicated to women who had survived sexual assault.
The Slits
This unit represents the first wave of anarchic British punk that re-molded the parameters of pop music. In their music they conveniently combine raw dance floor reggae and dub, bursting tribal-stomp beats, exploding punk and even American soul. Long live recently deceased singer Ari Up.
The Raincoats
The Raincoats are a British post-punk band from the late 70s. They were a self-described feminist punk band when there was no precedent for such a thing. The British music was shook by their raw and meaningful songs such as 1979's "Off Duty Trip," about rape culture. Kurt Cobain listed the Raincoats LP 20th on his Top 50 favorite albums.
Hole
Speaking of Kurt Cobain. At times, Courtney Love, his beloved scandalous wife, has been written out of feminist punk history, for different reasons: Hole became an alt-rock commercial juggernaut, Love derided riot grrrl and Kathleen Hanna, and, of course, there are still conspirace out there who want to believe that Kurt Cobain wrote Hole's best songs. But it's worth remembering that Hole started as an L.A. punk band, with Love screaming about her stint as a teenage whore, and she's never lost her indelible punk sneer.
Le Tigre
Does dance-punk really qualify as punk? Only when Kathleen Hanna's at the mic. She is the badass that brings radical politics to the club. Her vivid brand of dance-party punk feminism is clearly presented in Le Tigre "Hot Topic" song. Thanks to an earworm melody and the convenience of Google, thousands of Le Tigre fans can still dance their feet off to the hot tune.