The Story Behind 'Kryptonite' By 3 Doors Down
One of the first songs composed by Brad Arnold.
Maria_Pro
Ultimate Guitar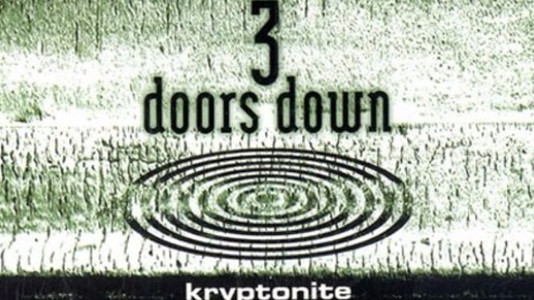 "Kryptonite" was one of the songs the group originally recorded for their 1997 demo. This song caught an attention of music publishers and helped the band to become well-known.

The song was composed by vocalist Brad Arnold (who was also a drummer for the early years of the band) in a math class when he was about 15 years old (around 1993-1994) and was one of the first songs he ever wrote.
"That skippy little drumbeat was just me beating on my desk. That's the beat we almost played, too, just kind of drumming, just skipping along with it. And I was so bad in math... Thank God for the little dude in front of me. That dude deserves a credit on the album. But my teacher knew I was not good, not paying attention, but he just kind of let me go. But yeah, I wrote that song, and a few more in there... I wrote probably about half of that Better Life album in that math class."
In terms of the song's lyrics, Arnold explained:
That song seems like it's really just kind of like asking a question. Its question is kind of a strange one. It's not just asking, 'If I fall down, will you be there for me?' Because it's easy to be there for someone when they're down. But it's not always easy to be there for somebody when they're doing good. And that's the question it's asking. It's like, 'If I go crazy, will you still call me Superman?' It's asking, 'If I'm down, will you still be there for me?' But at the same time, 'If I'm alive and well, will you be there holding my hand?' That's kind of asking, 'If I'm doing good, will you be there for me? Will you not be jealous of me?' That's the basic question that song's asking, and maybe throughout the years of singing that song, I might have come up with more meanings for it than it actually might have originally had.
Also, Brad admitted that the lyric line "the dark side of the moon" isn't a reference to the Pink Floyd album.
"That is just a happenstance line. That song is so little about Superman. It's just really about that question. That's just something that everybody can identify with. And it's got that line in there, and all it was, was Superman - I'm not sure which part Superman it was, it might have been the first one - and they're talking about something going to the dark side ... he's fighting these people in space, it's like they're going around to the dark side of the moon. And I was like, 'What?!' And it was after I wrote that song. That was weird."
"Kryptonite" won Billboard Music Award for Top Rock Song in 2000.
Official music video
The official music video for "Kryptonite" was directed by Dean Karr. It shows an old man who was an action hero on 1950s TV. He sees a man harassing a woman. When the man drags her away, the old man wears his old hero suit and pursues them. During the chase, he fails to protect himself against a group of goths. At the same time, the band is shown playing in a club with several other elderly people dressed as caricatures of comic superheroes and villains. At the end of the video, the old man jumps through the skylight and catches the bad guy, knocking him out by falling on him. The video ends with the old man smiling and giving a thumbs up to the camera.
According to bassist Todd Harrell, 3 Doors Down spent two 14-hour days on the scenes of the video.
Brad Arnold admitted: "The first day was a lot of the other scenes, and then the second day, we did the [scene] with all the old superheroes in the bar."
"It was hard to keep a straight face during that," Harrell concluded.
Arnold added "It was really funny. I mean, standing there on the set with all these people dressed up like old superheroes, 80-year-old people, and they were all extremely nice. They're just out there dancing around while we're singing. But it kind of made me more comfortable, because I was like, 'If that doesn't look stupid, I don't look stupid.' So that was kind of cool."