The Story Behind 'Seven Nation Army' By The White Stripes
A song about the pressures of fame.
Maria_Pro
Ultimate Guitar
Posted Sep 24, 2017 01:26 PM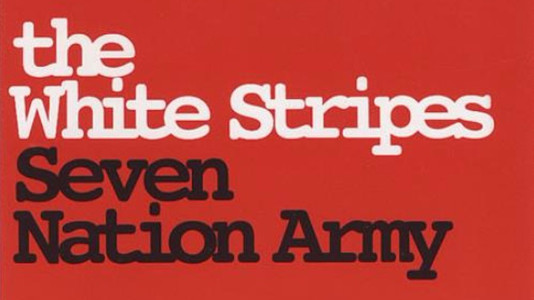 Story behind the song
The main riff was composed at a soundcheck before a show at the Corner Hotel in Melbourne, Australia.
Jack White recalled to Rolling Stone:
"There's an employee here at Third Man named Ben Swank, and he was with us on tour in Australia when I wrote that song at soundcheck. I was playing it for Meg, and he was walking by, and I said, 'Swank, check this riff out.' And he said, 'It's OK.'"
"Seven Nation Army" meaning was rather unclear, so Jack pointed out:
"I didn't have lyrics for it until later on, and I was just calling it 'Seven Nation Army' - that's what I called the Salvation Army when I was a kid. So that was just a way for me to remember which one I was talking about, but it took on a new meaning with the lyrics."
The song is rare in being a very good song about that titanic cliche, the pressures of fame. Feeling squashed with the level of recognition they were getting, White came up with a story about a person who returns to native town and finds all his friends are gossiping about him.
"He feels so bad he has to leave town," he said, "but you get so lonely you come back. The song's about gossip. It's about me, Meg and the people we're dating."
Jack White said that the main riff was planned for the James Bond film if they ever got asked to write a song for it. But he decided it was unlikely and used it in this song.
Jack White speaks about creating "Seven Nation Army" and shows Jimmy Page and The Edge how to play this song:
Official music video
The video consists of one seemingly continuous shot through a kaleidoscopic tunnel of mirrored black, white and red triangles, touching on Jack's love of the number three. The triangle slides alternate between images of Jack or Meg playing, interspersed with marching skeletons and an elephant, referring to the name of the album "Seven Nation Army" appeared on. The speed at which the triangles move forward through the tunnel speeds up and slows down in unison with the dynamics of the song. During the video, when the song begins to intensify, the lights in surrounding the triangles flash and other effects build up as well. The imagery bears a striking resemblance to Jason and the Argonauts as well as Bill Gold's theatrical release poster for A Clockwork Orange.
In the video when Jack White points to his hand as he begins the third verse, he's showing you where he is from. The state of Michigan is shaped like a mitten, and people in the state often point to a spot on their hand when asked where they are from.
Guitar
Semi-acoustic 1950s style Kay Hollowbody guitar
The guitar is originally a tobacco sunburst, but it was covered in kraft paper in 2001 – supposedly to stop the feedback, though it may be just for the aesthetic reasons. As of the specs, it features a single DeArmond pickup with no controls but an on/off switch, spruce top, maple sides and back, and a floating rosewood bridge.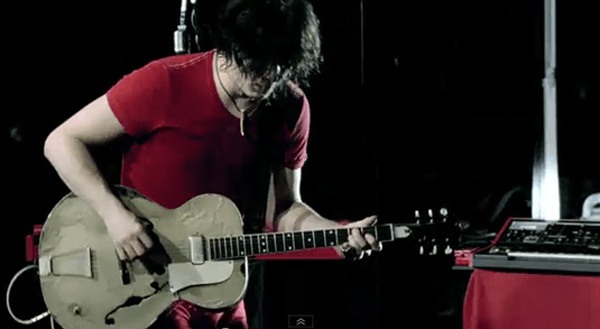 In the official video, we can see 1964 "JB Hutto" Res-O-Glass Airline Guitar, which is his main guitar for The White Stripes' live performances.
The guitar was made by Valco, a company that is better known for making National and Supro guitars before itэs demise in 1968.
It has a hollow Res-O-Glas fiberglass body, two Valco single coil pickups (even though they look like humbuckers), and a non-adjustable steel reinforced neck (without truss rod).