The Story of the 'Blue Suede Shoes'
The first song on the groundbreaking 'Elvis Presley' album.
Maria_Pro
Ultimate Guitar

Maria_Pro
If you're going to be crazy, you have to get paid for it.
Posted Jul 29, 2017 04:17 PM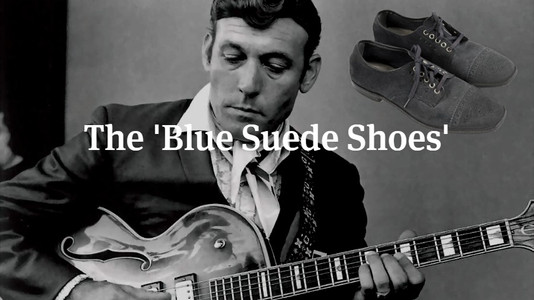 Written and recorded in 1955 by Carl Perkins in Memphis, Tennessee, 'Blue Suede Shoes' remains one of the staple rock 'n' roll standards.
The song entered the local Memphis country charts on February 11 at #2. It later rose to #1, where it remained for three more months.On March 3rd, 'Blue Suede Shoes' appeared on Billboard's Hot 100. The single began to sell in huge quantities throughout the South. On March 10, 1956, Carl Perkins became the first country artist to reach the national R&B charts, peaking at #2. Three weeks later he was followed by Elvis Presley's 'Heartbreak Hotel,' which peaked at #3. By early May both Perkins and Sun Records have logged their first million-seller.
In the fall of 1955, Johnny Cash told Perkins, while touring together through the South, about a black airman, whom he had met when serving in the military in Germany, who had referred to his military airmen's shoes as 'blue suede shoes.' It was a joke because at that time blue suede shoes were a luxury item in the South, a stylish footwear for a night out, that had to be worn carefully because it wasn't easy to clean.
A few months after this conversation, Perkins played at a dance, when he noticed a couple dancing near the stage. Between songs, he heard a forceful voice say, 'Uh-uh, don't step on my suedes!' He looked down and noted that the boy was wearing blue suede shoes and one had a scuff mark. 'Good gracious, a pretty little thing like that and all he can think about is his blue suede shoes!'
That night Perkins began working on a song based on this incident. He based the beginning of this song on a nursery rhyme: 'One for the money, two for the show, three to get ready and four to go.' Later he decided to change the last line to 'Now go, man, go!' and break it to a boogie rhythm.
Perkins later recalled,
'On December 17, 1955, I wrote 'Blue Suede Shoes.' I recorded it on December 19, for Sun Records, which released the second take of the song. Sun's producer, Sam Phillips, suggested that the lyric "go cat go" be changed to "go man go," but I declined the suggestion.'
The B-side of the single was the song 'Honey Don't,' which was later covered by The Beatles. Carl Perkins was a huge influence on George Harrison and Paul McCartney. George sings lead on 'Honey Don't' and also on 'Everybody's Trying to Be My Baby,' another Perkins song that the Beatles covered.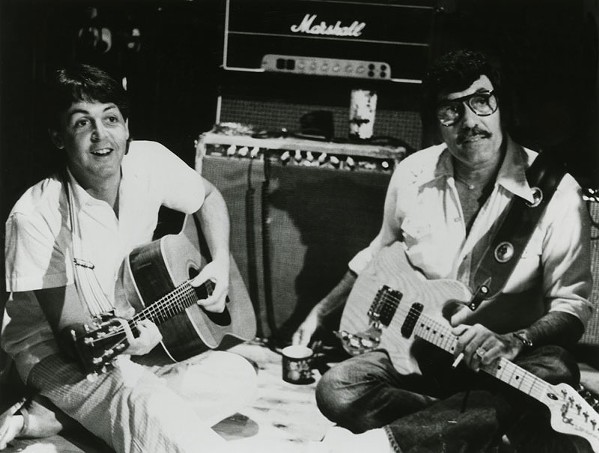 The 'Blue Suede Shoes' was a family affair. Perkins' brother Jay played rhythm guitar on the track, and his other brother Clayton played bass. But tragedies kept following the Perkins family.
On March 22, 1956, as Carl was driving to New York to make his first national appearance to promote the song on the crazy-popular Perry Como Show, he got into a horrific car accident that seriously injured him and his brother Jay. 'I was 85 miles away from being the first rockabilly on national television,' he recalled.
In 1957 Jay died from a brain tumor, and Carl's other brother, Clayton, took his own life in 1974.
While Perkins resumed touring that spring, the car wreck had derailed his career momentum. With Perkins unable to touring and promote it, Elvis' cover version became a massive hit. Presley's copy was done at RCA studios in Nashville. Elvis Presley performed his version of the song three different times on national television. The song was also recorded by Buddy Holly and Eddie Cochran, among many others.
Despite the heartbreaking tragedies that followed Carl, he continued to record his music. During a session for the single 'Matchbox,' Johnny Cash, Elvis Presley, and Jerry Lee Lewis joined Perkins in the studio. It proved to be just a one-day session, but a local newspaper quickly, and famously, dubbed the group 'The Million Dollar Quartet.' A CD of the session was released in 1990. Carl had several songs on country music charts in the 1960s and was a regular performer on Johnny Cash's ABC television show.
Here is what Ronnie Wood from the Rolling Stones told Kelly Jones about that time he hung out with Carl Perkins during the 'Birth Of Rock & Roll' project.
'Blue Suede Shoes' was covered by pretty much every big rock 'n' roll (and R&B) star since then.
Here are some honorable mentions: