The UG Academy Awards Results: The Best Original Movie Song of 2016 Winner
The UG community has spoken.
Niass
Ultimate Guitar

Niass
Serial Walken comma user. Stroopwafel enthusiast.
Posted Feb 26, 2017 10:43 PM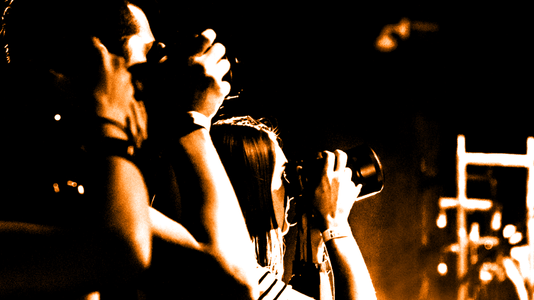 For the last 5 days you've been choosing the best movie soundtrack of 2016 and here are the final results.
5. Florence + The Machine - "Wish That You Were Here" [Miss Peregrine's Home for Peculiar Children] - 10.39% votes
This song from the 2016 American dark fantasy film directed by Tim Burton takes the 5th place in our poll.
In "Wish That You Were Here," Florence Welch finds that, counter to her expectation, she yearns for companionship. This reflects the themes of family in the film, "Miss Peregrine's Home for Peculiar Children." According to Rolling Stone, Florence Welch collaborated with the film's director, Tim Burton in the making of this track.
4. Justin Timberlake - "Can't Stop the Feeling!" [Trolls] - 15.88% votes
A quite unexpected choice for the UG community, Justin Timberlake's summer hit "Can't Stop the Feeling" takes the 4th place. This song was written for the animated movie "Trolls." Timberlake also provides the voice of a grumpy-looking grey-blue troll called Branch in the Dreamworks film and is the executive producer of its soundtrack. Speaking on SiriusXM's "The Morning Mash Up" show, Timberlake explained the process of writing songs for a soundtrackis more regimented than his solo work. "When I'm making a record for myself, I don't know, I feel like I have to take advantage of the fact that it's done when I love every song," he said, Timberlake added that the "Trolls" sessions inspired him and "definitely bled over into writing a bunch of other things."
3. Trent Reznor & Atticus Ross - "A Minute to Breathe" [Before the Flood] 20.78% votes
One of the UG's favorites, Trent Reznor, in collaboration with Atticus Ross takes the 3rd place. Composed for the soundtrack of the environmental documentary directed by Leonardo DiCaprio, "Before the Flood" (2016), the song explores where we stand, literally, in relation to our environment and climate change. "A Minute to Breathe" describes our worst nightmares to a dark, expertly composed electronic melody. Reznor tells us his vision, a story of an impending flood that will be of an apocalyptic scale. It is spoken of, lyrically, as if this flood is a spiritual cleansing for our planet.
2. Twenty One Pilots - "Heathens" [Suicide Squad] 23.73% votes
That was a close one, but Twenty One Pilots weren't able to make it to the top so 'Heathens' gets only the second place which is still a pretty good result. Twenty One Pilots wrote this specifically for the "Suicide Squad" film. Tyler Joseph told Radio.com: "I met with David Ayer, the director, and he kind of showed me some ideas, and some clips [from the film]. I'd never really written a song for a movie before, so it was a new experience. Especially the part where you show the movie company the idea, and you get a 'Yes' or 'No' back. Like, whether or not you're good enough. Fo rus, we make a song, and if we like it, it goes on a record. So I was a little worried about that part. I kind of prepared myself for it to be a 'no.' We made sure that we wrote a song that would make sense for our band; it was a Twenty One Pilots song. I wasn't going to waste my time," Joseph continued. "So, they said yes, and they dug it. It seemed to fit with the theme of the movie, and also what we go for."
1. Ryan Gosling & Emma Stone - "City of Stars" [La La Land] 29.22% votes
Well, it seems The Academy made the right choice by nominating this masterpiece. City of Stars from the critically acclaimed musical film La La Land takes the well-deserved first place.
This song was composed and orchestrated by Justin Hurwitz with lyrics by Benj Pasek and Justin Paul for the 2016 Damien Chazelle-directed musical film "La La Land." The movie tells the story of aspiring artist Mia played by Emma Stone and jazz obsessive Sebastian, played by Ryan Gosling, who meet and fall in love in Los Angeles. Ryan Gosling can't whistle, so that's Justin Hurwitz you hear whistling during this song.
Enjoy the official Oscar ceremony today and thanks for participating in the UG Academy Awards!