The Ultimate Beginner's Guide to Amps: Part One
Tube vs. solid state.
alecplowman
Ultimate Guitar

alecplowman
Posted Nov 07, 2016 03:42 PM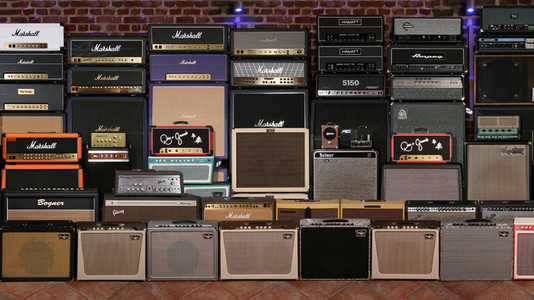 Welcome to the first of a new series from Ultimate Guitar: The Ultimate Beginner's Guide. In these features, we're going to be offering a comprehensive guide on major guitar related issues aimed specifically at beginner guitar players. And, for edition numero uno, we're diving into the world of guitar amps.
There's a lot to take in when it comes to buying your first amp. These days, there are so many options on the market, with a number of technological innovations in the past decade having completely changed the marketplace and opened up a whole range of possibilities for the aspiring axeman/woman.
This week's feature is the first of a three part series, in which we're running through the myriad options on the market today, weighing up the pros and cons of each. To start, we're going to be talking about the two kinds of amp that have been around the longest: tube amps and solid state amps.
The distinction between tube and solid state amplifiers is one that has befuddled many a beginner guitarist. Chances are that you've heard the terms used, but aren't really sure what they mean. In simple terms, a tube amp (or valve amp - the two terms are used interchangeably) uses one ore more vacuum tubes to amplify a signal, while a solid state amp uses solid state electronics such as diodes and transistors. In order to understand a bit more about the distinctions between the two, as well as their respective reputations, here's a brief history lesson.
The birth of tube amps, and "tube tone"
Vacuum tubes were developed in the early part of the 20th century and became ubiquitous with electronics devices such as televisions, radios and, of course, electric guitar amplifiers - basically any device where a signal of any type had to be amplified. Tubes didn't amplify things perfectly, and, when the volume was turned up on a device, it distorted the signal. This was a bit of a pain when watching television, but guitarists fell in love with the distorted sound of the electric guitar running through the amp.
Tube-based technology sounded great, but had its drawbacks. Namely, that it was a bugger to maintain. As I've already noted, that sweet distortion sound produced by the amps came from cranking them loud. However, tubes dissipate the energy they create as heat, so running the amp loud meant running it hot. And heat had a tendency to break things down - the tubes themselves were prone to blowing, as were other things near them - meaning that regular servicing was needed to keep the amp at its optimum efficiency.
The 1960s, and the introduction of solid state
Solid state technology had been around since the early 1900s, but it was the popularization of the transistor radio in the 1950s that brought it to mainstream consciousness. Solid state tech was much more portable than tube tech. Back in the day, a radio was so large that it was basically a piece of unmovable furniture in your house. The transistor radio, contrastingly, could fit in your pocket. And, unlike tube amps, the components of solid state devices didn't overheat, and therefore didn't need to be regularly maintained or replaced. The other supposed advantage of solid state tech was that it amplified signals without adding any additional signals.
Given the cheapness, reliability and portability of transistors, it's unsurprising that solid state tech soon became the standard in every electronic device. And, by the 1960s, the same thing was happening with guitar amplifiers. But, guitarists didn't take to the new solid state amps. The reason being that, when the volume was turned up on them, it sounded less like that coveted valve tone of old, and more like plugging a guitar into a transistor radio. What's more, they weren't nearly as responsive as tube amps, which were much better at representing subtleties and variances in playing. As such, solid state amps acquired a pretty poor reputation that still persists in some circles. Indeed, a number of guitarists still adopt a "tube or nothing" approach to this very day.
Tube or nothing?
Certainly, there's a stigma attached to solid state amps. And indeed, for years, they were pretty damn poor. If you ever get the chance to have a jam with an example dating from the '60s, '70s or early '80s, you'll see what I mean. But, solid state amps have come on leaps and bounds since the 1990s. Solid state technology, in its infancy, couldn't approach that classic tube sound, but various developments and innovations in recent times have narrowed the tonal gap between the two. Indeed, in the past couple of decades, a number of guitar heroes have notably achieved their signature tone through solid state gear. Late Pantera guitarist Dimebag Darrell used Randall Solid State amps because he was a fan of their harsh tone, while a number of noted jazz players favor the super-clean sound of the Roland JC-120. Even blues legend BB King, who you'd think was a tube player through and through, used a solid state Lab Series L5 pretty much exclusively from the 1980s.
Pros and Cons
So now you're clued up on the difference between tube and solid amps. But when it comes to putting your money down, what's the amp to go for. There's not clear cut answer on this one - it's all down to your personal needs. To help you make the decision though, I'll sum up the pros and cons of each.
Tube amps
Of course, the big pro to tube amps is that luscious valve tone that guitarists have coveted for many years. The tonal responsiveness and that classic valve distortion make tube amps a joy to play. In short, they sound awesome.
But, getting that awesome tube tone does mean cranking them, and that can be a problem for home practice. Even with the smallest tube amps, you need to run them loud to get the most out of them. If you've got neighbors or family members that don't want to hear the sound of sweet wailing guitar reverberating through the walls for several hours a day, then you might struggle.
There's also the maintenance issues - as has already been noted, tubes need to be replaced on a fairly regular basis - and the fact that tube amps tend to be bigger and take up more room than their solid state counterparts (though it should be noted that there's been something of a boom in more compact valve amps in recent years). On top of that, tube amps are the more expensive of the two.
Solid state amps
Historically, solid state amps had a reputation for sounding like crap. But the technology has come on so much in the past twenty years that that's no longer the case. While perhaps not usurping the tonal crown still held by their tube brethren, many solid state amps on the market these days sound great, and are certainly fit for the purpose of home guitar practice.
You've also got the advantage of the transistor technology requiring next to no maintenance. Not having to worry about blown tubes and fried circuitry is a bonus, especially when you're a beginner player. You can also run them much quieter than tube amps while still getting a decent sound, which is a major plus for bedroom playing.
Finally, solid state amps are much more compact and easy to transport than tube amps. This is even more so the case in recent times, with the introduction of amps like the Blackstar Fly - a 3 watt portable amp that's small enough to fit in your backpack, but sounds like a real amp rather than a transistor radio.
So, that's it for this week's edition, but we're certainly not out of the woods yet. While the tube vs solid state debate used to be the be-all, end-all when it came to amps, that's certainly not the case these days. In recent years, the introduction of hybrid amps, modeling amps and modeling software have changed the playing field in a number of ways, and even raised the question of whether you need a guitar amp anymore. We'll find the answers in the next edition...