The Year in Metal: 2013
Any year that sees the reunion of four of the most important metal bands in existence, a flurry of stunning releases from both the old guard and the new guard alike, etc... is a banner year for us headbangers, who are so privileged to be able to view it all in real-time on the Internet.
Head of Metal
Ultimate Guitar

Head of Metal
Writer and ambassador of the world's greatest music: heavy metal. Fave subgenres: Most of them. I run my own site, headofmetal.com.
Posted Jan 14, 2014 01:56 PM
When I launched Head of Metal this April, I unknowingly had chosen a banner year for heavy metal music in which to get started. And it wasn't just because several of my favorite metal acts had released wonderful records year-round.
Any year that sees the reunion of four of the most important metal bands in existence, a long-overdue recognition of a certain progressive group by the Rock and Roll Hall of Fame, and a flurry of stunning releases from both the old guard and the new guard alike... is a banner year for us headbangers, who are so privileged to be able to view it all in real-time on the Internet.
Join me, Head of Metal, as I recap 2013's metal highlights...
Metal Evolution: The Lost Episode
Many of us headbangers were delighted to see Sam Dunn, creator of such genre-defining documentaries as "Metal: A Headbanger's Journey" and "Global Metal," be given the opportunity to explore 11 different subgenres of heavy metal music through a series called "Metal Evolution." Although he got to cover quite a bit of ground, there was a glaring omission: no episode for extreme metal!
Of course, there were worries that the audience wouldn't be big enough to justify the expenses required to create an episode like that. Not to be deterred by the folks upstairs at VH1, Sam and his Banger Films team raised over $40,000 through IndieGoGo to fund the travel, filming, and production of this 12th "lost episode" of the series. Set to premiere in January 2014, Mr. Dunn is once again giving metal fans a reason to celebrate. Thank you Sam, for helping us start 2014 with a bang!
Rock and Roll Hall of Fame Inducts Rush; Also, Pigs Fly
I have to admit, even I didn't see this one coming. Along with many others, I had written off Rush's chances of getting into the Rock and Roll Hall of Fame - the band had been eligible for over 13 years, the Hall was too political, and its members were more interested in honoring Madonna, Run DMC, and Grandmaster Flash than in Rush. Let's be honest, if the Hall was interested in them, they would've inducted them back in 1999, Rush's first year of eligibility. Certainly they were in no... rush to call them in.
"It's NEVER going to happen," I argued with despondency. "That would require the admissions committee to actually THINK about who they were inducting for a change."
Consider myself corrected.
I guess that even for all of its inconsistency, ignorance and pomp, the Hall of Fame can still do something right... if enough people let them hear it. A great musical injustice was at last corrected, and I didn't even believe it until I saw the Canadian power trio accept the official award from Dave Grohl and the Foo Fighters...
R.I.P.
Although there was plenty of good news for metalheads all over the world in 2013, there was some unfortunate grief to go around as well.
Most notable was Jeff Hanneman, who died on May 2 of liver failure. He was simply a tremendous guitarist whose style has been often imitated but never equalled. His band, Slayer, continues to function in a live capacity, using close friend Gary Holt as a temporary replacement, it remains to be seen whether the band is ready to record new material without Hanneman's driving influence. Read my obituary of Mr. Hanneman here.
Also notable, but not related to metal, included the deaths of Ray Manzarek of The Doors (May 20) and Lou Reed (October 27).
And despite terrifying fears that spread rapidly on Twitter for several hours, Lemmy Kilmeister is, in fact, "still alive, drinking, and f--king." Close call, though. That would've just been too cruel.
Wacken 2014: You Snooze, You Lose
Tickets for the 25th edition of Wacken Open Air Festival, the largest of its kind in the world, sold out in less than 48 hours (and there were over 75,000 of them)! Yours truly was one of the many who did NOT manage to get his hands on one. That has to be some kind of record - and if that's not an indication that Wacken will get even bigger in the future than it already is, I don't know what is.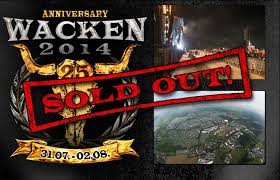 Comeback Kids
One of the reasons Wacken tickets sold out so fast was undoubtedly due to some excitement over who was headlining: Norwegian black metal legends Emperor. There probably won't be a new album as a result, but Ihsahn and company are still a blistering live act and a major treat for Wacken attendees.
Not one, but TWO, death metal giants brought their return plans to full fruition in 2013: Carcass, and Gorguts. Having headlined the 2013 Maryland Death Fest in North America, Carcass released its first studio album since 1996, "Surgical Steel" to a generally positive response. Ditto for Gorguts, whose "Colored Sands" record showed more progressive tendencies from the Porcupine Tree records they've been absorbing during their temporary hiatus.
Although Queensryche's legal troubles are not yet fully over, the (non-Geoff Tate) portion of the band seems to have found footing with singer Todd LaTorre. Geoff Tate's Queensryche... not so much.
But who could forget the summer tour that no one ever thought they'd see - the Summer of Sabbath, with the original heavy metal group reforming, seemingly out of the blue and on the ashes of Heaven and Hell? Who could forget the #1 hit that Black Sabbath's "13" became, claiming the Guinness World Record for the longest amount of time between #1 records for an artist (43 years since 1970's "Paranoid"!)?
Certainly nobody who was paying attention.
Songs Of The Year
Can't have a year-end recap without counting off some of the year's most headbanging hits... or as I like to call them, Crowning Music of Awesome:
Black Sabbath - "Damaged Soul"
Gorguts - "Forgotten Arrows"
Dark Tranquillity - "Uniformity"
Amon Amarth - "As Loke Falls"
Chthonic - "Supreme Pain for the Tyrant"
Fates Warning - "One Thousand Fires"
Omnium Gatherum - "The Unknowing"
Carcass - "Captive Bolt Pistol"
Orphaned Land - "All Is One"
Dream Theater - "Along for the Ride"
And, my personal pick for Song of the Year 2013... a German band singing in Spanish. Win.
U.D.O. - "Basta Ya!"
Head of Metal's Album of the Year 2013
And the nominees are...
Dark Tranquillity - "Construct"
U.D.O. - "Steelhammer"
Fates Warning - "Darkness in a Different Light"
Dream Theater - "Dream Theater"
Chthonic - "Bu-Tik"
Black Sabbath - "13"
Carcass - "Surgical Steel"
...but as they say, there can be only one "best..."
Have a great New Year's, fellow headbangers! I pledge to continue my commentary in 2014 with even more stories, thoughts, reviews, histories, and interviews - thank you all for reading, and stay heavy.