Tools of the Trade - Part Four
Musicians talk about their gear collections.
JustinBeckner
Ultimate Guitar

JustinBeckner
Lives in Minnesota. Been doing interviews for UG since 2011. GG Allin fan.
Posted Mar 26, 2017 06:36 PM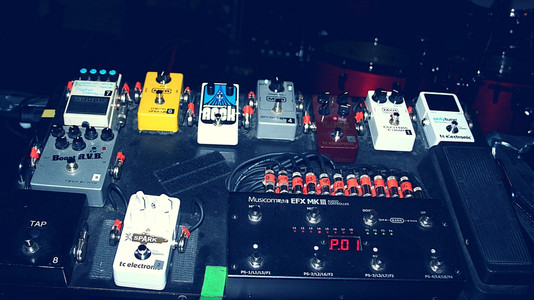 Welcome to the fourth installment of Tools of the Trade (part 1, part 2, part 3), where musicians talk about their favorite pieces of gear.
Brett Gurewitz (Bad Religion, Epitaph):
Brett: Over the years I've had a lot of guitars. I also taught myself a little piano so sometimes I will write music on the acoustic guitar and piano. My favorite guitars over the years have been Les Pauls and I'm probably most noted for playing this thing I call the Red Rocker guitar. And The Red Rocker is a bit of a monstrosity. I was on tour in the early 80s and my Les Paul was stolen and I had to find something quickly. So I found a cheap Charvel at a shop in Boston. That's where the red rocker started. It now has a Charvel body, and ESP neck, a Fender Bridge, and JB Duncan Pickups. I've played it a lot over the years and it is now covered in stickers. So that's what people see me playing a lot.
On past records the Red Rocker got a lot of play. On the new record [New Maps of Hell] I kept trying it out and I didn't really like it. The new album uses a lot of different guitars. I use a lot of a GoldTop Les Paul with a P90. There's actually a lot of Telecaster. I have a 1950 Telecaster – a real one, not a remake. And that one made the record a lot. There's also a company called Nash that makes excellent guitars. I used a Nash Telecaster on the new record quite a bit.
Justin (UG): There's not a lot of those old Telecasters from the 1950s around anymore.
Brett: I think there are about 500 of them left in the world total. I got this one from a vintage guitar shop about 15 years ago.
Fun Fact: Brett is the owner of Epitaph records and has worked as a producer and engineer on many of Epitaph's classic albums by Rancid, NOFX, and Pennywise.
Nick Sterling (Sebastian Bach):
For guitars I brought a 58' Historic Les Paul, which was my main guitar for this tour, a 72' Custom Black Beauty Les Paul, for the alternate tunings, and my Tom Anderson Drop Top that I've had for about 10 years now. My amp rig was the new Fractal Audio Axe-FX Ultra into an Art power amp into two Diezel 4x12s. I really love the Axe-FX, it is just so perfect for this type of extensive touring with Sebastian. I've got all of my sounds programmed into a Liquid Foot Jr. MIDI controller with some instant access delay, verb, a boost, some chorus, octave, wah, and volume to choose from.
Fun Fact: Nick has also played with Alice Cooper, Aerosmith, Peter Frampton, Guns & Roses, and a lot of others. He released his first solo album when he was 10 years old. His guitar work can be heard on Sebastian Bach's solo albums.
Rich Williams (Kansas):
Justin: You've been a longtime user of PRS guitars.
Rich: My two main guitars are PRS and one of them is the first PRS guitar I bought, God, about 25 years ago. And I also have a Dragon PRS that I use more as a backup. I got that 18 years ago. I got that guitar the same year my daughter was born. I love those guitars.
Richard Kruspe (Rammstein):
It's always the same story of getting new stuff, messing around with it and then ultimately going back to the old stuff. I'm constantly trying new things. I built a microphone robot; I use different cabinets and different mics all the time. But basically when it comes down to it, I pretty much use the same stuff over and over again. The Neve 1081,Telefunken U47, Neumann M149, I pretty much use the ESP RZK II guitar almost exclusively. I use a Gretsch White Falcon for the cleans. I play through the Mesa Dual Rectifier. That's the main sound on the [solo] record.
Fun Fact: Richard's solo project is called Emigrate – he has released two albums so far and they include guest vocalists, Johnathan Davis, Marilyn Manson, Lemmy Kilmister, among others.
Clint Lowery (Sevendust):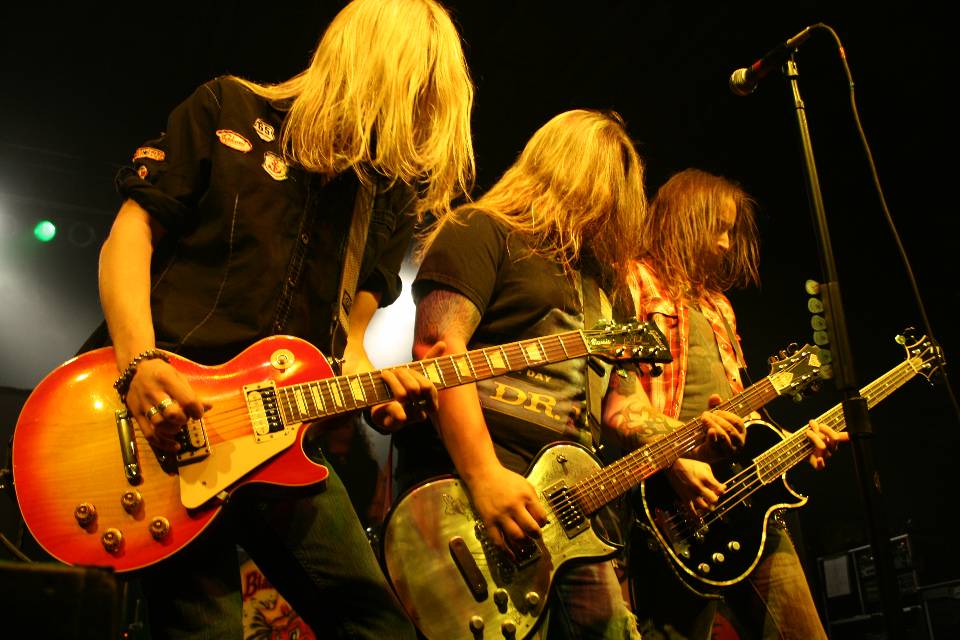 I use Paul Reed Smith Guitars. I have a couple Custom 22s that I use as well as a [PRS] single cut. I use EVH 5150III heads, I just started using those. I used to use Diamond heads. I run all that thru a GCX Ground Control and Switcher. For effects, I have a Phase 90, a TC Electronics Digital Delay, an Envelope Filter, I use a DigiTech Whammy, that's in my rack and I use a volume pedal that I use for an expression of that because the action tends to wear out on those. That's the skinny of my whole rig.
Peter Stroud (Sheryl Crow, Don Henley, Sarah McLachlan, Stevie Nicks):
Justin: Now, when we hung out at Moondance [Jam], I got a chance to check out a couple of your guitars. Could you pick out a favorite guitar to tell us about?
Peter: Yeah, I use a ton of guitars at the show because they're in different tunings or they're very particular to the sound of the song. As far as personal favorites, that red Les Paul Custom that I was using is one of my top favorites. The Custom Shop made it for me. It's all mahogany with a wraparound tailpiece, its super light; it's just a killer guitar. Also there's a jazz-master looking guitar that a friend of mine is building called the tone-master which is actually a signature model. And we sort of worked on that together. I've always liked jazz-masters, so we put Lindy Fralin style pickups and the strings go thru the body. So those two guitars I probably use more than any now. Especially when it's a situation where I am only using one or two guitars.
Justin: I also really like that Nash Guitar you had. That thing is sexy.
Peter: Oh yeah that thing is killer! The telecaster style. It sounds great and its got that old feel.
Justin: Now, you use a 65 Amp, can you tell me about that company?
Peter: Well actually I'm one of the co-founders of the company. I'm one of the partners. I'm still totally actively involved. My best friend Dan Boul and I started the company about five years back. He's running the show full time out in North Hollywood where we have our shop. We still work together on designs and I do a lot of the marketing and all that good stuff. We've been using the same amps ever since the beginning. Sheryl was one of our first customers, she bought an amp right off the bat and so did our other guitar player Tim Smith. So we've had the same amps for the past four years easy.
Rob Caggiano (Volbeat, Anthrax):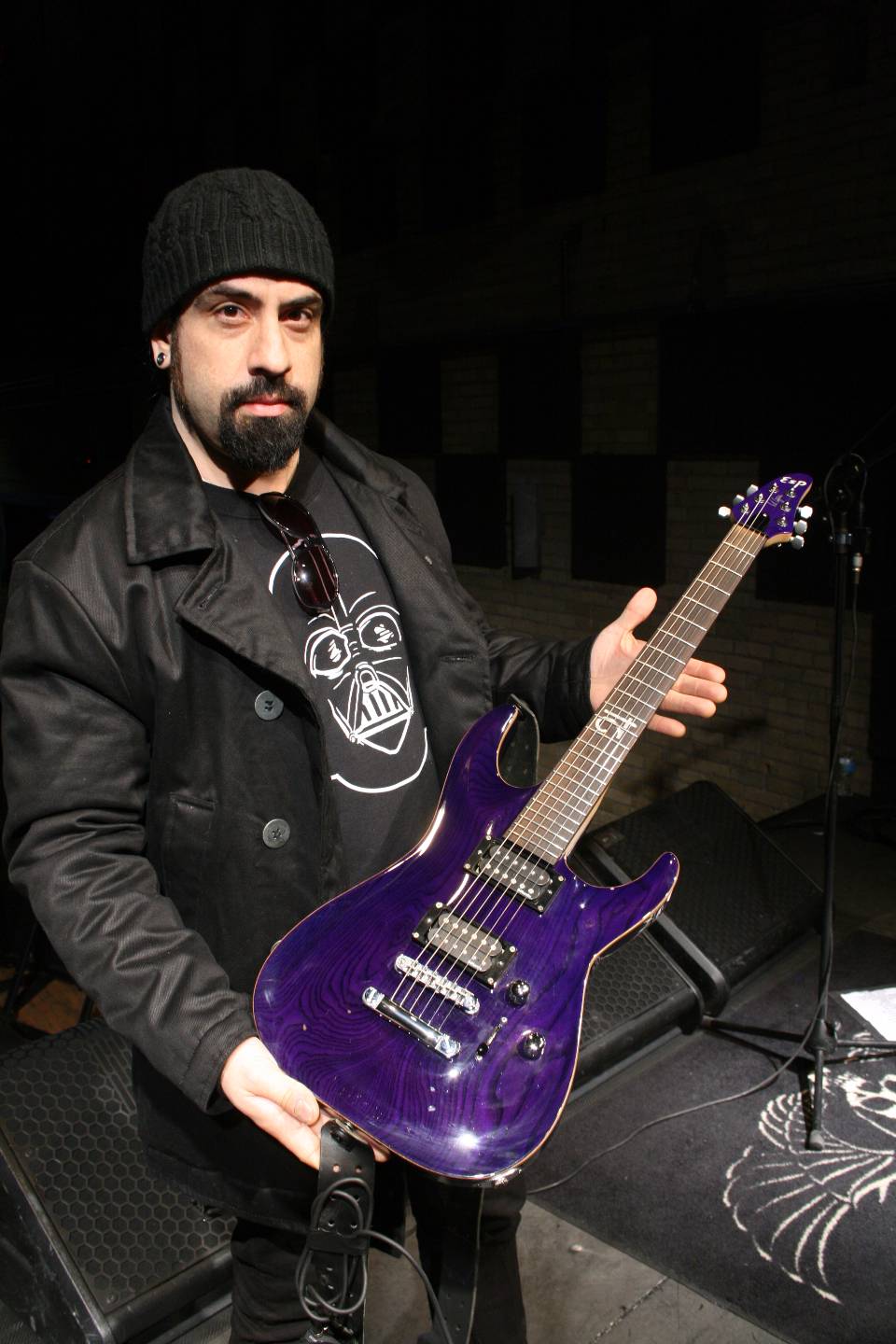 Rob: For guitars I'm using my ESP Signature Models which I'm really psyched on. They came out last year and they're based on an old Horizon model which they gave me in 1996. My signatures have glow in the dark fret markers and my signature DiMarzio Pickup in it in the bridge position. I'm using a Sennheiser Wireless Systems on this tour. My pedal board is pretty basic. I've got a company from Korea called Music Com Labs which makes this loop switcher and that sits in the middle of the board and turns different combos on and off. It's also able to switch channels in my amp head. On the board is a TC Tuner, a Dunlop Wah, a TC Overdrive, EVH Phase 90, Micro Chorus, Tech 21 Boost RVB, Boss DD5 Delay with a tap pedal so I can get the tempo of whatever song we're doing, and a TC Spark Plug which I'm trying out on this tour and really digging it actually, I just kick it on for the leads. Also for leads, I'll use the Loop Switcher to change the channel on my head and I set the volume a little higher on my lead channel so that's like a proper boost and level. And I will say that I do change my pedals around and adjust the gain all the time to suit the rooms we play. I also have an MXR noise gate.
For heads, I'm using the Fryette Sig X Heads which to me is one of the best heads out there. It's really versatile, its heavy as fuck, and it just totally kills. And for cabs, I run the Fryettes that are voiced to the Sig X heads.
Justin: Is your live rig in Volbeat similar to your Anthrax rig?
Rob: It's predominantly the same stuff. I'm using brand new heads now so they are a little different than the stuff I had with Anthrax. My setup is definitely a little bit bigger with Volbeat, I'm running more cabs. It's like three times as loud as I was with Anthrax. For the most part it's the same thing and my pedal board is cool because the way I have it set up, it's so easy to swap out pedals.
Justin: You've got your own signature DiMarzio pickup now, how does one go about making that happen?
Rob: Yeah, I've been with DiMarzio for a long time and my favorite pickup has always been the Tone Zone which I've been using for years and it's been on a bunch of records. I've tried all of DiMarzio's stuff and I'm a huge fan of what those guys do but for my sound, the Tone Zones were the best but there was always some stuff about it that I wish was different. There were a couple things that I wanted to tweak so I talked to Steve Blucher who designs and makes all these crazy pickups and he was all for it. It was fun, we got together a bunch of times – we both live in New York so I'd go over there once a week or so and jam and we'd talk about what I was looking for and they fucking nailed it. Tonally, the highs scream a little bit more so you get more pick attack, the high notes are a little clearer and there's definitely an angrier low end. It's basically a supped up Tone Zone.
Fun Fact: Rob is a very reputable producer. He has produced albums for Anthrax, Volbeat, Cradle of Filth, Ill Nino, H2O, 36 Crazyfists, and a lot of others.
Aaron Fink (Breaking Benjamin):
I play through a Fender Deluxe and I pretty much just use that for volume. I get all my tone out of pedals. My distortion is Fulltone OCD. That's pretty much my one and only dirty sound these days. I also have a boost pedal for solos by Exotic. I use the Dimebag Darrell camouflage Wah pedal. I use an Eddie Van Halen Phase 90, which is a classic pedal. I use a Boss Digital Delay, the DD7 I believe. I'm actually looking at my pedalboard right now but I have to peel off the tape that I put on there for my settings for certain songs. This one is a micro POG – the red one with three buttons on it - I use that for a lower octave on a couple things. That's about it. I have other stuff laying around but that's what I've been using for a pedalboard right now. For guitars I have a Les Paul, an Epiphone 339 semi-hollow body with a Bigsby. I have a G&L Telecaster that I used in Breaking Benjamin. I have a couple PRS. I've got a Fender P Bass that I used on the record. I also have a Music Man that I had custom made for myself – it is based on an Albert King Model. It's got three pickups in it. I use that quite a bit. It's very versatile because it has humbuckers but I can do the coil tap and make it single coil. It's got a whammy bar on it too. That's my workhorse guitar.
James Williamson (The Stooges):
James: For guitars, I've got a 1969 Gibson Les Paul Custom, a 1962 Fender Jaguar, and a 1963 Martin D-28. I also have a Gibson B-25. Then for amps, I've got a 1964 Vox AC30 Super Twin, a 1957 tweed Fender Deluxe, but right now live, I use a Blackstar Artisan 30.
Justin: I was told that you didn't use any effects pedals when you made Raw Power. Was there any specific reasoning behind that?
James: You know, I didn't feel that I needed them. I always felt that the time that album was made was between the big era of the wah wah pedal when everyone from Hendrix to Cream were using them and the fuzz box. I thought the fuzz box was limiting because it distorted things so much that it didn't allow you to really hear what you were playing. So especially after I discovered the VOX AC-30 I felt like I could get an edgy sound on the guitar but also get sustain without any additional effects. So I never really used anything until the reunion tour when I added a treble boost pedal for solos. But other than that I just played through whatever amp I had. The pedal that I use for sustain on solos [now] was designed by Steve Giles at Advanced Pedal Workshop...it's a Vintage FET Pre-Amp Treble Boost. It is out of manufacture currently but a new company may be formed to continue on making them.
Fun Fact: The album Raw Power was mixed by David Bowie. James was not completely satisfied with the mix (and still isn't).
Richard Patrick (Filter, NIN, Army of Anyone):
Richard: I've had like five Custom Telecasters from Fender and I've given them away back in my drinking days. I have this one, the first one they made which I call "Golden Boy". I recently put on a pearl pickguard so maybe I should call it "Liberace" now. But when I pick up that Tele, it's all the Filter guitar sounds. Playing live, I like to use a couple Schecters. But when I have to play some of the more roust Filter songs like "Dose" the Tele comes out to make an appearance. Songs like that, even "Take a Picture" those were all that Telecaster. Nothing speaks more to me than that guitar. I did not use it much on this last record with Bob Marlette. Basically, my guitar sound was like a 9000 and then I had a table going down the house into the speakers. I had this [mixing] board which I believe was called a Fostex 812 from my 8 track days when I used an 8 track machine to do demos. And I would just crank 400 hertz and then play barre chord variations on top of that and it just sounded so unique and so different. I ended up losing that board somehow, I think Adam Walker walked away with it and I never saw it again. But I realized from a guy named Bob Ezrin, who produced the Army of anyone and Pink Floyd's The Wall, he said that all microphones have something to offer – even the cheap stuff. I like how I recorded Short Bus because I used this really cheap crappy Audix Microphone. I felt like breaking some rules and abandon recording norms. So the next Filter song that came out after Short Bus we decide that we were only going to use DI guitars and that was our middle finger to the "right way" of doing things." We recorded all the vocals on Trouble with Angels with an F7 – a 250 dollar microphone.
Dean DeLeo (Stone Temple Pilots, Army of Anyone) won't admit this in public but I introduced him to using [Line 6] Amp Farm to replicate the vintage tone without using vintage equipment. When we went in to do the Army of Anyone record they had every old amplifier from the 60's in the middle of the room facing out towards the walls. And then they had all the bass amps in a circle around the room facing in towards the middle and they had every amp mic'ed up – it was amazing but it was pretty over the top. But that's just the way they record. For example, Dean uses very little low end on his guitar because his brother Robert takes up so much of that frequency with his walking bass lines. So Dean uses a Stratocaster for that reason. And he uses the white Stratocaster Jimmy Page used on Physical Graffiti. He owns that guitar. It's worth a couple hundred thousand dollars, its light, its delicate, it's from the 50's, and he plays it quite a bit. I've learned that sometimes you've got to abandon the rules and do something different to get that edge you're looking for. For us right now its Blackstar Amps. Blackstar is my amp because it's not the norm and it has this really cool dial where you can go from 'California' sound to a 'British' Sound. They are rigorous and they can take a beating on the road and that says a lot to me. My pedal is a Zoom G3 Multi Effects Pedal. It has everything I need on it. Joe Satriani uses one too, it replaced everything I had. When I got that pedal, I had a huge pedal board and I took everything off it and just put this one pedal in the middle.
Justin: What does Golden Boy have for pickups?
Richard: It's got Seymour Duncan Hot Rails down at the bridge. And it's got a Fender Noiseless Single Coil at the neck position.
Justin: Do you have any of the other Custom Teles left?
Richard: Yeah I have a few and every one of them sounds completely different. I have one called "Sparkle Motion" that's totally silver with a mirror pickgaurd and I got a new Strat neck on it and a new modern vibrato system.
Justin: You use the old 70's style Strat necks on your Teles don't you?
Richard: No, I took those off. I thought it was just the headstock, nobody told me it was the whole neck. I'd be playing and my fingers kept flying off the fretboard. I just wanted the headstock to look all old and funky but they wouldn't make me one like that. Yeah they were vintage style necks, they even said "Filter" on them – I took them off.
Justin: Are they just standard Strat necks now?
Richard: They're all the modern necks from a Fender Custom Shop Stratocaster.
Fun Fact: Richard started Filter after a dispute over rights to a song he originally wrote for Nine Inch Nails. That song was "Hey Man Nice Shot".
Mark Lanegan (Screaming Trees, Queens of the Stone Age, Mad Season):
Mark: The guitar, I use it like a shovel and I have never been precious about guitars. My wife has guitars that she likes but the guitar that I've been using; I bought it on ebay for like 80 bucks. That's what I write on. The strings are old and crappy. I use my iPhone app to tune. I've just never had the motivation to get proficient on it. I really only picked it up when I had an offer to do a solo record when I was with the Screaming Trees in the 80s and I knew I had to write some songs. I rarely play on records. I think I played one part on one [Screaming] Trees record and one song on this solo record, one on the previous solo record and one on another solo record. So, I never play it except to write songs.
Justin: Would you consider yourself to be a "good" guitar player?
Mark: Are you joking? An old guitar player of mine, Troy Van Leeuwen, who plays with the Queens [of the Stone Age] once described my guitar playing as "when your 15 year old brother picks up a guitar and plays it for a week" but then I never got past that week.
Justin: Well if your guitar is used like a shovel, you've certainly dug up some good songs with it. That's what I think is important about your guitar playing.
Mark: Well it's worked out.
Fun Fact: Nirvana's version of "Where did You Sleep Last Night" stems from an aborted Leadbelly Covers EP project that Kurt Cobain, Krist Novoselic, and Mark had been working on. Josh Homme was a touring guitarist for Screaming Trees back in the 90's.
Joey Santiago (The Pixies):
Justin: Why have you remained so loyal to Gibson Guitars?
Joey: I like the sound of it. It's a forgiving guitar in relation to something like a Tele and I need a lot of forgiveness. Also, Charles already has the Fender sound and it doesn't make sense to us to have two of the same sound source. So, he has the Tele and I have the Les Paul.
Justin: Ah, Les Paul and Telecaster, that is a proven contrast.
Joey: For sure, Strummer and Jones used it and it worked. I'm a big Clash fan.
Justin: Do you do a lot of gear searching when you're in the studio?
Joey: Well, I kind of did it on Indie Cindy. I have so many delay pedals. I keep buying them and not using them. I like having them around. I use them more in my film work than in the Pixies. My pedal board with the Pixies has a lot of effects on it but I always pride myself on just going from the guitar to the cable to the amp. I always use the same amp because it works. I use the Marshall 800 (50 watt) and it works.
Justin: You've had that since the early days, haven't you?
Joey: Yeah, I've had the Marshall since Doolittle. I must have slipped up a bit on Surfer Rosa where I used a Peavey amp (a Bandit 112) and I loved it. I think originally I got the Peavey as a combo because it was easy to carry back when we had to pack up our own shit. Now we have a crew so I still use the Marshall JCM 800 and a vintage Fender Vibrolux.
Fun Fact: This is from an interview I did over the phone while Joey was in Chile right before Indie Cindy came out. The phone call cost me $80.
Jim "Reverend Horton" Heath (Reverend Horton Heat):
Justin: You've got some old gems, don't you?
Rev: Yeah I have some. I don't consider myself to be guitar collector but over the years I've picked up some pretty nice ones. I've got a Gretsch Chet Atkins and I take that to guitar shows and all of the dealers say that it's the cleanest one they've ever seen. It's immaculate and it's beautiful. I've got a Gretsch Streamliner that's from 1957 but it looks brand new and I got that one from Billy Gibbons from ZZ Top. Then I've got a '62 Fender Jazzmaster – that one has got some dings in it, it's not immaculate, but it plays and sounds wonderful. It used to be my main guitar but it got stolen 22 years ago and now I got it back.
Justin: How did that happen? That's a rare happening that a stolen guitar gets recovered.
Rev: Well it's kind of a long story but the guy who bought it, bought it for a hundred dollars from a junkie that worked for me for me for a while. I didn't know the guy was a junkie but he told the guy that the guitar was from a rehearsal studio and it was the rehearsal studio where this guy was and where we used to rehearse. Who sells a '62 Jazzmaster for a hundred bucks? But anyways I asked around who the guy was and they wouldn't tell me but they said I should just be happy I got it back. So I think what happened is the guy felt guilty. But I beat myself up for 22 years that that thing got stolen, so to get it back, that guitar means a lot to me. But I've also got a couple Telecasters that are pretty cool. I've got a couple of Supros that are pretty neat. That's what Link Wray played. I've got a 1954 Gibson ES 175D. That guitar is magical. It used to be my main guitar but the pickups are kind of noisy and weak – they're old pickups but man, in a jazz situation, if you plug that thing into the right amplifier, it's like Les Montgomery in 1959, it's beautiful. Of course, I can't play like Wes Montgomery but it's got that sound.
Justin: Use on records or is that your signature?
Rev: I usually just use the guitar that I'm used to which is my signature. I've got four of those. There's one of them in particular that I've always gravitated towards and I've been using that one mainly for the last ten years or so. Sometimes in the studio, I will use the Jazzmaster or sometimes I'll use the Telecaster or the Gibson ES 175. There's one album we did called Spend the Night in the Box and that particular album has a lot of that Gibson 175 on it. Various other songs on other albums will have something different on them but in general, it's my signature Gretsch. I have a White Falcon too that I've used and looking back on it now, I can't remember what I used on a lot of those songs.
Scott Weiland (Stone Temple Pilots, the Wildabouts):
Justin: Blaster has a bit of a vintage tinge to it. I really dig the guitar sound on there. Jeremy did a great job.
Scott: We used old vintage stomp boxes on the whole album. And not your average ones…we used a bass micro synthesizer along with fuzz on the guitar to achieve Jeremy [Brown]'s overall tone.
This is from an interview I did with Scott in March of 2015, A couple days prior to guitarist Jeremy Brown's passing. Jeremy was supposed to be part of the interview but he wasn't available. I can only speculate on the reason why.
Josh Rand (Stone Sour):
Justin: What's your collection of gear look like?
Josh: It's a barrage of Ibanez Guitars, my mains are SA Custom Shops. I'm in the process of switching to the S model. I have some RGs out that have been customized [custom kill/mute switch and a bypassed tone pot]. I've been using Hughes & Kettner Triamp MKIIs since 2005. My pedals change with every tour based on the songs we're doing but I've got an EVH Flanger and Phaser, an MXR Tremelo, MXR Chorus, and a switchless Kirk Hammett Wah that Dunlop customized for me - they only made three of them and I have two. I use Audio Technica for my wireless. It's a pretty simple setup.
Justin: I'm told you disconnect your tone pots.
Josh: Yeah, everything is there but it's just not hooked up. I found myself never using it so I just bypass the tone pots on everything. The only one that I kept hooked up is an SA with the David Gilmour EMG single coil setup in it and we did mess with the tone a bit in that and that was one of my main clean tones for the House of Gold & Bones records. I never use the tone knob when the sound is dirty so I figured its one more thing to hit on accident, so what's the point? I've also been told that you can get a bit more gain out of the guitar if you don't have the tone hooked up because of the voltage drawn by the tone pot.
Justin: Have you always used EMG Pickups?
Josh: I used Dimarzio for a while. I still use them in the studio on my Paul Gilbert PGM 301 which in my main solo guitar. I just like the warmth from a passive pickup for the solos.
Justin: Is your studio rig pretty similar to your live rig?
Josh: It's pretty much exactly what my live rig is with the exception of the Paul Gilbert guitar. I have another one that I used a lot on Come What(ever) May called a LDT Truckster. It's funny; I bought that guitar to be something to beat on back at the townhouse when we were recording because I didn't have too many guitars at that point. I ended up bringing it into the studio and it sounds amazing. I hate playing it though, honestly because the body is oddly shaped and it's very uncomfortable and when I do track with it, I have to stand up because I can't sit down and be comfortable. For House of Gold & Bones I used a Soldano SLO100 mixed with the Triamp – that was the basic rhythm sound. Then for the clean stuff, I had Bad Cat make me a special Trem Cat which I mixed with the TriAmp for the clean sound.
Fun Fact: The band Stone Sour takes their name from a drink, basically, it's a whisky sour with orange juice.
Nina Diaz (Girl in a Coma):
Nina: I play a Fender DeVille amp and I have a Brent Mason Signature Guitar from Valley Arts Guitars (Made by Gibson). I have a few pedals – I have a boost pedal and I have a Turbo Distortion Pedal that I love. I use all BOSS Pedals. I have a loop station which I use sometimes. I used to play with a black and white Squire Telecaster and then I found this guitar which sort of looks like a Telecaster body but the sound is not exactly like a telecaster, but I think it sounds pretty good.
Justin: Did you play a Squire Tele by choice or was it a money issue?
Nina: Yeah, I didn't have much money in the beginning and I played that for a long time when we were starting out. I actually have that guitar tattooed on my left shoulder. That was my first love.
Justin: Do you get tattoos of all of your guitars or why was that one special?
Nina: I just love telecasters and that was the first one I started writing songs on. I have it hanging up in my room right now.