Top 10 German Bands of All Time
Der beste Artikel auf UG.
Niass
Ultimate Guitar

Niass
Serial Walken comma user. Stroopwafel enthusiast.
Posted Mar 01, 2017 11:56 AM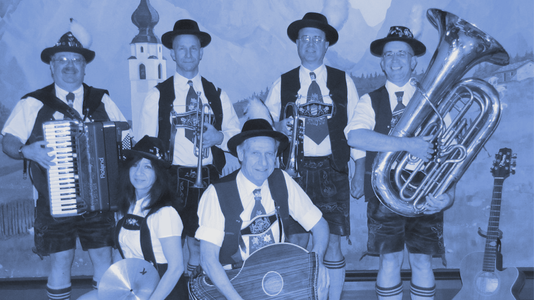 Sure, when you think of Germany your mind conjures some terrible puns or images of Oktoberfest celebrations. But besides beer and sausages, one of Germany's biggest cultural exports is heavy metal music, in particular power metal and thrash. So, today we bring you 10 German bands that you really got to listen to. And of course share your favorite German bands in the comment section below. 
The honorable mentions will be:
Die Toten Hosen

Guano Apes

FJØRT

Avantasia
Let's kick it!
10. Blind Guardian
Originating from West Germany in the mid 1980s, melodic speed metal band Blind Guardian rose to become one of the world's leading mythical power metal sensation. The band has conquered fans of classical music, opera, progressive rock and thrash. In a majestic career that spans three decades, Blind Guardian helped to invent power metal and have evolved to perfect and innovate it. Using themes such as mythology and tales from ancient traditions and folklore, Blind Guardian's latest album.
9. Oomph!
Forming in 1989 and releasing twelve albums - their most recent being 2015's "XXV" - all with the same three members, Wolfburg's Oomph! must be doing something right. The trio is known as pioneering the metal subgenre of Neue Deutsche Härte, influencing the best known bands of that genre, Rammstein and Megaherz, with their mix of traditional metal with raw industrial rock, comparing them to American contemporaries Nine Inch Nails - just with more melody. Beginning with a pure, dark industrial rock sound (which was a fairly new genre at the time), the band shortly evolved into a more mainstream rock sound, while in recent years adding in more pulse-pounding EDM and pop elements on top of their heavy, down-tuned guitars. But with all these changes - which helped the band chart all the way to number two with "Wahrheit oder Pflicht" - they never threw away what made them Oomph! And to be even more accessible to the rest of the world, in 2010 the band released "Truth or Dare," a greatest hits compilation where they re-recorded their hits in English.
8. Kreator
Arguably, Kreator is the German counterpart to Slayer when it comes to violent, raging, fast as hell and sinister sounding thrash metal. Through decades of relentless touring since the early '80s, Kreator have risen to become one of the world's most prominent thrash metal band. The band's pure thrash assault wins over fans of death metal, black metal and punk. Original guitarist and vocalist Mille Petrozza has led the band through countless world tours, and 13 studio albums, including the seminal classic.
7. Sodom
Another big name in German thrash, Sodom was also created in the early 1980s and drew inspiration from Motörhead and Venom. Early on, the band's sound was more raw, dark, and lyrically into evil and the occult. Sodom's first album, "Obsessed by Cruelty" (1986), has been cited as an inspiration by black metal bands like Mayhem and others. Many also consider it, and "In the Sign of Evil" (a 1984 EP) to be an early black metal release. But, it was the 1989 release "Agent Orange" that catapulted Sodom to the top in terms of worldwide tours exposure and album sales. The band's solid heavy, fast-paced thrash was violent, head pummeling and included songs about violent horrific war stories and apocalyptic scenarios. But, to date, the band has 13 studio albums and shows no sign of slowing down soon.
6. Kraftwerk
Originators of techno sound. One of the most influential bands of all time. Electronic version of The Beatles. All of this can be said about Kraftwerk. The guys were truly ahead of their time and that's what gives them the 6th place on our list.
5. Accept
At the front of the German heavy metal explosion in the early to mid 1980s, Accept was first brought together in the late 1970s, by vocalist Udo Dirkschneider, guitarist Wolf Hoffman and bassist Peter Baltes. Although Dirkschneider no longer fronts the band, Accept rages on new singer, Mark Tornillio. But, undoubtedly, it is the fourth album, Balls to the Wall, and the it song of the same name that put Accept onto the eternal map of heavy metal music, it an iconic metal classic that still rings the true spirit of classic true metal to this day.
4. Helloween
Perhaps one of the world's most renowned melodic power metal bands next to Iron Maiden, Helloween have been cranking out an epic, mystic coagulation of classical music, and thunderous heavy metal since forming in Hamburg, in 1984. Considered to be one of the pioneering forces of European power metal, the band has had over a dozen musicians in its line up and has 14 studio albums under its belt. The pair of albums, "Keeper of the Seven Keys, parts I" and "II" (1987-88) are still considered seminal power metal albums.
3. Die Ärtze
Die Ärzte started out in Berlin's punk scene during the '80s. Two members - Farin Urlaub and Bela B. - were in various different punk bands before joining forces under their medical moniker. In 1993 they were joined by Rodrigo Gonzalez to create their current lineup.
Some of their most notable hits include the anti-Nazi anthem "Schrei nach Liebe" (Cry for Love) and "Hurra" (Hoorah). In recent years they've taken a more poppy route with their music.
2. Scorpions
No German rock band has hit the charts more often or climbed higher than Scorpions. The band from Lower Saxony has been scoring international hits for five decades. And while they're on their 5th farewell tour it looks like they scrapped plans to retire long ago!
1. Rammstein
Known across the world as a group of industrial metal freakazoid pyromaniacs, the band formed in 1994 and soon began a plot of world domination, one twisted show at a time. In 1998, Rammstein was unleashed to perform for American crowds at the 1998 Family Values Tour along with Korn, Limp Bizkit, Ice Cube and others. Since then, the firebug sadist headbangers have been recording, touring the world and pissing off conservative citizens of the globe. With a musical mix of synthetic, mechanical sounds and metallic harsh musicianship, the band takes from NIN, Ministry, Fear Factory, KMFDM, Sepltura, Godflesh and Depeche Mode. As if music with lyrics sung mostly in German and songs about bestiality, sadomasochism, sexual perversion and arson aren't provocative enough, the band makes use of flamethrowers, pyrotechnics and heavy-duty explosives for its live performances.