Top 10 Rammstein Live Stunts
Bang Bang!
Niass
Ultimate Guitar

Niass
Serial Walken comma user. Stroopwafel enthusiast.
Posted Aug 10, 2017 01:16 PM
Rammstein are one of the most impressive live bands in the world, there's no doubt about that. Even if you don't enjoy Rammstein's music, their stunts are still something unique and are certainly a sight to see.
Here, we decided to take a look at 10 Best Live Stunts by Rammstein.
10. Platform + Drum Fireworks / Ich Tu Dir Weh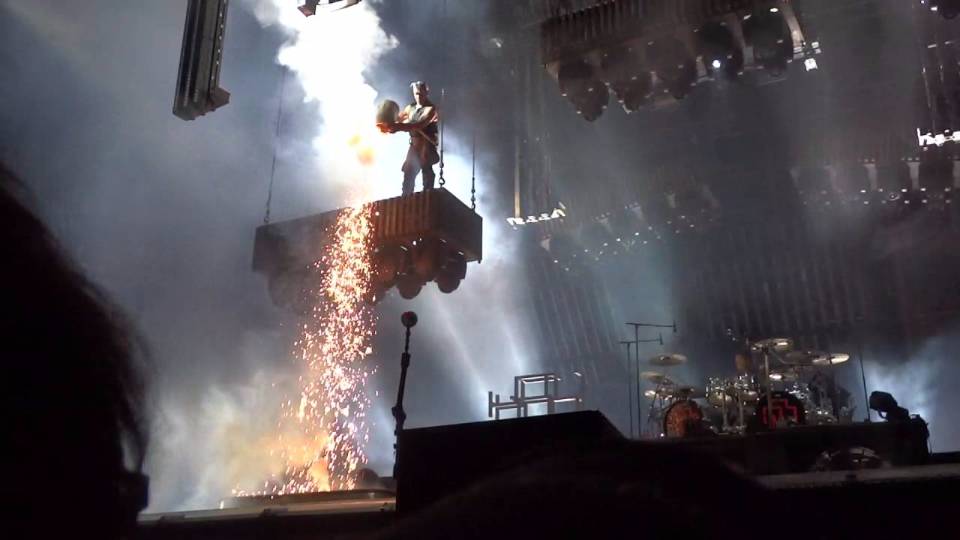 Video: https://www.youtube.com/watch?v=0DNJUPfBRPg
There's probably no better opening song for Rammstein than Ich Tu Der Weh. Drums Till descends from the sky on a platform. Lots of sparks. Lots of awesomeness.
9. Firebreathing / Feuer Frei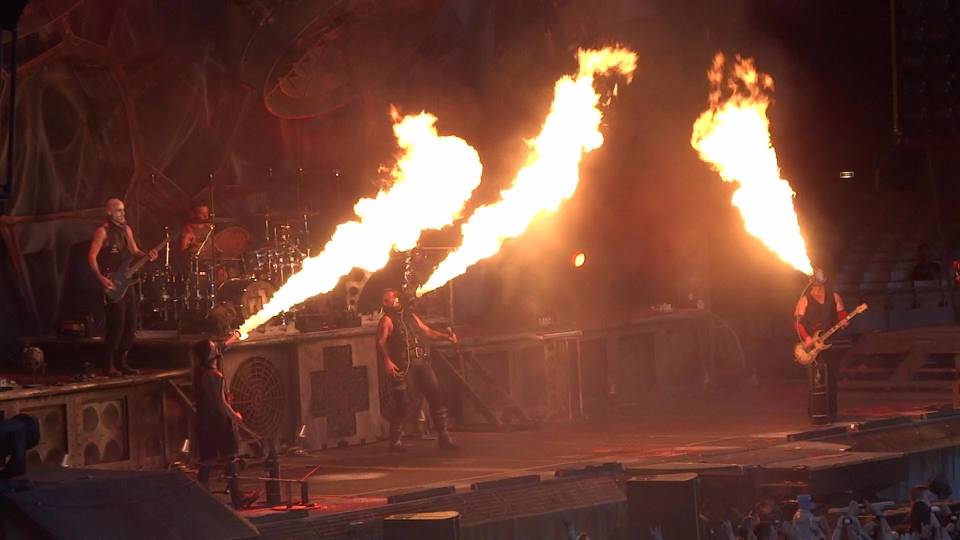 Video: https://youtu.be/jo87GQA_MlM?t=2m43s
When the song is called Feuer Frei (which is roughly translated as 'fire at will' command) what can you expect from the performance? A lot of fire, of course!
The amount of fire spat in one set of Feuer Frei makes Gene Simmons look like a child playing with matches.
8. Tilldo - Bück Dich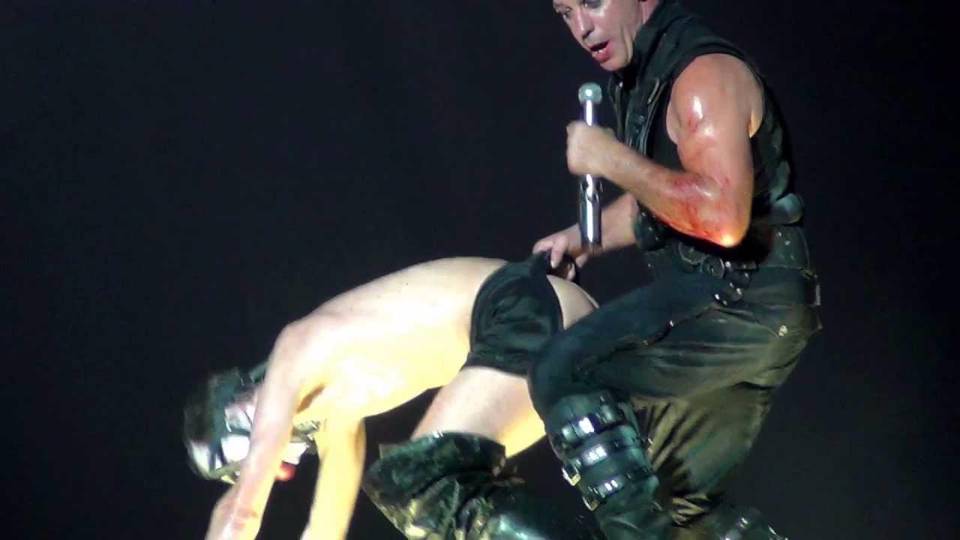 Video: https://youtu.be/WLRt_1kQJ3Y?t=6m17s
You know like conservatives like to say rock is all about sin and sodomy? Well, in the case of Bück Dich (translated Bend over), it's not far from true as Till defiles Flake on stage with a rubber dildo and then sprinkles the crowd with water from it.
In 1998, in Worcester, Massachusetts Lindemann and Flake Lorenz were arrested and charged with lewd and lascivious behavior. They were held and released the following day on $25 bail. After months of legal debate, they were eventually fined $100.
7. Crowd Boat Surfing / Seemann, Haifisch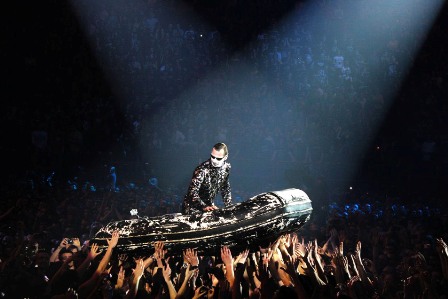 Video: https://www.youtube.com/watch?v=hiXphz99fKw
In the bridge of Seemann, Flake usually sat in a small inflatable boat and sailed over the crowd who waves and bring the boat back to the stage after a short tour.
Of course, the boat often got invaded by crazy fans so the guys had to cancel this stunt because Flake was injured too often.
6. Cooking with Till - Mein Teil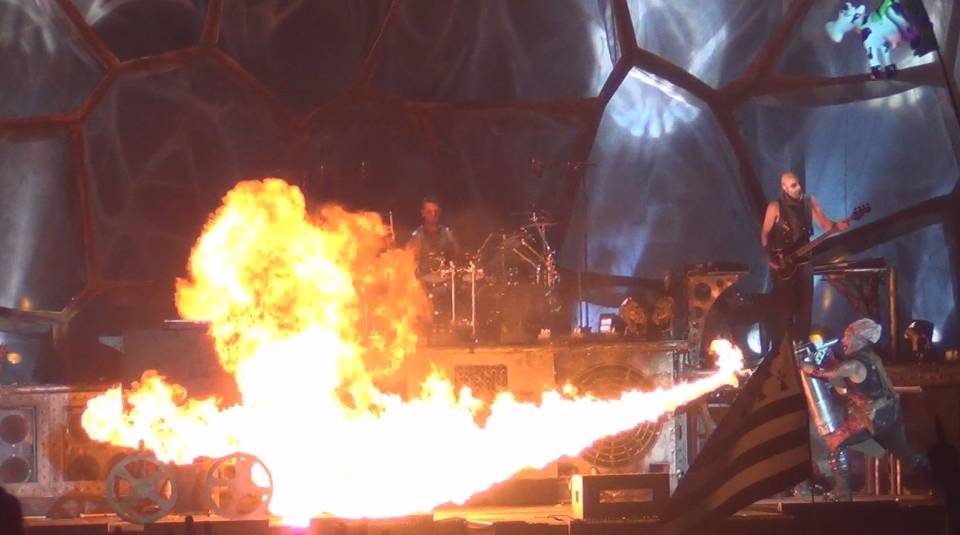 Video: https://youtu.be/fOPu0QFDWXg?t=4m35s
Mein Teil is a song about cannibalism which of course prompts Till to dress as a blood-stained chef holding a microphone with a large butcher's knife attached to the end.
During the song, Till pulls out a giant cooking pot with a portable keyboard attached to one side. Flake appears in the pot, with metal cylinders attached to his arms and legs, and plays the keyboard during the song. After the second chorus, Till takes a flamethrower and roasts the bottom of the pot, "cooking" Flake. Flake escapes from the pot and starts running around the stage with flames erupting from his arms and legs, while chased by a knife-wielding Till.
5. Bomb Vest / Zerstören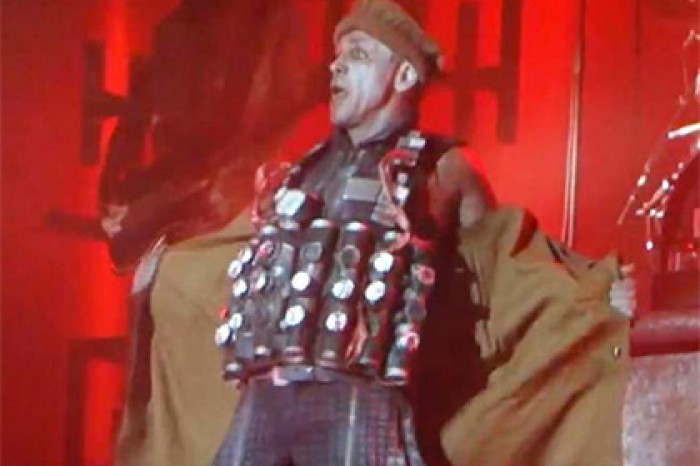 Video: https://www.youtube.com/watch?v=ozX0CeXbUl8
Of all the stunts on our list, this one has the biggest amount of shock value.
In Zerstören, Till wears a vest, simulating a suicide belt. Eventually, the belt has sparked, creating the impression that the musician explodes himself.
The first time he did this the audience was scared of Lindemann action; many of them did not realize that the device was a fake and consequently Rammstein received a lot of harsh criticism from the European media.
4. Setting a 'Fan' On Fire - Benzin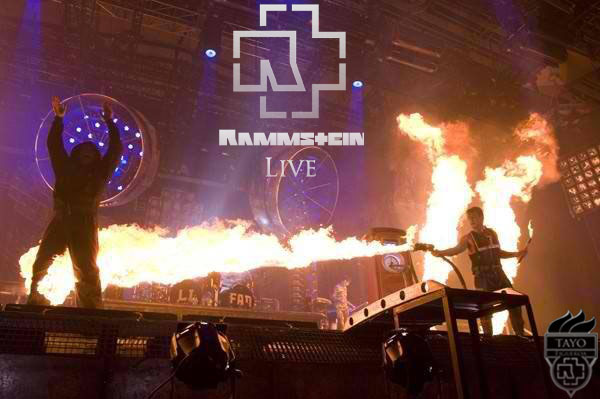 Video: https://youtu.be/MgavgIS00sk?t=4m21s
Benzin is performed with pyrotechnics, including a flamethrower disguised as a petrol pump. By the end of the song Till Lindemann uses it to set a 'fan' on fire, who runs through the stage until the song is over.
3. Penis Cannon - Pussy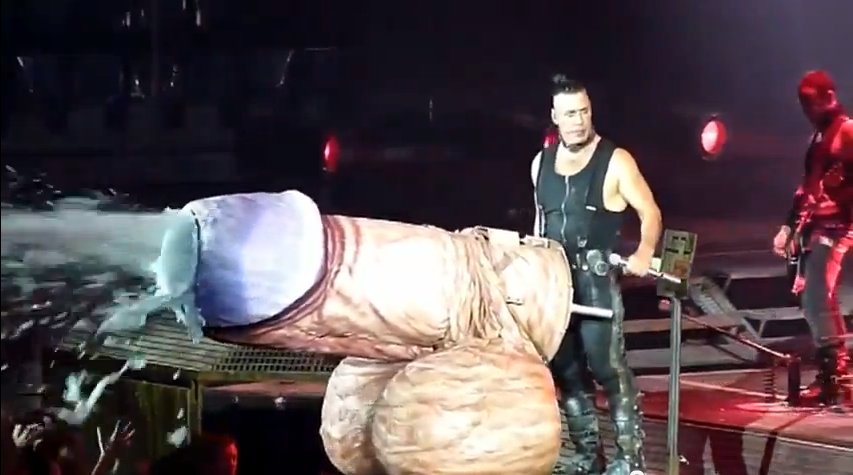 Video: https://youtu.be/JmBPPV6AWwQ?t=3m34s
In this one, Till mounts a giant cannon which resembles a penis (although a bigger, more realistic looking one was used during the first few concerts of the Made in Germany tour, but was replaced by the original for unknown reasons) that shoots foam over the audience, while confetti falls from the ceiling, much like "Amerika". Till has been known to sing a few lines in the native language of the country which they are performing in.
2. Fire Angel - Engel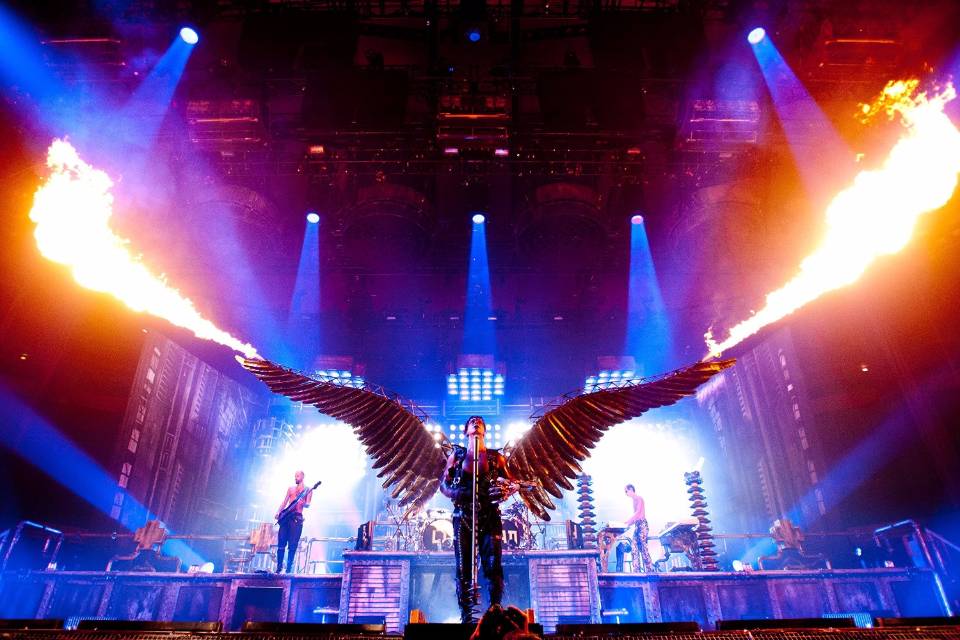 Video: https://youtu.be/eSaa3vC_n2k?t=3m42s
While performing Engel Lindemann wears a set of angel wings that shoot flames from the tips and that have sparks go off along them.
1. Crossbow Fireworks - Du Hast
Ok, think we gotta explain our choice here. These are just fireworks that are present practically in every Rammstein song so what's special about it?
Du Hast is the song everyone knows and even can sing the lyrics (duh) which is certainly contributes a lot to the atmosphere. During the song's bridge Till takes a crossbow-like weapon and launches fireworks that go towards the crowd only come back immediately with a shrieking sound and explode.
This trick can certainly take anyone by surprise and stays in memory for a long time.
0. Flake Dancing - Weißes Fleisch
GO FLAKE GO!!!
And what is your favorite Rammstein stunt?