Top 20 Greatest Songs Under 60 Seconds
As voted by UG community...
UG Team
Ultimate Guitar

UG Team
UG editorial team. A group of people who are passionate about guitar and music in general.
Posted Apr 29, 2016 04:46 PM
This week's traditional Wednesday Question saw the folks of UG community discussing the matter of finest songs that last less than 60 seconds.
We received a solid chunk of votes and around 400 comments, all of which were summed up into a nice Top 20 rundown.
As for the pranksters, Rush technically scored enough votes to reach No. 4 with "2112," but yeah, that one is 20+ minutes long, so no...
Apart from that, we're looking at a bunch of pretty short songs, hence description aren't gonna be miles long either (as if they ever are).
Anyhow, the rundown patiently awaits below...
20. Tool - Intermission
Best song on the entire "Ænima" album, some say...
19. CHON - wut the.. (poop)
You know what's kinda funny? That this song is labeled as "Explicit" on Spotify...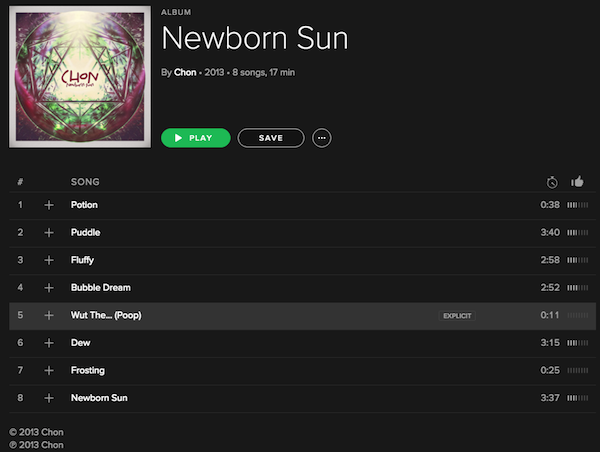 18. System of a Down - 36
Mr. Tankian shining bright on this one...
17. Black Flag - Fix Me
Very close to the 60-second limit, Black Flag are up next with "Fix Me."
16. The White Stripes - Little Room
Here's a nice explanation from Jack White about this one, it's longer that the tune itself: "People were starting to become disinterested in us in that underground garage-rock cool world. There's a photograph of Meg and I and people attacking us but then they turn out to have cameras... the idea of the name of the album was 'White Blood Cells' with an 'S' instead of a 'C.'
"I was trying to make the point to myself that there's an idea about authenticity and pureness in art that everyone has a different take on. And it takes a lot of time for people to really realize how much truth there is in that. That was what 'Little Room' was about. It was about those ideas but it ended up having a whole new meaning before the year was out."
15. Kyuss - Lick Doo
Nice little Zappa influence here...
"Well honey you know that you can and will lick mah doo! Yeah!
Well honey you know that you can and will lick mah big fat dooooo! Come on!
You know that you can and will lick mah doo!
Yeah!
You know that you can and will lick mah big fat dooooo!
You know that you can and will lick mah doo!
Yeah
You know that you can and will lick mah big fat dooooo!
Yeah
Yeah
Alright Oh yeah. Come on. Alright. Alright."
14. Pink Floyd - Stop
Serving as a build-up for "The Trial," "Stop" briefly tells the listener about how "Pink is tired of his life as a fascist dictator and the hallucination ends. Also tired of 'The Wall', he accordingly devolves into his own mind and puts himself on trial."
13. Crash and the Boys - I'm So Sad, So Very, Very Sad
"SOOOOOO SAAAD"
12. Anal Cunt - Hitler Was a Sensitive Man
"He went to art school when he was younger
He wanted to be a painter
Hitler was a vegetarian
He was also a non smoker
He hired gay and handicapped officers
He was concerned about overpopulation If Hitler was alive today He'd listen to The Cure, The Smiths, and Depeche Mode"
11. Dethklok - Deththeme
\m/ \m/ \m/ \m/
10. The Offspring - Intermission
"YEAHHHH, intermission..."
9. Minor Threat - Straight Edge
This one is actually the most influential song on the list. Clocking in at 46 seconds, Minor Threat's "Straight Edge" inspired the straight edge subculture...
8. Korn - Twist
You know what's a great way to kick off an album? 49 seconds of improvised scat singing by Jonathan Davis that sounds like "spitting out twisted rantings of a madman."
7. The Beatles - Her Majesty
Closing the "Abbey Road" album, "Her Majesty" occurs 14 seconds after the seemingly final song on the album, "The End," making it one of the very first examples of a hidden track.
6. Ozzy Osbourne/Randy Rhoads - Dee
Showcasing the versatility of late great Randy Rhoads, "Dee" is a gorgeous guitar piece planted right in the middle of "Blizzard of Ozz."
NOTE: The video below is a cover version - the original was taken down from the YouTube.
5. Blink-182 - Happy Holidays, You Bastard
This one was made to "piss parents off," and the goal was probably reached thanks to jolly lyrics like this:
"I hate, hate, hate your guts,
And I'll never talk to you again,
Unless your dad will suck me off
I'll never talk to you again
Unless your mom will touch my cock
I'll never talk to you again
Ejaculate into a sockI'll never talk to you againI'll never talk to you again"
4. Black Sabbath - Embryo
Instrumental intro to "Children of the Grave," nice little piece...
3. Judas Priest - The Hellion
Instrumental intro to "Electric Eye," nice little piece...
2. Napalm Death - You Suffer
Instrumental intro to... oh wait - "You Suffer," the shortest song of all time, precisely 1.316 seconds long...
1. Tenacious D - Classico
And on the throne of UG this week, you folks crowned the mighty Tenacious D and the glorious 58 seconds of "Classico."