Top 21 Easy Guitar Solos
As voted by UG community.
N-D
Ultimate Guitar

N-D
UG editor. Music lover. Constant searcher of something interesting and unique.
Posted Apr 22, 2017 01:05 AM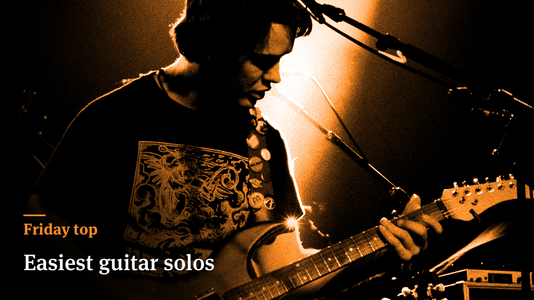 This week's traditional Wednesday Question saw the people of UG community discussing the matter of easiest guitar solos of all time. Based on your votes and more than 200 comments, we summed this one up to a Top 21 rundown, make sure to check it out below.
Before kicking things off, this week's honorable mentions are:
Black Sabbath - Tomorrow's Dream
Stone Temple Pilots - Interstate Love Song
Chevelle - The Red
Pearl Jam - State of Love and Trust
R.E.M. - Losing My Religion
The Black Keys - Gold on the Ceiling
Queens of the Stone Age - Leg of Lamb
The Beatles - Come Together
Aerosmith - Kings and Queens
And now, a few great prank nominations:
Anything off St. Anger - Metallica (skyturnedred: "Playing a solo from St. Anger is like dividing by zero.")
Tenacious D - One Note Song
Lil Wayne's solo
And now, the actual list!
21. The Cranberries - Zombie
Besides famous melody and Dolores O'Riordan's signature vocals "Zombie" has a guitar solo - and yes, it's quiete simple.
20. Beastie Boys - (You Gotta) Fight for Your Right (To Party)
History says it features Slayer's Kerry King on guitar - but you don't need to be a King to play such an easy solo.
19. Buzzcocks - Boredom
One of the most complex yet icon punk rock solos ever - it starts at 1:25.
18. Anthrax - Got the Time
Simple and catchy song, it has a guitar solo that is much simpler than its bass solo.
17. Def Leppard - Pour Some Sugar on Me
Simple riffs, simple solo...
16. 3 Doors Down - Kryptonite
"Kryptonite" by 3 Doors Down shows that if you want to play a solo in your song and you want it to remain a hit - simplify your solo.
15. Lit - My Own Worst Enemy
And again, simple and catchy riffs - and a simple solo.
14. Judas Priest - Living After Midnight
In the official music for "Living After Midnight," during the Glenn Tipton's guitar solo fans on the front row play along with their cardboard guitars (which were the prominent fan symbols of the new wave of British heavy metal movement).
13. Misfits - We Are 138
Definitely one of the longest and complex guitar solos in the history of music - check out it at the 58 seconds mark. Actually, less is more in this case.
12. Metallica - Hero of the Day
Quiet an underrated song in the Metallica's catalogue, "Hero of the Day" has one of the easiest yet catchy Kirk Hammett's solos.
11. Dream Theater - These Walls
Though Dream Theater are known for their complex instrumentation, the solo in "These Walls" is really easy - and it works. Check it at 4:38.
10. Twisted Sister - We're Not Gonna To Take It
Compared to another entries on our list it's hard enough, but still... well-deserved 10th spot.
9. Pixies - Where Is My Mind
This solo is easy enough to play while watching skyscrapers collapse.
8. Green Day - Holiday
Typical Green Day, typical easy solo.
7. Neil Young - Cinnamon Girl
We'd suggest taking your time with this one because of the sheer volume of content. Remember even the fastest runner once took a first baby step.
6. Red Hot Chili Peppers - Californication
John Frusciante is a genius not because he can shred like crazy (while he sure can do that as well). He is a genius because he can create such simple, but catchy as hell solos.
5. The White Stripes - Seven Nation Army
Can you play the first 7 notes? Then you sure can play this solo by Jack White.
4. Audioslave - Show Me How to Live
You sure don't need to be shown how to play this solo twice.
3. Devin Townsend Project – Kingdom
Easy as an apple pie. In Devy's own words, "The most epic guitar solo."
2. Nirvana - Smells Like Teen Spirit
The first solo of many guitar beginners. That is a song where playing chords is actually harder than playing a solo, which is simple yet emotional.
1. Ramones - I Wanna Be Sedated
Protip: The best way to learn this solo is to look into a bowl of Cheerios. Heavily advise doing some wrist warm-ups before playing.
That's all folks; we hope you enjoyed the top, stay tuned until next week for another WQ!