Top 25 Albums of 2016
As voted by UG community.
travislausch
Ultimate Guitar

travislausch
Travis Lausch, a Canadian prog-head who's been lurking around on Ultimate-Guitar pretty much since the beginning (joined in 2002!).
Posted Dec 23, 2016 06:07 PM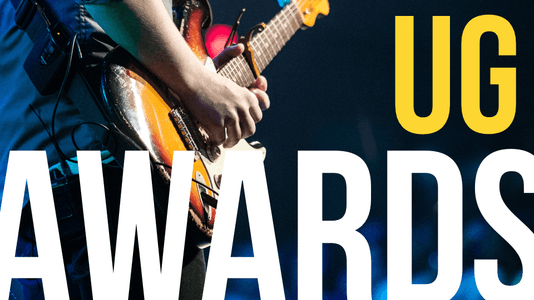 With 2016 coming to a close, it's time to round up our top albums of 2016, which you voted for here. To quote UG user dirron, "Holy shit there were a lot of good albums this year"! We summed up the results in a Top 25 list, so check it out below!
Before kicking things off, this year's honorable mentions are:
Red Hot Chili Peppers - The Getaway
Korn - The Serenity of Suffering
Thrice - To Be Everywhere Is to Be Nowhere
Ihsahn - Arktis
Obscura - Akróasis
So here's an actual top.
25. Katatonia - The Fall of Hearts
Katatonia's albums have been consistently top-notch throughout their career, so it's hardly a surprise to see them get some love from the UG community. "The Fall of Hearts" was strong on melody and progressive metal influences, in keeping with the formula of their past few albums, and it's really awesome to see them kick off this year's top 25!
24. Iggy Pop - Post Pop Depression
Raw and energetic, Iggy Pop's "Post Pop Depression," a collaboration with members of QOTSA and Arctic Monkeys, is a varied album which touches on new wave, garage rock, and even some avant-garde and progressive tendencies, and has garnered a nearly unanimously positive reception from UGers, especially from member Bedside Shred, who opines that it's a "fantastic album to fuck or do drugs to, better yet great to fuck to while on drugs." Not too shabby!
23. Haken - Affinity
After 2013's monumental "The Mountain," Haken's "Affinity" shifts gears into an homage to all that is 1980s. '80s prog-rock records like Yes' "90125" and King Crimson's "Discipline" were due to receive the homage treatment, and "Affinity" is the perfect prog-rock record for fans of that era, and a total nostalgia trip (as well as this writer's personal favourite of 2016!).
22. Anthrax - For All Kings
The thrash metal legends take the #22 spot, proving that even after all these years, Anthrax are still capable of delivering the goods. "For All Kings" is considered by most to be a return to thrash metal form, with many of you guys hailing it as a "classic" and "masterpiece."
21. The Dear Hunter - Act V: Hymns With the Devil in Confessional
Art-rockers The Dear Hunter take us on a ride at #21 with "Act V: Hymns With the Devil in Confessional," another excellent installment in their series of rock opera concept albums, throwing in a myriad of musical styles and yet still managing to make a cohesive album that does a very effective job of telling an epic story. They've always had a very, very loyal following, and I couldn't be happier to see this brilliant band on the list.
20. Animals as Leaders - The Madness of Many
Bringing us to #20, Animals As Leaders' new album "The Madness of Many" focuses on tighter collaborations between band members and experimentation with elements like nylon-string guitars and the band's trademark rhythmic exploration, Tosin, Javier and Matt deliver yet another great slab of post-2010 progressive instrumental metal that sounds like nothing else out there.
19. Plini - Handmade Cities
Up next is one of the most beloved names in this new wave of shred guitarists, Australian virtuoso Plini, who's debut full-length album "Handmade Cities" shows that he can also carry a tune just as well as he can rip on his guitar (usually a headless Strandberg Boden!). Plini proves on this album that he can hold a candle to the writing and playing talents of past guitar heroes like Vai, Satch, and Gilbert!
18. Childish Gambino - Awaken, My Love!
And now for something a little different, Childish Gambino (perhaps better known as comedian/actor Donald Glover outside of music circles) delivers a soulful, musically adept album of hip-hop, soul, and funk with "Awaken, My Love!" "Me and Your Mama" is an especially good song, and that track alone is worthy of this album being on this list.
17. The Claypool Lennon Delirium - Monolith of Phobos
While on the surface, it seems like a rather odd combo, Primus' Les Claypool teaming up with Sean Lennon, son of former Beatle John Lennon, has yielded some interesting, brain-melting psychedelic rock on "Monolith of Phobos," with tongue planted so firmly in cheek that it could have only come from these two diverse and talented artists.
16. Architects - All Our Gods Have Abandoned Us
Sadly, "All Our Gods Have Abandoned Us" is the last album to feature guitarist Tom Searle, who died of skin cancer on August 20th. But this album serves as a very excellent swan song for Searle, and is one of the band's strongest and most diverse offerings to date, showing the band as more than a mere one-dimensional metalcore band and setting the standard for other metalcore bands to follow.
15. Nick Cave and the Bad Seeds - Skeleton Tree
At #15 is Nick Cave's "Skeleton Tree," another very diverse, stripped down album with a lot of avant-garde and electronic influences. Nick Cave has always had a lot of "bubbling under" influence, but as far as I can recall, this is the first time he's made a top albums list on Ultimate-Guitar!
14. Vektor - Terminal Redux
With Megadeth, Anthrax, and Metallica all releasing absolutely top-notch albums in 2016, it seems that thrash metal is alive and well this year, and newcomers Vektor have put out "Terminal Redux," one of the most mind-blowing records of the year, evoking the likes of Voivod and Death as well as the more traditional thrash sounds.
13. Deftones - Gore
The band's exploration of dream pop and post-rock textures is continued on "Gore," and a guest appearance from Alice In Chains guitarist Jerry Cantrell doesn't hurt this album as well. Great songs, excellent production, huge atmospheres, what's not to love about this album?
12. The Dillinger Escape Plan - Dissociation
As announced this fall, TDEP has decided to disband after the "Dissociation" touring cycle is complete. The band couldn't have chosen a more potent way to go out than this album, which shows the band firing on all cylinders. UGer Muser9909 couldn't have put it any better: "TDEP Motherfuckers, you release the best goddamn album of the year, and the best album of your goddamn career, and then you break up... It's impossible, is fucking sad."
11. Periphery - Periphery III: Select Difficulty
Love that shit! Misha and the boys take a face-heel turn from the conceptual "Juggernaut Alpha/Omega" albums and crafted a simpler, more stripped-down album with "Select Difficulty," more in the vein of their first album. While I personally would have preferred the title "Periphery III: Shrek 2," there's no doubting that this band is staying firmly on top of their game! Even so, this album is still one of 2016's most varied and diverse metal albums.
10. Tremonti - Dust
Opening the top 10 part of our list is Tremonti's "Dust," which can almost be regarded as an outtakes album of sorts to "Cauterize," but far transcends that status with its amazing songwriting and truly epic guitar performances.
9. Opeth - Sorceress
Despite the controversy surrounding the band's abandonment of death metal elements on 2011's "Heritage," UG users have voted "Sorceress" into the top 10 of the year. But when you've got amazing tracks like the almost-classic-Opeth-heavy "Chrysalis" and the Jethro Tull-esque "Will o the Wisp," it's clear to see that Opeth still have a lot of backers among the UG community.
8. Devin Townsend Project - Transcendence
Even though Devy had some reservations at the beginning of the writing cycle for "Transcendence," he really came through with an absolutely transcendent (ha, ha... see what I did there?) slab of prog-metal that is sure to please fans of his pre-Devin Townsend Project solo albums. And his cover of Ween's "Transdermal Celebration" is one of the most spine-tingling tracks of 2016 (in this author's humble opinion)!
7. Alter Bridge - The Last Hero
Mark Tremonti will be absolutely thrilled to see his work make UG's top 25 (top 10, even) list twice! Like every Alter Bridge album before it, "The Last Hero" is an absolutely top-notch mix of mainstream rock, progressive metal tendencies, and all-out shredding from Tremonti and vocalist/co-guitarist Myles Kennedy.
6. Megadeth - Dystopia
Though it seemed like MegaDave was in hot water after 2013's poorly-received "Super Collider" and the departures of Chris Broderick and Shawn Drover, having Angra guitarist Kiko Louriero and Lamb Of God drummer Chris Adler step in revitalized the band enough to ensure "Dystopia" would be a deliciously thrashy, musically confident album that touches on all of Megadeth's best qualities.
5. Radiohead - A Moon Shaped Pool
A band that has always stubbornly refused to be properly pigeonholed, the #5 spot goes to Radiohead for their album "A Moon Shaped Pool," which shows the band reigniting the "rock" side of their sound after many albums that have openly embraced ambient and electronic music. The album is still as diverse as anything in their discography, though, and there's a little something for everyone on it.
4. Avenged Sevenfold - The Stage
At #4 on the list is Avenged Sevenfold's "The Stage," which was released as a complete surprise to fans just shy of Halloween. A much more progressive effort than 2013's "Hail to the King," the album features all of the trademarks Avenged Sevenfold fans have come to expect, but also brings in elements like longer songs, atmospheric elements, horn sections, synths, and even a guest appearance from scientist and entertainer Neil deGrasse Tyson, along with some of the band's most intelligently-informed lyrical subject matter.
3. David Bowie - Blackstar
2016 has been called by some to be an "annus horribilis" for rock musicians, and the first sign of this was the death of rock pioneer David Bowie in early January, only two days after the release of this album. And his final work, "Blackstar," is a dark, artsy, complex work considered by even some of his naysayers to be a surprisingly chilling and emotional record, complete with some amazing songwriting and playing.
2. Metallica - Hardwired...to Self Destruct
Though it seemed for a while that Tool and Metallica were duking it out to see who could make their fans wait longest for a new album, Metallica pulled through in 2016 with the album that's made our #2 spot, "Hardwired...to Self Destruct." After the disastrous production of the otherwise quite decent "Death Magnetic" and the much-maligned collaboration with Lou Reed, "Lulu," "Hardwired" is a nearly-complete return to form for the band, with some of the band's strongest songwriting and playing since "The Black Album."
1. Gojira - Magma
And the gold this year goes to French metallers Gojira! "Magma" shows the band taking on much more melodic and simplified song and riff structures, but retains the core Gojira sound fans will immediately recognize. Taking influence from various personal tragedies (including the death of Joe and Mario Duplantier's mother during the pre-production process), the album is stirringly emotional while still showcasing the band's trademark mix of thrash, death and progressive metal. Even though the band opted to use shorter song arrangements and less complex riffs, the sounds presented here are immediately recognizeable as Gojira, and the band still remains impossible to truly pigeonhole. An absolutely deserved #1 for Gojira!
There were just so many great albums released this year, and for all its ups and downs, 2016 may well have been one of the best years for rock and metal album releases in recent memory. And there definitely seems to be a theme of diversity among the albums on this year's list, with so many of these albums featuring sounds that go in many different directions. To all those who say good music is dead, just scroll up and be amazed. Can't wait to see what 2017 has in store!