Top 25 Most Anticipated Albums of 2017
For the first time in 4 years, Tool is NOT #1.
jomatami
Ultimate Guitar

jomatami
UG News editor since early 2013. King Crimson fan. I handle the 'news' around here.
Posted Dec 23, 2016 06:08 PM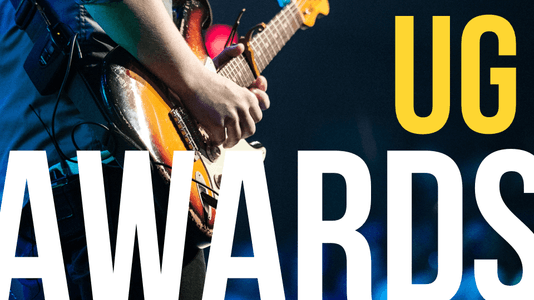 The results of this year's traditional UG Awards vote for the most anticipated album of upcoming year are officially in, and we can say right from the get-go that for the first time in four years, those Tool weirdos are NOT on the top.
Instead, the top spot is now reserved for another gang of weirdos.
But we're getting a bit ahead of ourselves there. So, Most Anticipated Albums of 2017, as entirely voted and shaped by the UG community, go!
But this top is very interesting in my opinion) Also you can compare it with our previous list: Top 20 Most Anticipated Albums of 2016.
25. Chuck Berry - Chuck
Kicking things off, it's Mr. Chuck Berry's first album in 38 years. Simply titled "Chuck," the record is set for release in 2017, with 90-year-old legend saying that this one will be his last studio effort.
Dedicating the album to Thelmetta, his wife of 58 years, Berry stated: "This record is dedicated to my beloved Toddy. My darlin' I'm growing old! I've worked on this record for a long time. Now I can hang up my shoes!"
24. Coroner
Swiss prog/thrash metal icons Coroner are set to release their first album in 24 years. The record was announced with the release of an extensive "Autopsy" box set.
23. A Perfect Circle
Apart from announcing their first US dates in 6 years, A Perfect Circle have confirmed they are working on new music. We can hope it sees the light of day in 2017.
22. Eminem
Up next is Eminem and his yet-untitled follow-up to 2013's "The Marshall Mathers LP II." Right now, only rumors and unofficial reports are available on the web, claiming the record will be called "Roots" or "Success." Additionally, plenty of rumors claim a variety of musicians will make a guest appearance, including Adele, Xzibit, Dr. Dre, Snoop Dogg, The Weeknd, Vince Staples, Kid Cudi and Mastein Bennett.
21. Blackfield - Blackfield V
Blackfield is a musical collaboration of Steven Wilson and Aviv Geffen. Their fifth record, appropriately titled "Blackfield V," is due out on February 10. We are looking at a loose concept album revolving around the themes of ocean and the cycle of life through 13 songs and 45 minutes of music.
20. Rage Against the Machine
Their latest show took place 5 years ago and there are no signs of RATM getting back together, but one can still hope. For all it's worth, there's also the Prophets of Rage thing as a possible catalyst of a full-blown reunion.
19. At the Drive-In
Earlier this month, At the Drive-In have returned with "Governed by Contagions," their first new tune in 16 years, raising the hype for the yet-untitled new album.
18. Ayreon
Up next, you folks voted Mr. Arjen Anthony Lucassen and Ayreon's first album since 2013's "The Theory of Everything." If you're a fan of this prog metal project, you're up for an exciting year, as the gang is set to perform their first official concert ever in September (and they have been around since 1995).
Additionally, the new record will feature the following vocalists: James LaBrie (Dream Theater), Tommy Giles Rogers (Between the Buried and Me), Simone Simons (Epica), Mike Mills (Toehider), Floor Jansen (Nightwish), Hansi Kürsch (Blind Guardian), Michael Eriksen (Circus Maximus), Tobias Sammet (Edguy, Avantasia), Nils K. Rue (Pagan's Mind), Zaher Zorgati (Myrath), Tommy Karevik (Kamelot) and Russell Allen (Symphony X), along with guest appearances by Paul Gilbert (Mr. Big), Guthrie Govan (The Aristocrats), Marcel Coenen (Sun Caged), and Mark Kelly (Marillion).
17. Ne Obliviscaris
Back in 2014, you folks gave "Citadel" plenty of praise, and it's no surprise that Australian prog death metallers have found their place on the list of most anticipated albums for the upcoming year.
According to previous reports, the gang shared plans to start working on a new record this month, promising the goods will NOT "sound like a bread maker on vinyl."
16. Overkill - The Grinding Wheel
Switching to the thrash domain, Overkill get to claim spot No. 16 with "The Grinding Wheel," their 18th studio effort due out on February 10. Lead single "Our Finest Hour" is already available for streaming, you can check it out below.
15. Incubus
Back in 2015, frontman Brandon Boyd said that Incubus is "actively writing an album." This August, the guys confirmed entering the studio, so hopefully we're up for the gang's first record in six years sometime soon.
14. Brendon Small - Brendon Small's Galaktikon II
Essentially, this is the new Metalocalypse album.
13. Jason Becker
The fundraising campaign was a success and we can hopefully expect the release date to be announced soon. As reported, the record will feature Joe Satriani, Guthrie Govan, Chris Broderick, Jeff Loomis, Gus G, Steve Morse, Trevor Rabin, Aleks Sever, and more.
12. Karnivool
Karnivool have shared plans to dedicate themselves to their fourth studio record in 2017, so hopefully we can expect the follow-up to 2013's "Asymmetry" to drop within the next 12 months.
11. Trivium
As announced by guitarist Corey Beaulieu, the follow-up to 2015's "Silence in the Snow" will definitely come out "any time before December 2017."
10. Alice in Chains
There's been reports from Alice in Chains that the new album is cooking up for a while now, but no official announcements have yet been made. It's been almost four years since "The Devil Put Dinosaurs Here," hence it's reasonable to assume the new stuff might drop in 2017.
9. Guns N' Roses
Now that the boys are back in town, a solid portion of fans is eager to hear the new material they might come up with. For a while now, reports have been circulating that the album was recorded quite some time ago. What happens next remains to be seen.
8. Steven Wilson
Marking Mr. Wilson's first studio effort since the departure of Marco Minnemann and Guthrie Govan from the fold, the man's yet-untitled solo record No. 5 is currently in the recording stage. Exactly which goodies new drummer Craig Blundell and new guitarist Dave Kilminster will bring to the table remains to be seen.
7. Rammstein
It's been over a year since Rammstein confirmed hitting the studio to work on a follow-up to 2009's "Liebe Ist Für Alle Da." Hopefully 2017 will be the year when we finally get a fresh load from the German boys.
6. Soundgarden
In a nutshell - Chris Cornell said his focus is 100% on the new Soundgarden album, the guys have been posting brief studio updates and photos for a while now, Kim Thayil said to expect a late 2017 release.
5. Ghost
The Swedish gang has been on quite an ascending route with 2015's "Meliora" and this year's "Square Hammer" single. This set the bar high, propelling Ghost to No. 5.
4. Queens of the Stone Age
Last year, QOTSA were at No. 19. This year, Homme and the boys have jumped up to No. 4, clearly indicating the world is hungry for fresh Queens. In one of the few updates concerning the new record this year, Josh said the guys are back in work mode with the same lineup as on their latest record, 2013's "...Like Clockwork." That update was in June, so stay tuned.
3. System of a Down
Last year, SOAD were way down at No. 20. Now, they're at No. 3. The fact the guys confirmed working on new stuff for over 6 months and having 15 fresh songs that are "album-worthy" has apparently raised the hype quite a bit.
2. Tool
As noted in the intro, for the first time in four years, Tool is not on top of the pile. However, fetching the silver medal after all the waiting is no mean feat. Also, we have been getting a few more concrete updates regarding the creative process, so fingers crossed that 2017 is the one.
1. Mastodon
Well now, you boys are really hot for what those Mastodon weirdos are cooking up, aren't ya? Following the initial hints that we'll be getting a double album (we won't, still about an hour of "filler-free" goods thou), the guys revealed the record will revolve around the concept of cancer and time in general. If you wanna read more, there's this and there's this. As you may or may not know, the album's producer is Brendan O'Brien, who worked with Mastodon on 2009's "Crack the Skye," an album many fans see as the band's magnum opus.
If you're up for making some comparisons, here's what the list of Most Anticipated Albums of 2016 looked like.
And that wraps it up, folks! 2016 was quite a ride, with good stuff, bad stuff, bits of bumps and bits of smooth sailing. Here's to a rockin' 2017, hopefully you have nothing better to do than stick around!