Top 25 Songs of 2016
As voted by UG community.
travislausch
Ultimate Guitar

travislausch
Travis Lausch, a Canadian prog-head who's been lurking around on Ultimate-Guitar pretty much since the beginning (joined in 2002!).
Posted Dec 23, 2016 06:00 PM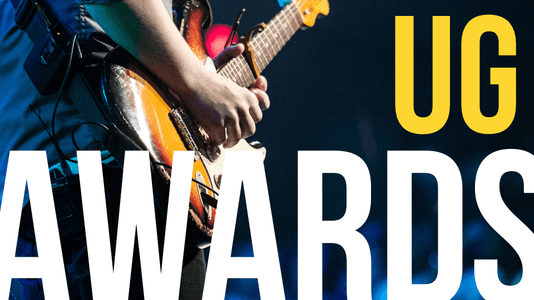 Just like our top 25 albums of 2016, we also had you vote for your top 25 songs of the year. There were a huge number of very strong contenders for this list, with so, so many great bands putting out incredible songs this year, and just like in the albums list, you guys picked a strongly diverse lineup of songs.
NOTE: With all respect to David Bowie, "Lazarus" and "Blackstar" were both released as singles in 2015, even though the album itself came out in 2016, but we just wanted to give those tracks a special mention.
Before kicking things off, this year's honorable mentions are:
Red Hot Chili Peppers - Goodbye Angels
July Talk - Push + Pull
A Tribe Called Quest - We the People
Ihsahn - Celestial Violence
The Pineapple Thief - No Man's Land
And here's the actual top 25.
25. Every Time I Die - Just as Real, But Not as Brightly Lit
Kicking off the list this year is a track from metalcore legends Every Time I Die's latest album, "Low Teens." Featuring a bevy of hard-hitting riffs and an ever-evolving structure that never sticks to one riff for too long, this song is sure to start many chair-moshes and is a perfect way to start our top 25.
24. Steven Wilson - Happiness III
Steven Wilson has always been a favourite of UG's user base, perhaps in part to the involvement of virtuoso extraordinaire Guthrie Govan, whose talents are used on this surprisingly upbeat prog-pop rocker from Steven Wilson's "4 1/2" EP, a collection of tracks taken from the sessions for "The Raven That Refused to Sing" and "Hand. Cannot. Erase."
23. Iggy Pop - Sunday
This trippy rocker takes the 23rd spot on the countdown, full of angst and danceable instrumental parts, this collaboration with members of Queens Of The Stone Age and Arctic Monkeys comes from Iggy's highly-acclaimed album "Post Pop Depression."
22. Vektor - Recharging the Void
At just over thirteen and a half minutes long, Arizona progressive thrash metallers Vektor has one of a few epic-length tracks on this list, from their album "Terminal Redux," which clocked in at #14 on our Album Of The Year list. Hints of Death and Voivod make this headbanger of an epic track a really captivating listen on all fronts, especially during the jazz chord changes and tremolo-picked guitar leads.
21. Meshuggah - Clockworks
Meshuggah deliver brutality and organic viscera on the opening track from their album "The Violent Sleep of Reason." In a twist of the band's usual style, they recorded much of this album live off the floor, resulting in the very organic sound heard on this amazing first single.
20. Chevelle - Rivers
At #20 is Chevelle's very nostalgic look at early-2000s alt-metal, from "The North Corridor." Beefy riffs, haunting melodies, and Tool-esque vocals and drumming bring this track together to make it a great example of a song whose style may seem dated to some, but still shows that there can be a lot of longevity and quality.
19. Highly Suspect - My Name Is Human
One of 2016's grooviest alternative rock songs, with lots of hard-hitting vocal melodies, fuzzed-out guitars, trippy atmospheres, and a groovy-as-fuck bass and drum riff leading to one of this year's hugest choruses puts this song, from the album "The Boy Who Died Wolf," firmly into the top #20 of our list. Not bad for such a new band!
18. Anthrax - Breathing Lightning
Proving that they're still capable of putting out some highly capable thrash metal, Anthrax's "For All Kings" has no shortage of incredible tunes to choose from, but this one, with its absolutely classic riff and trippy intro, along with its catchy sing-along chorus, make it a real special tune from one of this year's best albums.
17. Periphery - Flatline
After a pair of highly conceptual albums, Periphery dj0nts its way back into a more stripped-down, simplified style on "Select Difficulty," and this song acts almost as a mission statement for the album as a whole, with its huge SikTh-inspired riffs buoyed by some incredibly melodic, massive choruses.
16. Opeth - Sorceress
"I am a sinner, and I worship evil"... "Sorceress" is one of Opeth's most diverse and heavy offerings since the release of their homage to '70s prog-rock, "Heritage," and with its down-tuned riffing and absolutely evil lyrics, Opeth manages to prove that they can still be quite hard without a single death metal growl.
15. Killswitch Engage - Hate by Design
Bringing us to #15 on the list, this single from KsE's "Incarnate" is classic Killswitch in every possible way. Their second album reunited with original vocalist Jesse Leach, his vocals have dramatically improved since the band's early days to make this one of the band's best singles in a good long time, and prove that the band still has a lot of creative steam left in them.
14. Haken - The Architect (feat. Einar Solberg)
The second-longest track in our top 25 (by a mere *second*), Haken's "The Architect" may have divided a lot of fans of the band over its pandering to '80s prog-rock styles and the love-it-or-hate-it sound of vocalist Ross Jennings, but there's no denying that the band has hit prog-rock gold with this absolutely epic track that weaves in and out of Dream Theater-esque heaviness, King Crimson polymeters, and even some of the heaviest riffs of any song on this list (the section immediately after the guest appearance from Leprous' Einar Solberg ranks as this author's all-time favourite riff of 2016!).
13. Korn - Rotting in Vain
Having Head back in the band has led to nothing but good things for Korn and their fans, with a lot more focus on riffs and heaviness than anything since "See You on the Other Side," and this first single from "The Serenity of Suffering" offers many classic Korn-isms, from a huge detuned 7-string riff, Jonathan Davis' huge chorus, and even the return of the scat vocals from Korn's early albums. This is probably as good of a tune as Korn has done since many of our users were children, and we couldn't be happier to have Head back in the band!
12. The Dillinger Escape Plan - Limerent Death
What a way to go out! The Dillinger Escape Plan may have planned to disband after the release and tour cycle for "Dissociation," but this track shows a band still highly on top of its game. It's almost a shame, really, because this is a band whose albums keep getting better and better all the time, and even though the band's trademark mathcore randomness is still on display, they've continued to hone and fine-tune their sound over the years, and the result is one of the year's heaviest, most pissed-off tracks. We're gonna miss you, guys :(
11. Animals as Leaders - The Brain Dance
From "The Madness of Many," Animals As Leaders injects its trademark brand of instrumental progressive metal with a huge dose of nylon-string guitar and, if I'm not mistaken, even a hint of '70s prog-rock (come on, couldn't you just picture Steve Howe joining the band for that intro?). With more collaboration between the members, Animals As Leaders is really coming into its own as a full-fledged band, transcending its status as essentially a Tosin Abasi solo project. Javier and Matt definitely stand with Tosin on equal terms throughout this amazing record.
10. Dream Theater - Moment of Betrayal
While "The Astonishing" as a whole has proved to be one of the most divisive albums in Dream Theater's entire career, there's no question as to why "Moment of Betrayal" is the song kicking off our top 10. With some of the band's most propulsive riffs, epic storytelling, and an absolutely WICKED John Petrucci solo (yes, he is your GOD), many of you have declared this to be one of the best songs DT have done since the "Scenes From a Memory" days, even despite the album's propensity towards cheesy power ballads and nerdy lyrical subject matter.
9. Megadeth - The Threat Is Real
Boasting former Angra member Kiko Louriero on guitar and Lamb Of God's Chris Adler on drums, Megadeth have catapulted away from the drab classic-rock style of "Super Collider" back into more familiar thrash metal territory on "Dystopia," and this tune evokes so many of the band's classics, especially focusing on songs from the "Rust in Peace" era, that many fans have rejoiced and called this album a complete return to form. And now, with Adler being replaced by Dirk Verbeuren of Soilwork, the band is set for one of thrash metal's biggest upward trajectories since its glory days!
8. Deftones - Phantom Bride (feat. Jerry Cantrell)
"Gore" has boasted many amazing tracks, but this Pink Floydian ballad is one of the most progressive and dreamy songs from a band that has shown a huge propensity for experimenting beyond their established limits. Jerry Cantrell's soulful guitar solo in the middle of the track is potent enough to make a grown man cry. The ending buildup makes gratuitous use of Stephen Carpenter's use of the eight-string guitar, and closes out the track on an unsettled note befitting of the most progressive of bands.
7. Devin Townsend Project - Stormbending
After so many albums of fart jokes, stylistic shifts into completely unfamiliar territory, and some of the metal scene's boldest live performances in history, Devin Townsend's "Transcendence" album brings him back down to earth, with a style bringing to mind his early, pre-DTP solo projects like "Accelerated Evolution" and "Terria." And with this song's epic feel and huge melodies, it's no wonder Devin has cracked this year's top 10. It's one of the most tasteful and spine-tinglingly epic songs he's done under the Devin Townsend Project banner, and wholly worthy of its place in our list.
6. Radiohead - Burn the Witch
No stranger to experimentation, Radiohead take a surprisingly upbeat turn with this track from "A Moon Shaped Pool," with dizzying string arrangements and a fast-paced tempo lifting Thom Yorke's angelic voice for a song that is epic, beautiful, and powerful. The more rock-like arrangement of this track and its containing album has given this band a lot more leverage from the guitar playing community, and it's one of the band's best works in years.
5. Alter Bridge - The Last Hero
Keeping the epic theme going, the title track from Alter Bridge's newest album features some of the band's most overtly prog-metal leanings since "Blackbird," and opens our top 5. Myles Kennedy's soaring vocals complement Mark Tremonti's fret-burning guitar solo quite well, and the huge, bombastic production of this song, along with the rest of the album, is sure to make this album feel like the band's "magnum opus." With two entries already on the Album Of The Year list, Tremonti should feel really proud of himself for how well-loved he is by the Ultimate-Guitar community!
4. Avenged Sevenfold - Exist
The longest track on our list (by an entire *second*), Avenged Sevenfold takes us on a deep, cosmic journey with this closing track from their surprise-released "The Stage." With some of the band's most technical playing taking up the entirely instrumental first seven minutes of the song, it's hard not to see why Zacky and Synyster have so many fans among the guitar community. The final several minutes of the song feature a looping synth line that's atypical of the band's output, a showcase of new drummer Brooks Wackerman, and a stirring guest appearance from scientist, entertainer, and all-around-awesome-human-being Neil deGrasse Tyson. You have to hear it to believe it!
3. Gojira - Silvera
With their album "Magma" taking #1 in our Album Of The Year poll, Gojira trims the fat from their style and breaks out their finest riffs (and even a rare guitar solo, to boot) on this concise, melodic, and dark track. Production-wise, this is one of the best-sounding metal albums released this year, and they prove to continue to be impossible to pigeonhole with their mind-bending mix of progressive, thrash, and death metal. Personal tragedies and upheavals have inspired one of the best albums and songs of the year.
2. Ghost - Square Hammer
#2 on this list is Ghost's sole new composition from their newest EP, "Popestar." Winning a Grammy last year was already a pretty big accomplishment, especially taking into account the band's particular religious views and Satanic lyrical imagery, but this track's sultry Blue Öyster Cult-inspired riffs, pained vocals from Papa Emeritus III (who made his debut on last year's record, "Meliora"), and surprisingly adept instrumental solo section show a band that is not ready to rest on its laurels, continuing to be one of the best hard rock bands on the scene at the moment.
1. Metallica - Spit Out the Bone
And the number one song of 2016, as voted by you, is the closing track from Metallica's "Hardwired...to Self Destruct," and boy, is it a blistering song! Featuring some of the fastest tempos, most authentically thrash-metal riffs, James Hetfield's most brutal vocals, and even (admittedly, considering the rest of the songs) some of Kirk Hammett's best solos since their early days, this track is absolutely one of the best songs Metallica has done in a long, long time. An extremely-deserved #1, guys!
Yet another incredible turn-out this year, with so many great bands putting out some of their best material, and a few artists that have managed to hit some incredible songs right out of the ballpark, even if their full albums were not as well-loved by UGers. You guys prove yet again that when it comes to inscrutable taste in music, there's no better community than UG. Each and every one of these songs is top-quality. Let's give it up for 2016!