Top 5 Outstanding Flamenco Guitarists
This article is about modern flamenco guitar and its traditions, which are kept by outstanding masters that help us to recognize this great art.
mc_glazier
Ultimate Guitar
Posted May 15, 2017 04:28 PM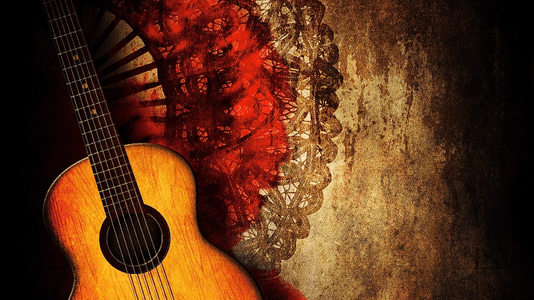 Initially, flamenco was an exclusive art-form, which had been being formed for hundreds of years in Southern part of Spain. It was a special fusion of different cultures, mostly Mauritanian and Gypsy ones. Spanish Gypsy are the real keepers of the secret sense of flamenco. For many centuries they were under the press, but they were keeping in safe their great treasure. Literally, flamenco was an interior art-form.
But one day all the secrets will be open and naturally all the great national creations will become humanitiy's common heritage. Nowadays flamenco is a widespread and popular art-form. People love it, study and popularise it all over the world.
Now everybody knows that this art-form can't exist without its three basic elements:song, dance and guitar music. But early it wasn't the same. Guitar became the part of the flamenco world only in 19th century, and then its task was to accompany singers. Only at the beginning of the 20th century it got the freedom of the creative self-expression.
This article is about 5 outstanding flamenco guitarists. Certainly, human history keeps hundreds of names of the great masters of gypsy tradition, but there we'll note those musicians, who were able to reach the new level of the sound of the instrument.
1. Ramón Montoya (1880-1949)
He made flamenco guitar to become more than just accompaniment. We can consider him to be one of the first great flamenco guitarists. Montoya's performances were based on the the rich musical experiences of many generations, but he managed to multiply the sound capacities of the instrument.
Ramón was born in Madrid. In his early childhood he started to accumulate his musical experience. Young Montoya was inspired by flamenco performances which took place in cafe "De la Marina." Acquaintance with Miguel Llobet was very important for the musician. Montya shared Llobet's idea about almost unlimited capacities of the instrument. Montoya's technique was based on the classical base of Francisco Torrega, mixed with gypsy musical traditions. This fusion promoted evolution and popularization of the guitar.
Some critics insist that Montoya was a founder of the solo style, noted as rondena, and of some types of taranta and minera. It proves that we are talking about a great master.
Ramón Montoya can be considered father of the modern flamenco guitar.
2. Sabicas (1912-1990)
Proper name: Agustín Castellón Campos. His first permanence took place in Pamplona (the native town of future virtuoso) when he was 7. Since his early years Sabicas had been learning flamenco secrets without any tutors. He was an absolutely extraordinary talent. When Augustin was a teenager he had already got incredibly pure technique. In 20-30th Sabicas accompanied a lot of famous flamenco singers and dancers, and then he deserved the reputation of the highly-rated accompanist. In 1936, when the Civil War started in Spain, Sabicas left his Motherland and moved to America. For a long time his art was almost unknown for his compatriots. People could appreciate it only when the records of his music appeared in Spain.
So we can declare, that Sabicas popularized flamenco and guitar and now they are loved all over the world. Before Sabicas flamenco guitar rarely sounded outside of Spain. The situation changed because of the numerous tours of the great musician and increasing popularity of his records. Sabicas created more difficult and interesting guitar music, than it was before. It was a revolution, that impressed everybody. Now we understand that if Sabicas hadn't exist, we wouldn't have listened to the modern flamenco guitar.
Sabicas used to emphasize his independence from any influences of any musical authorities. He said: "I had never had any teachers, I don't know how to teach and I don't give lessons because nobody taught me in my life." But at the same time we consider Sabicas to be a founder of the most productive school of flamenco guitar. Also Sabicas composed his own music, for example"Gypsy concert." Sabicas always will be an authority for all next generations of flamenco guitarists.
3. Paco de Lucía (1947-2014)
Proper name Francisco Sánchez Gómez. There is no doubt, he's the most important person for the all flamenco guitar art. Paco de Lucía was a great musician, who did a lot to develop flamenco art and to popularize it all over the world. He was a pioneer and an experimentalist, but at the same time he was a keeper of the authentic sound. Paco matched the world of the orthodox flamenco and the classical guitar, and moreover he added some jazz elements. It's important to note that the quality of the sound rested perfect for all styles. Paco de Lucía successfully finished the common work of his precursors, he formed the new image of flamenco guitar.
In 1962 a teenager from the poor family won the special prize of the flamenco festival in Jerez de la Frontera. It was a start of his brilliant career. Just in that time Paco met Sabicas. After the audition, Sabicas advised Paco to compose his own music and not to copy the precursors. That advice became decisive in Paco's life. He started to experimentalize with form and content of the compositions, moving away from flamenco canons. Elements of other music styles gave new colours and nuances to his manner of playing. Paco's experiments influenced over next generations of guitarists. In 1975 he became the first flamenco guitarist who gave a concert in a Royal Theatre in Madrid.
The real revelation was co-operation of Paco de Lucía with John McLaughlin and Al Di Meola. In 1981 that trio made the most interesting record of "Friday Night in San Francisco." More than one million of copies were sold and that fact caused the growth of the public interest in flamenco in Europe and America. The album included the new version of the combination "Mediterranean Sundance" and "Rio Ancho," that became the most popular work of the trio.
In 1991 Paco de Lucía played "Concierto de Aranjuez" of Joaquín Rodrigo. His guitar was the solo instrument of the orchestra. The record of the concert is a real treasure of the World Music Art. All following years he worked with his own sextet and their performances always showed the mighty force of the talent of Paco de Lucía.
4. Vicente Amigo (1967)
The real follower of Paco de Lucía, the delicate lyricist, whose career is on the top now. He was born in Gudalcanal. In youth Vincente started to work in a group of Manolo Sanlucar. In 1988 Amigo's solo career began. He won some music festivals. In 1991 Vincente produced his debut album "De Mi Corazón al Aire."
In 2001 he won "Grammy Award" for his album "Ciudad de las Ideas" in the "Best Flamenco Album" nomination. Vincente has no limits in his art. His music is more than classical flamenco. Amigo works in "new flamenco" style. He matches flamenco music with another music styles. However Amigo's modern flamenco keeps the strong accent of the classical Gypsy tradition. During his career he won some important flamenco prizes: "La Union"(1988), "Extremadura"(1988), "Cordoba"(1989). In 2002 Vincente received Ondas Award for his great contribution in developing of flamenco. The best solo albums are "De Mi Corazón al Aire"(1991),"Cuidad de las Ideas"(2000), "Paseo de Gracia"(2009), "Tierra"(2013), "Memoria de los Sentidos" (2017).
5. Jerónimo Maya (1977)
One of the most brilliant modern flamenco guitarists. He owns the perfect taste and crazy technique. The real impressionist of flamenco.
Jerónimo was born in a family of Gypsy flamencista, he is a descendant of maestro Ramon Montoya. Jerónimo's father Felipe is a professional guitarist. Jeronimo started to play the guitar in age of five. When he was seven he gave his first concert in Madrid. Young Jerónimo was a wunderkind that's why he entered to Madrid Conservatory. He acts as an artist, a musician. Maya tries to realize his own creative and technical ideas. In 1989 Jerónimo collaborated with Sabicas and Paco de Lucía and it demonstrates that Maya has got an outstanding talent. In 1999 young musician got the Cup of the Theatre Pavon. In 2003 Maya performed a concert in Queen Elizabeth Hall in London. In 2004 he produced the album "Jerónimo," where tried to gather all his music experiences. Critics approved the album and called Jerónimo "the new star of flamenco." Nowadays Maya cooperates with Turkish musician Erdal Akkaya.
All musicians noted in this article are the part of great culture. Listening to their amazing music we can touch the beautiful world of Art. Their talents help us to discover the mystery of creation, to feel the magic of guitar sound. They make us explore the wonderful world of music.