UG Picks: Christmas Wish List 2015
All we want for Christmas is a vintage Strat...
UG Team
Ultimate Guitar

UG Team
UG editorial team. A group of people who are passionate about guitar and music in general.
Posted Dec 05, 2015 02:38 PM
Ah, Christmas, the most wonderful time of year. Although not so wonderful if you wake up to discover a load of old tat under the tree on December 25...
For non-guitarists, six-string wielders are not the easiest of folks to shop for. We're a pernickety lot with very specific tastes. To the average Joe, a tin of plectrums is a tin of plectrums. To a seasoned shredder, the difference between .73 and 1.14mm picks is massive.
Fortunately, Ultimate-Guitar is here to help. We've compiled a list of our ten must-have guitar related gifts for the 2015 holiday season, ranging from stocking-filler buys to blow-the-bank mega spends. If you don't know a Gretsch from a Gibson, but are buying for someone who does, then this list is your present shopping salvation. If you're a devotee to the six-string goddess, but drawing a blank when writing your Christmas list, you're bound to find something here that you'll like...
Dunlop Hetfield Black Fang 1.14mm Plectrum Tin
$6.49 from Amazon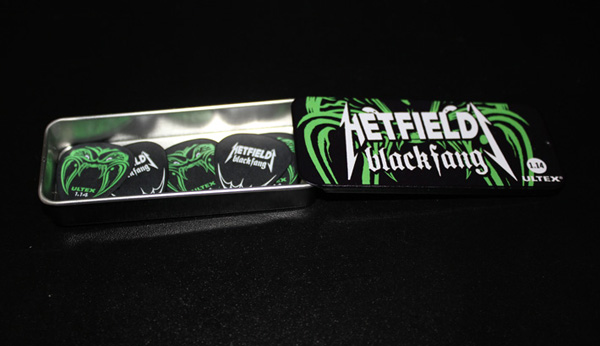 For a very metal Christmas, why not pick up a set of James Hetfield signature plectrums for the shredder in your life? At 1.14mm, these bad boys are perfect for the signature down-picking of Metallica's rhythm guitar machine and the green and white snake design is pretty bitchin' to boot.
D'Addario Varigrip Adjustable Hand Exerciser
$14.99 from Amazon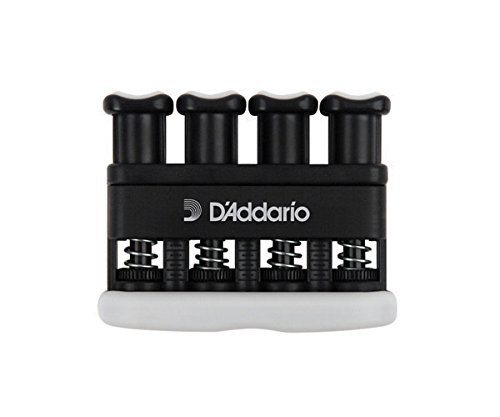 Want to maximize your daily commute to include some guitar practice? You could do a lot worse than asking for a D'Addario Varigrip for Christmas. Excellent for strengthening your fretting hand when you don't have a guitar handy, that weak pinky finger will be up to speed in no time with one of these.
DIY Guitar Pick Punch
$24.99 from ThinkGeek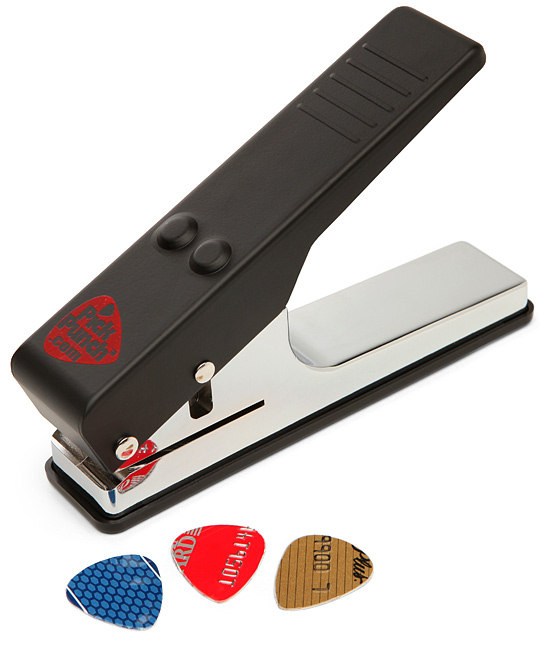 Don't know what to do with the expired credit cards, POGs and vintage porn mags that you've got lying around your house? Turn them into one-of-a-kind plectrums with the DIY Guitar Pick Punch! Promising to make a 351 style pick out of almost anything with one simple punch, it's also a great tool for leaving plectrum shaped holes in random crap.
Blackstar Fly-3 3W Guitar Amplifier
$59.99 from Amazon
Remember the days when portable battery powered amps sounded less like a Marhsall JCM-800 and more like a dying gnat? Well, thanks to Blackstar, substandard mini stacks are now a thing of the past. The Fly is a phenomenal piece of kit, sounding much louder than its 3 watts and with a tonal presence that defies its tiny size. Complete with a surprisingly good delay unit, it even features a connector for an additional micro-cab. Small enough to throw in your backpack, it's also a perfect sized stocking filler.
Griffin Guitar Sidekick Smartphone Headstock Mount
$17.99 from Amazon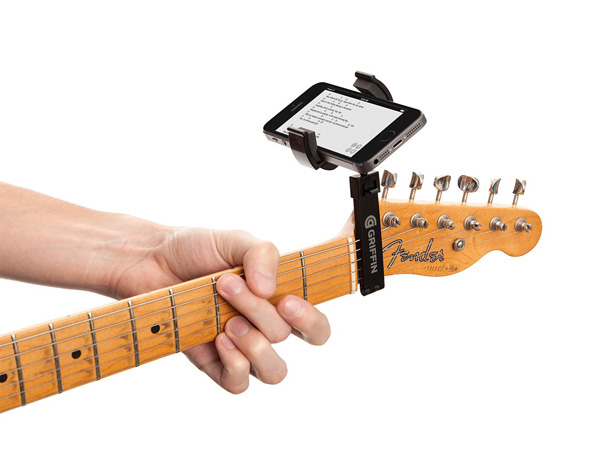 Y'know what's annoying? Being in band practice, not having the tab you need and not having your laptop handy. Fortunately, the folks at Griffin have you covered with their Guitar Sidekick Smartphone Headstock Mount. Perfect for referencing tabs and chords mid-jam, it's also a great accompaniment to our own Ultimate-Guitar app.
B.B. King: Live At The Regal
$4.99 from Amazon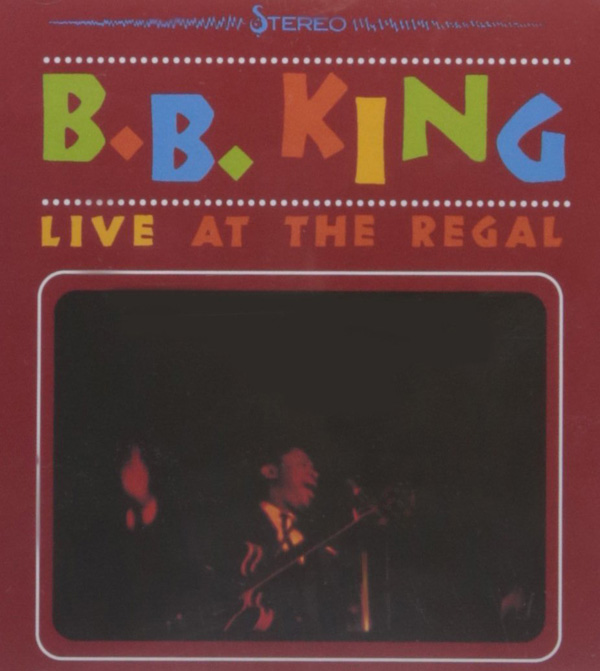 The thrill is gone... but not forgotten. The passing of B.B. King back in May was one of the sadder news stories of 2015. Truly we lost a legend. This Christmas, you could do a lot worse than reliving one of the guitarist's finest moments, his live performance at The Regal in Chicago in 1964. Scorching renditions of classic tracks make this one of the essential live albums of all time, and, at $4.99, it's an excellent Secret Santa option for a guitar loving friend or colleague.
TC Electronic Viscous Vibe
$129.99 from TC Electronic
There have been a fair few neat guitar pedals released in 2015, many of which would make great Christmas presents for any guitarist. For Ultimate-Guitar, the revelatory addition to the pedal board this year was the TC Electronic Viscous Vibe. A digital recreation of the legendary Shin-Ei Uni-Vibe, it's perfect for bringing out your inner Jimi Hendrix or Dave Gilmour. Who needs Christmas carols when you can spend December 25 knocking out spot-on renditions of Pink Floyd's "Have a Cigar"?
'Brent Hinds: The Sound and the Story' Instructional DVD
$24.95 from Fret 12
Ever wondered what it's like to live life as Mastodon's wooden-dong sculpting, metal hating guitar wizard Brent Hinds? "Brent Hinds: The Sound and the Story" gives an access-all-areas look at the modern-day riff-master alongside two hours of guitar lessons. If a spaced-out sludge-rock guitar-fest sounds like your perfect way to spend the holiday season, then this instructional DVD from Fret 12 should probably be on your Christmas list.
Sun Records Guitar Pick Shirt
$19.35 - $24.20 from Amazon
If you're looking for something to wear this holiday season that isn't one of those tacky metal Christmas jumpers, then why not ask Saint Nick to gift you with this awesome example of Sun Records apparel? A classy design, and an awesome tribute to the label where Elvis, Jerry Lee Lewis and Johnny Cash made their name: it makes a change from the countless Led Zeppelin and Metallica t-shirts in your closet.
1955 Museum Piece Fender Stratocaster
$79,900 (or best offer) from eBay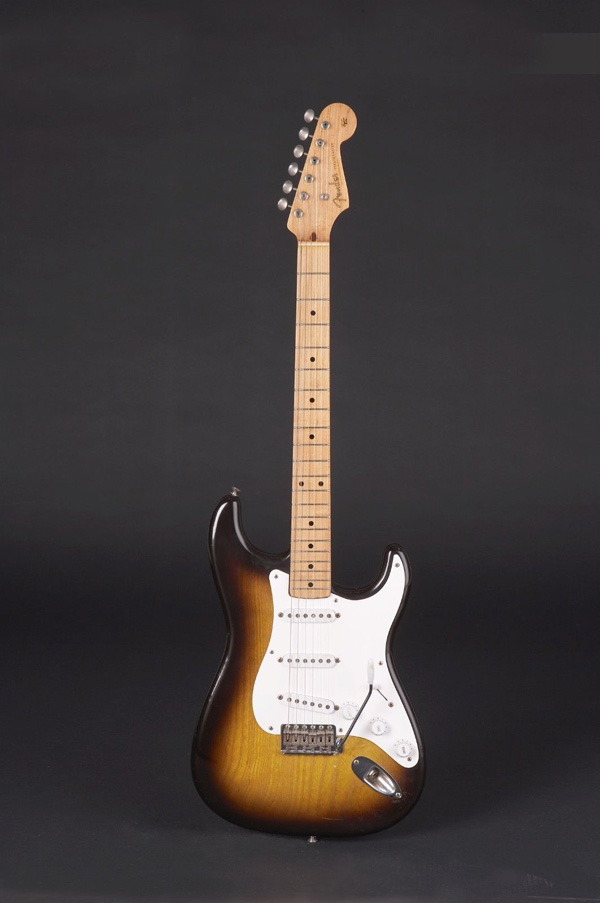 Nothing says "Merry Christmas" like a pre-CBS museum piece '55 Fender Strat. At $79,900, this one is out-of-budget to all but the very rich or those willing to sell several major organs to fund the purchase. But god damn it is a nice instrument! All original hardware and looking like it just came off the shelf, the only way you'll find a nicer example is by hopping into a DeLorean and going back to 1955 to get one. Please Santa, we've been very good this year...