Unexpected Backstage Demands
A sneak peek into celebrity backstage riders.
Maria_Pro
Ultimate Guitar

Maria_Pro
If you're going to be crazy, you have to get paid for it.
Posted Jun 05, 2017 06:53 PM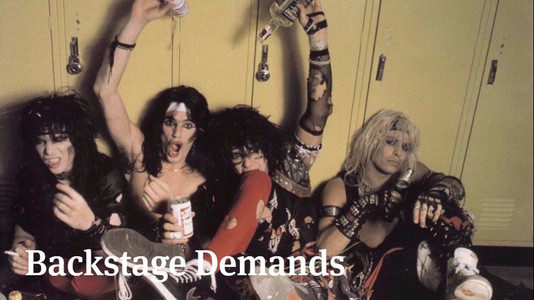 As we may learn from various tabloids if you've made it to the top you are free to behave a bit wacky and demand anything you can put your mind on to your dressing room.

When you're constantly on tour, I guess, it's the only way to feel at home. Some items in celebrity riders still seem a bit unnecessary to the lesser mortals. It's just jealousy, isn't it?

Blink 182 need to be provided with boxer shorts (J.Crew brand only), cigarettes, movies, "X-rated lesbian-themed magazine" and other essentials.

An old school British rock band Status Quo, refuse to play a show without their rider-requested Marks & Spencer white tube socks delivered to their dressing room.

Sir Paul McCartney is an animal-rights' supporter. He doesn't tolerate fur, leather, and meat anywhere near him. He also enjoys being surrounded by plants. His rider includes 6 "full and leafy" floor plants (no trees). The plants must be as full on the bottom as the top, specifically stating no tree trunks. If you want Sir Paul to perform you would also need 1 large arrangement of white Casablanca lilies with lots of foliage, 1 long stemmed arrangement of pale pink and white roses with lots of foliage, 1 arrangement of freesia. According to the raider freesia is his favorite.

Jack Whites 2014-15 tour rider includes a bowl of homemade guacamole (exact recipe included), aged salami, a pound of "high-quality" prosciutto, beef jerky, dried fruit, cashews, and almonds. The performer's alcohol requirements include bottles of red and white wine, Veuve Clicquot champagne, and Bulleit Bourbon (aged 10 years). Also, it was strongly noted that there must be no bananas in the same building with the star.

Mötley Crue, who are famous for trashing hotel, once requested a crazy list of sub-machine gun, a 12-foot long boa constrictor, a supply of clean ice, a list of local Alcoholics Anonymous meetings, 4 self-contained candles, 1 machete, 1 stainless steel double-bladed combat/survival knife (not serrated), 1 fully suppressed Heckler & Koch MP-5 SD sub-machine gun and 500 9mm rounds.

The Rolling Stones request the standard rock 'n' roll alcohol and cigarettes, as well as butlers on hand 24 hours a day, smartly dressed well-groomed hostesses. All band members require a set of written instructions on how to use all the electronics in their hotel rooms. In 2005 Richards and Wood reportedly asked for their dressing rooms to be decorated with a "Casablanca lily and weeping eucalyptus arrangement" during their A Bigger Bang tour.

Iggy Pop has an 18-page long raider with everything he needs. For example, a Bob Hope impersonator, a copy of USA Today that's got a story about morbidly obese people in it, a pack of cards, seven dwarfs, pizzas to give to the homeless and other cool things. If you want further details, you can easily find his rider online.

Stereophonics, allegedly, had a 1 ass-shaped pinata filled with Cuban cigars and dark chocolate Cacique rum liqueurs, 1 box of indoor fireworks, 1 roll of black gaffer tape in their rider. Also a DVD from this selection: "Twin Town," "Goodfellas," "Alfie" (Michael Caine original), "Wild Geese," "Where Eagles Dare," "Enter the Dragon," "Cool Hand Luke," "Deep Throat."

Prince used to demand every item to be covered in plastic shrink wrap (furniture, plates, wardrobes, etc.) He stated that is necessary for him to uncover everything by himself.

James Brown also was a diva. Along with many other things he requested hooded hair dryers, various hair products, pricey campaign (Cristal or Dom), 1 electric golf cart.

Van Halen used to prohibit brown M&Ms anywhere near them during their tour in the 70s. If the brown sweets were found in the building, the band could easily cancel the entire show. Much later David Lee said in an interview that the M&Ms ban was included in their health and safety stipulations so that they could find out that some of the more significant demands may not have been met. Quite a smart move, to be honest.