Unlikely Celebrity Friendships: Willie Nelson and Snoop Dogg
A story of the 84-year-old country singer from Texas and the 45-year-old gangster rapper from California.
Niass
Ultimate Guitar

Niass
Serial Walken comma user. Stroopwafel enthusiast.
Posted Sep 12, 2017 12:23 PM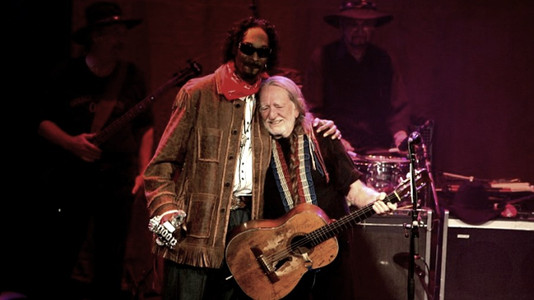 Snoop Dogg and Willie Nelson established their bond in the Netherlands and of course, it was strengthened by the haze of pot.
In April 2008 — on 4/20, to be exact (how could this be any different) Willie Nelson had a concert in Amsterdam. Snoop Dogg called Nelson and asked if he wanted to make a song together. When Nelson agreed, Snoop decided not to wait for the end of the tour, but flew straight to Amsterdam and joined Willie for the concert. What happened next, Snoop told on "The Tonight Show"
I was in his hotel room, and we was playing dominoes and enjoying life. After enjoying life … we developed a hunger. … Naturally, we wanted to go to Kentucky Fried Chicken, which is one of our favorite spots, his and mine. So we pull up in the drive-through, we order the chicken, they give it to us, and they hand us the big bucket. We take the top off and we both put our hand in at the same time. And we grab the same piece of chicken at the same damn time. And I said, You know what Willie? That's yours. Go ahead, take that, dog.
Eventually, they wrote a song together called 'My Medicine' that is an upbeat half-country-half-rap song about marijuana, dedicated to Johnny Cash. The video features shots of Snoop Dogg and Nelson huddled around a studio microphone, grinning and singing the chorus together.
And that was a start of a beautiful friendship. In 2010, when Nelson was arrested for pot possession, Snoop Dogg ripped into the officers who busted him at the Sierra Blanca highway checkpoint near El Paso.
"What you think you're gonna gain by arresting Willie Nelson? He got out and he back smoking right now," he told TMZ at the time, shouting profanities about police. "If you've got a problem with Willie Nelson, you've got a problem with me."
In 2011, they worked together again, this time on a Snoop Dogg track called 'Superman'. While the song has an overall jocular tone it also tackles some serious issues like burning out and morality. "I'm tryin' to do more than I can," the two sing over a simple acoustic guitar line, "I got a little outta hand, I wasn't Superman."
The video features shots of them smoking, eating lunch and riding in a car, along with clips from the Amsterdam concert they played together. "So we got Snoop to come all the way over here to sing and record with us," Nelson tells a crowd of people from the stage. Snoop Dogg emerges, saying "I love this man right here!"
When it comes to their actual marijuana consumption, Snoop Dogg has conceded that Nelson, nearly twice his senior, can smoke him under the table.
"Only person that ever smoked me out is Willie motherfucking Nelson!!!" he once tweeted. By Nelson's account, he and Snoop Dogg had a "smoke-off" in Amsterdam "and he crawled away," he told GQ. So yeah, that's the real bromance here, folks.
And for an epilogue, here's a picture of Willie wearing his Christmas present from Snoop.