Vinyl Record Shops Around The World. Part 1
Places to visit in USA, UK, South Africa and Jamaica.
Maria_Pro
Ultimate Guitar
Posted Jun 24, 2017 10:40 AM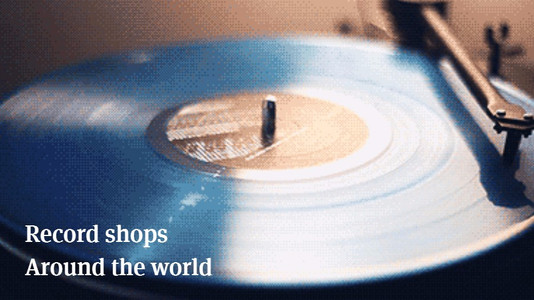 Even though the digital revolution in music has a lot of advantages, we are extremely happy to witness the vinyl revival. More than 3.2 million records were sold in 2016 in the UK. That is a rise of 53% on the previous year, according to the BPI. It is very heartwarming to see the weekly chart that counts down the top 40 best-selling singles (including both 7in and 12in formats) and albums.

We decided to to put our two cents in and contribute to the vinyl revival by starting the new series dedicated to the best record shops around the world. If you want to see a particular shop from your town mentioned in this articles, feel free to leave your requests in the comment section below.
Amoeba Music in Los Angeles, California
6400 Sunset Blvd, Hollywood, Los Angeles, USA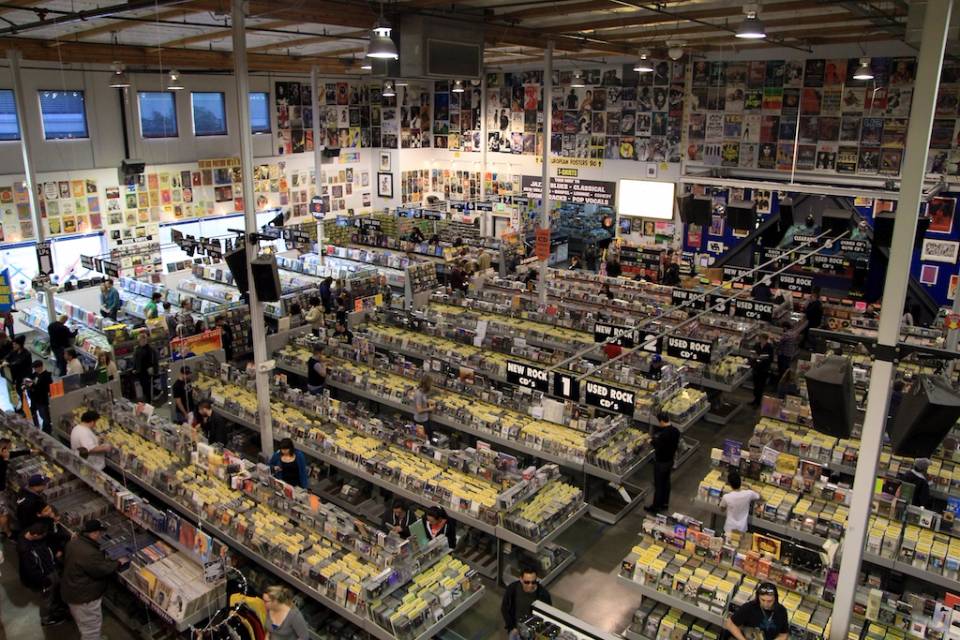 Amoeba Music is an independent music chain with stores in San Francisco (since 1990) and Los Angeles (since 2001). The chain was founded by former employees of nearby Rasputin Records. The Hollywood location stocked 250,000 titles at the time of its opening, which placed the store among the largest independent music stores in the world. The store is 24000 square feet and has at least 15 full aisles of both new records and dollar classics divided by style. In addition, each store maintains a selection of music-related posters and artwork, CDs, Blu-Rays, DVDs, VHS and Amoeba-branded merchandise. A huge perk for the tourists is that the Amoeba offers free one-hour parking right under their shop.

Here is a little store tour:
The Thing in Brooklyn, New York
1001 Manhattan Ave, Brooklyn, NY, USA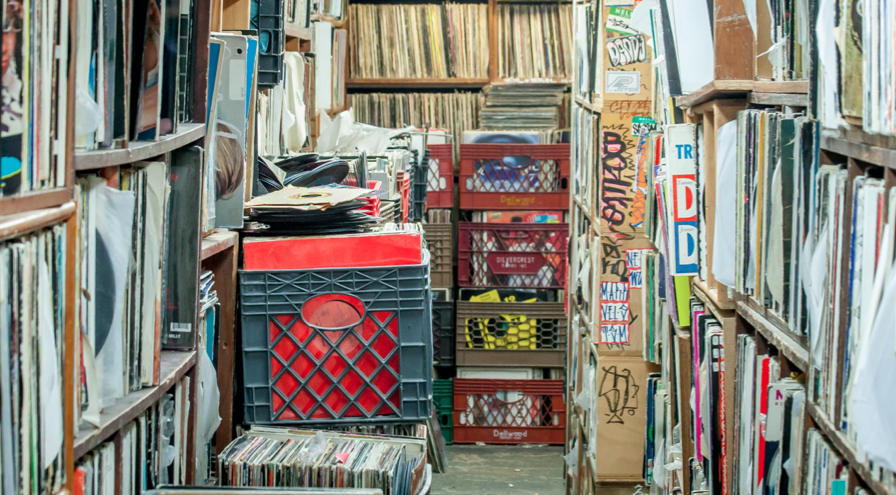 This second-hand record shop opened its doors in 1996. Since then it has been one of the favorite places for the vinyl junkies to get lost at. I doubt you can find another place like this in the USA. In 2006 The New York Times reported the store had around 130 000 records, but today the owners say it's somewhat about a million. And they claim to acquire and restocks records on a weekly basis. So, practically it's a goldmine of $2 gems. To be fair, a lot of its stock isn't in the best condition, but who cares? People come for the experience. Plus, if you dig long enough you can find a record you've been dreaming about for years.

Watch the producer of Theme Music Productions record digging in The Thing:
Honest Jon's Records in London, UK
278 Portobello Rd, London W10 5TE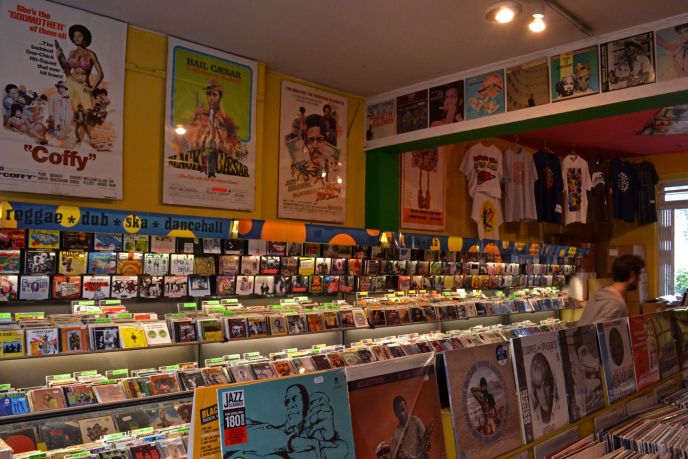 Honest Jon is an indie record shop that has been around since 1974. The shop is owned and run by Mark Ainley and Alan Scholefield, who took over from one of the original holders, "Honest" Jon Clare. In 1974 Jon Clare (who now spells his name "John"), a Sociology student, and Dave Ryner, the son of a Trinidadian doctor, stickered their own record collections and started trading jazz records at an old butcher' shop in Notting Hill. In the '80s the shop moved to its current location in Portobello. In 1992, Clare passed the shop on to employees Mark Ainley and Alan Scholefield, who expanded the selection of records to music from around the world. They also launched the Honest Jon's record label in partnership with Damon Albarn. This shop provides a great collection of jazz, reggae, reggae, soul & funk, folk and world music and a great sense of community.
Mabu Vinyl in Cape Town, South Africa
2 Rheede St, Gardens, Cape Town, South Africa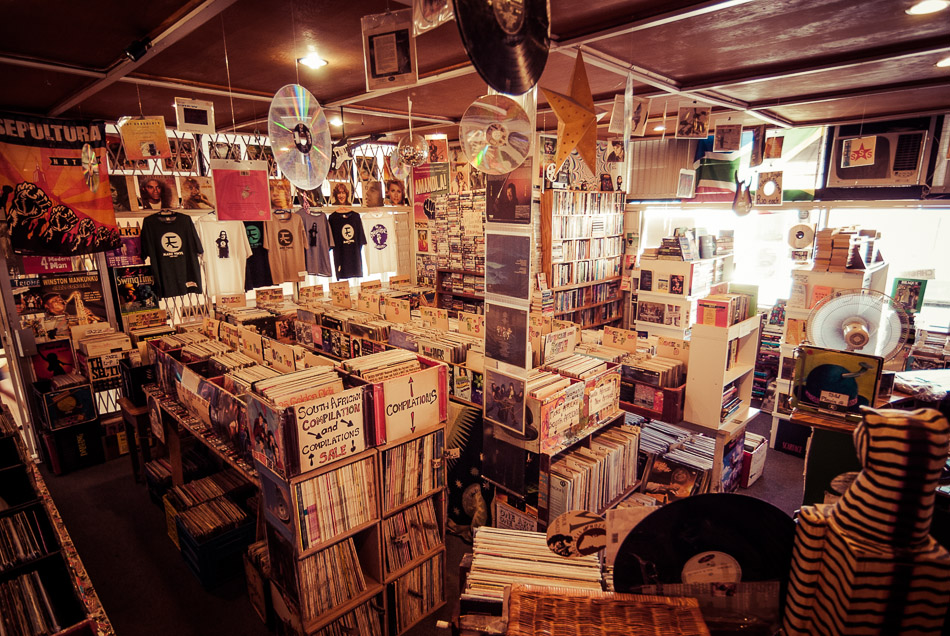 Mabu Vinyl was established in 2001 by Jacques Vosloo. The shop became worldwide famous after it was featured in the 'Searching for Sugar Man' documentary. The Mabu co-owner Stephen 'Sugar' Segerman helped to find the long lost musician Sixto Rodriguez, who became the voice of the generation in South Africa without even knowing about it. Other than a bunch of great stories, the shop offers a large selection of LP records, 12" singles, 7" singles, 78's, CD's, DVD's, cassette tapes, videos, books, T-shirts, comics, magazines, and even a selection of refurbished turntables and hi-fi's.
Rockers International in Kingston, Jamaica
135 Orange St, Kingston, Jamaica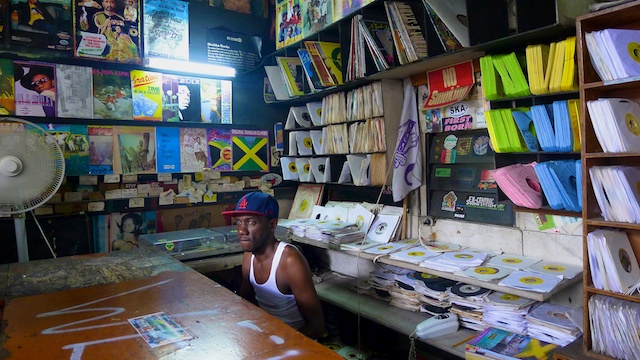 Orange Street in downtown Kingston was once known as the heart and soul of Jamaican ska, rocksteady, and reggae. It was called 'beat street' and is still considered as the birthplace of reggae. Practically every famous Jamaican musician had a base at Orange Street. Unfortunately, all the shops and music studios closed over the years. After falling ill and dropping out of school in the late '60s, Augustus Pablo began holding neighborhood dances with his brother to earn a small income. They ran by the name 'Rockers.' About ten years later, Pablo launched his own record label and shop. Mitchie Williams, the curator of the shop, says that reggae music is Jamaica's biggest export, so the Rockers International survives on exporting records to reggae lovers around the world. The shop offers a wide range of reggae, ska, rocksteady, lovers rock, dub and dancehall records.

Check out Mitchie Williams talking about the shop: