Vinyl Record Shops Around The World. Part 2
Places to visit in Australia, Germany, Brazil, Sweden, USA, Belgium and Wales.
Maria_Pro
Ultimate Guitar
Posted Jun 28, 2017 08:02 AM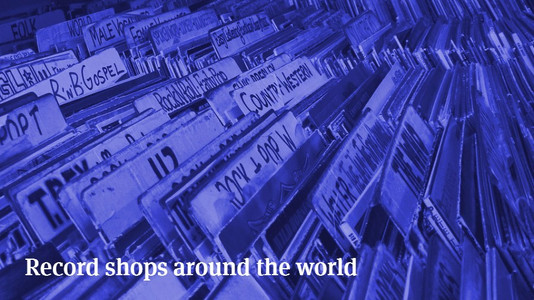 Welcome to the second part of our guide to record shops around the world! If you want to see a particular shop from your town mentioned in these articles, feel free to leave your requests in the comment section below.
To catch up on the previous article, click here.

Red Eye Records in Sydney, Australia
143 York St, Sydney


Established by Chris Pepperel in 1981, Red Eye Records is one of Australia's oldest record store. The store stocks a diverse range of local and import releases, both new and second hand. The store specialty is sourcing rare, out-of-print and unique Australian items and stocking releases by local independent artists. It also has books, magazines, posters, and DVDs. Red Eye has a great online shop, where you can actually get some records cheaper than in the store. But if you ask me, the in-store experience is totally worth the extra money.
Music Mania in Gent, Belgium
Sint-Pietersnieuwstraat 19, Gent


Music Mania, the Belgium oldest record shop, operates since 1969. Regardless it's age, the team keeps things fresh and up to date, which makes it retain the central role in Europe's young selector scene. In the store, you'll find records from across the spectrum, from jazz, blues, and folk, to disco, synth wave, cosmic, Afro-funk and practically every sub-genre in between, starting from the '60s to the present day. It also has a spectrum of the contemporary dance music and second-hand vinyl.

Casarão do Vinil in São Paulo, Brazil
Rua dos Trilhos 1212, São Paulo
The store opened in in 2014, but it is already extremely popular. The owner, Jorge, has been buying vinyl collections since 2000 and selling records in different locations before he opened Casarão do Vinyl. Fun fact: Jorge has sold about 750000 LPs and about 50000 7"s to the Brazilian Bus Magnate, Zero Freitas. The shop looks like a real house (with kitchen and everything) and has a broad variety of Brazilian music and jazz/rock/soul from all over the world. Each section of the house is divided by price which comes in handy if you're on a budget. Downstairs, there is a batch of about 20 boxes of 7"s which often has great records below market value, and they frequently run sales. The video is in Portuguese, but you still can have a look around
Euclid Records in New Orleans, USA
3301 Chartres St, New Orleans



Euclid Records was founded in 1983 in the Central West End of St. Louis. Joe Schwab bought it from the ashes of Wuxtry Records that still exists as a store in Athens, GA, and has owned it ever since. The shop has two levels with hundreds of records. The selection of styles is unlimited and well organized. It has soul, jazz, pop, new age, world, rock, hip-hop, reggae, gospel, country, bluegrass, folk, classic and other genres. Five years ago Schwab opened a second Euclid Records in the 9th Ward neighborhood of New Orleans. Given that the NOLA store is 95% new and used vinyl, it has become so popular for vinyl collecting visitors and locals alike that just last year Schwab expanded to a two-story, 4000 square foot building. Here are some of their new rock arrivals
Spillers Records in Cardiff, Wales
27, The Morgan Arcade, Cardiff
Spillers Records was founded in 1894 by Henry Spiller, which makes it the oldest record shop in the world. In addition to selling music, it is the city's main location for buying tickets for alternative music concerts. The shop used to specialize in the sale of phonographs, wax phonograph cylinders, and shellac phonograph discs. In the early 20s, owner's son Edward Spiller took over the running of the business and started to sell musical instruments alongside the pre-recorded music. Over its long history, the store has changed several locations but is still hugely popular among record buyers, tourists and musicians (including the members of the rock group Manic Street Preachers).
Spacehall in Berlin, Germany
Zossener str. 33, Berlin


Space Hall is a record store. The primary focus of the shop is Electro, Dub Step, Techno and House music. The beautiful minimalist design of the Spacehall suits it's refined, highly stylish musical aesthetic. The shop itself is impressive in both size and amount of records and CDs, so if you like Electro or Trance, be sure to visit the store next time you are in Berlin or check out their webshop. Here is the Spacehall instore gig
Pet Sounds in Stockholm, Sweden
Skånegatan 53, 116 37 Stockholm
Pet Sounds was founded in1979. Its shelves are full of both classics and hidden gems, from the latest indie sensations to original records from Kraftwerk and Dylan. It's probably worth mentioning that it's one of Quentin Tarantino's favorite places in Stockholm.