Volker Takes French Rock/Metal Worldwide with New Album 'Dead Doll'
UG exclusive premiere of a new Volker lyric video.
Shura_FYI
Ultimate Guitar

Shura_FYI
Posted Apr 26, 2017 03:05 PM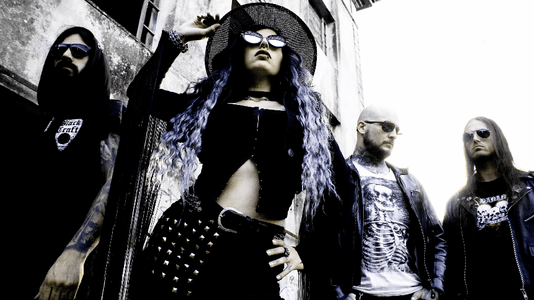 French rock/metal crossover group Volker recently announced the release of their upcoming melodic assault, "Dead Doll," hitting North American retailers on May 26, 2017 via Overpowered Records / AISA/RED distribution. North American pre-orders for Dead Doll are available now via Amazon in digital and CD formats.
Ultimate Guitar has the exclusive first look at the lyrics video for "Voodoo Baby", the band's first single from "Dead Doll." The track charges forward with a raucous hard rock-meets-punk sound, weaving eerie throwback sci-fi film sounds throughout. "Voodoo Baby" is propelled by frontwoman Jen Nyx's signature horror-driven lyricism.
In addition to the influences heard on "Voodoo Baby", Dead Doll blends assorted heavy music styles such as 90's grunge rock, retro power metal, classic rock and even horror punk to create an accessible, engaging sound. Whether soaring at the top of her impressive range above striking guitar harmonies, or deftly growling amidst pummeling double bass and searing solos, singer Jen Nyx more than proves her equally-diverse skills on Dead Doll. Conjuring visions of the macabre, Nyx leads with a seductive aggression, flanked by seasoned French musicians John Aupeix on drums, Emmanuel Pliszke on bass and lead composer Ulrich Wegrich on guitars.
Stay tuned for more coming soon from Volker!