Wah-Wah Pedal: The Invention and Brief History
When guitars started talking.
david89zemun
Ultimate Guitar

david89zemun
UG writer. Huge Black Sabbath fan and agronomy enthusiast.
Posted Nov 19, 2017 01:22 PM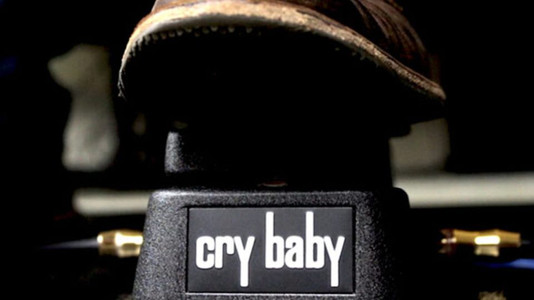 Today, a wah-wah pedal is almost a mandatory thing for a guitar player, whether he is a band member, touring member, or a session musician. You'll rarely see a guitarist go without it. Heck, even bassists like to use it. But how this useful contraption came to be?
So wah pedal is basically an effect which alters the frequencies of the guitar signal, imitating the human voice in a way. The first practical use of something we could call wah-wah was when trumpet players back in the 1920s moved the mute over the bell of their instruments. This gave that crying tone which kind of gave an impression of a human voice.
But it was those sneaky guitar loves that turned all that into electronic circuitry and made a pedal out of it. Before the wah pedal was manufactured commercially there were some guitar players during the 1950s that came up with their own solutions for the effect. Country guitar legend Chet Atkins used a device he came up with on two of his songs - "Slinkey" and "Hot Toddy." Italian jazz guitarist Peter Van Wood has modified an expression pedal for a Hammond organ and recorded his rendition of George Gershwin's tune "Summertime" with this similar effect. A very famous session guitarist from the 1950s Big Jim Sullivan also used some of the similar devices, like on Dave Barry's song "The Crying Game."
But it was the Bradley J. Plunkett who worked for Warwick Electronics Inc./Thomas Organ Company who came up with the first actual wah pedal in the November 1966. And like with all cool things this invention came to be by an accident during the redesign of Vox Super Beatle amp. Thomas Organ Company was in charge of designing and manufacturing a lot of Vox equipment for the US market. So the company was assigned to make a completely new line of solid-state Vox amps, including the new Super Beatle amp. The company had to create an American equivalent of the British Vox amp, but it had to be a solid state amp instead of a vacuum tube one. And during this whole redesign thing, a head engineer of Thomas Organ Company, Stan Cuttler, assigned junior engineer Bradley Plunkett to replace Jennings 3-position MRB circuit switch, which was too expensive, with a solid-state MRB circuit.
So Plunkett took transistorized tone-circuit off the Thomas Organ in order to create some kind of a copy of Jennings 3-position MRB circuit switch. And while Plunkett was testing this circuit out on the speaker, a team of engineers present on the spot have heard the effect. One of them, Bill Page, had this idea to test out the circuit with his saxophone played through the amplifier. Another junior engineer John Glennon was brought to put this circuit into a housing of a volume pedal which was used for Vox Continental Organ. After hearing the effect they, later on, tried it on the electric guitar and, well, you can see today how that turned out to be. But it was a close call to ultimately use it on a guitar instead of on wind instruments. The pedal was first released in 1967 and it featured the image and signature of jazz trumpet player Clyde Lee McCoy who developed this effect in the late 1920s by using Harmon mute in the bell of his instrument.
The version for the American market was named Cry Baby and was sold parallel to Vox V846. However, Thomas Organ failed to trademark the name Cry Baby and numerous imitations with that same name were suddenly all over the US. And soon after that Gretsch and Fender started having their own pedals under the Jen brand.


As the years went by the pedal became more and more popular, and many guitarists started using it. One of the ways guitarists used it was locked in one position, like in "Rusty Cage" by Soundgarden where it was left in the low position. The most notable uses of the pedal, as voted by UG users, are:
Red Hot Chili Peppers - If You Have to Ask
Dream Theater - Home
Led Zeppelin - Dazed and Confused
Joe Satriani - Surfing With the Alien
Pink Floyd - Echoes
Funkadelic - Maggot Brain
Black Sabbath - Electric Funeral
Cream - White Room
Steve Vai - Bad Horsie
Metallica - Anesthesia (Pulling Teeth)
Alice in Chains - Man in the Box
Rage Against the Machine - Bulls on Parade
Jimi Hendrix - Voodoo Child (Slight Return)
+ a bunch of Kirk Hammett solos
There is a huge variety of wah-wah pedals to choose from today and some of the best ones are:
Morley VAI-2 Steve Vai Bad Horsie 2 Contour Wah
Vox V847A
Xotic Effects XW-1
Ibanez WD7 Weeping Demon
Boss AW-3 Dynamic Wah
Dunlop GCB95 Cry Baby
Dunlop 535Q Cry Baby
Boss PW-10
Fulltone Clyde Deluxe
Tycobrahe Parapedal (old pedal that has many imitations made today, used by Tony Iommi)
Do you like using wah pedals? If so which one is your favorite? Share that in the comment section below.