On this day 47 years ago,
Nirvana
frontman
Kurt Cobain
was born, marking the beginning of a journey that would ultimately change the music world for good. The journey was a brief one, but still piled up with memorable times. So we decided to bring you the list of Kurt's Top 9 controversial moments, check it out below.
Kurt Slams Guard With Guitar, Gets His A-s Kicked Afterwards
This 1991 incident occurred during a show in Texas as Kurt suddenly decided to do a stage dive. The security guard decided to reel him in, which Cobain didn't like, slamming the guy with his guitar. But the guard was a big guy, a bit similar to WWE's Undertaker, so Kurt ultimately got punched in the head and kicked around a bit. Luckily, the rest of the band jumped in and prevented things from really escalating.
Kurt and Krist Make Out on TV
Kurt never liked homophobic or sexist people and had a great way of pushing their buttons. He took things to a new level during a closing scene of "
Saturday Night Live
" as he went to full-on French kiss
Krist Novoselic
. He once noted: "
I am not gay, although I wish I were, just to p-ss off homophobes.
"
Sexy Time With the Camera
During a show in Brazil, Kurt did many dirty things with the on-stage camera, spitting on it, grabbing it and ultimately humping it. The camera guy probably has all sorts of memories from that night.
Kurt Marries Courtney in Pajamas
Who needs a tux when you can wear pajamas, right? It's also funny how
Dave
and
Courtney
seem to actually like each other in this picture.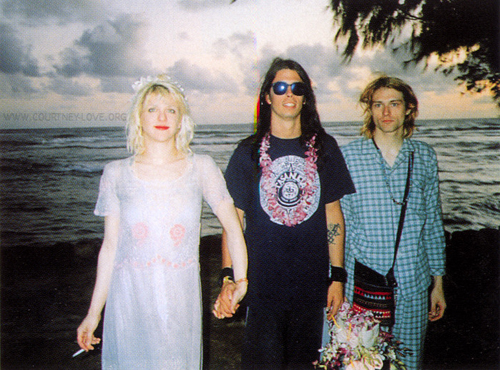 Kurt Shows Up for Reading Gig in Wheelchair
The legendary "He's gonna make it" moment marked the beginning of one of the band's most iconic shows - the 1992
Reading
 festival performance.
'Smells Like Morrissey'
Kurt obviously wasn't a fan of playbacks, so he decided to give fans something a bit different during 1991's "
Top of the Pops
" performance. As the clip shows, the instruments were pre-recorded, but the vocals were live. The final result - a
Morrissey
-like rendition of Nirvana's biggest hit "
Smells Like Teen Spirit
."
'Corporate Magazines Still Suck' Rolling Stone Cover
Nirvana's 1992 appearance on the cover of Rolling Stone magazine still sparks a debate among the fanbase. The particular reason for that lies in Kurt's "
Corporate magazine still suck
" t-shirt. One side argues that he made fun of the magazine, but the other one insist that he still made the cover appearance, giving Rolling Stone additional publicity. Which side are you on?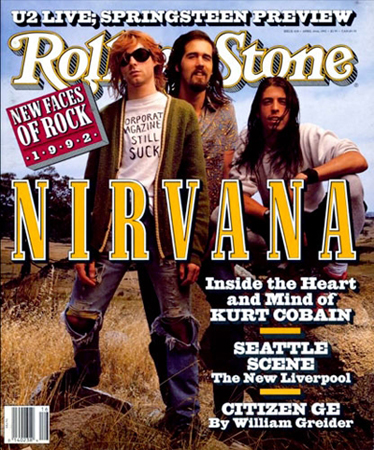 The Band: Krist Almost Kills Himself With Bass Throw, Dave Calls Out Axl
Nirvana wasn't all about Kurt, there were also the two guys handling the rhythm section. And they had plenty to show, not just performance-wise, but controversy-wise. As a matter of fact, they'll even do it in under 60 seconds. During the band's VMAs performance in 1992, Krist managed to nearly kill himself by throwing bass on his head and then Dave fueled up a
GN'R
feud by calling out
Axl Rose
 mere seconds later. Not bad.
Kurt Kills Himself
Unfortunately, Kurt's most controversial moment was taking his own life. The rock icon left us on April 5, 1994. Rest in peace.