Over the years, there has been many feuds and rivalries in rock and metal history. Many of them are artists that we like a lot. Sometimes we can't decide who's right and who's wrong. They can be an ex-member of a band, have worked with each other at one point, or have met each other at one point. For this list, I am excluding in band feuds because that's a different list for a different time. This list has to do with different artists.
Lynyrd Skynyrd vs. Neil Young
Neil Young
and
Lynyrd Skynyrd
were pretty much friends. This feud started with Neil Young's song
"Southern Man"
and
"Alabama."
 "Southern Man" talked about racism towards African Americans in the south. Then Lynyrd Skynyrd wrote their hit song
"Sweet Home Alabama"
in response towards to "Southern Man" and "Alabama." But in the end, they have declared respect to each other.
Dave Mustaine vs. Metallica
The former
Metallica
guitarist and
Megadeth
frontman has had a feud with the other Metallica guys since he was with the band. He was kicked out of Metallica in 1983 for aggression towards
Lars Ulrich
,
James Hetfield
and the rest of the band members of that time. Which people gave him the name
"That One A-shole From Metallica."
After getting kicked out of Metallica, Dave started Megadeth (originally
Fallen Angels
) and Dave's band was quickly granted as one of thrash metal's Big 4.
In the 2004 documentary film
"Some Kind of Monster"
Dave Mustaine briefly made an appearance, as part of Lars Ulrich's therapy. They've talked about the decision the band made about kicking out Dave for his aggression and excessive drinking. They still have a feud going on to this day, but not as bad as back then.
Oasis vs. Blur
Oasis
already has a feud with each other in the band, but I'm not talking about in band rivalries right now. This rivalry between the two band arrived in the mid '90's. This rivalry stated when the
Blur
song
"Country House"
and the Oasis song
"Roll With It"
appeared on the charts the same day (Blur won BTW). This gotten worse when Oasis frontman
Noel Gallagher
commented that he hoped Blur singer
Damon Albarn
and bassist
Alex James
would
"Catch f--kin' AIDS and die."
The rivalry has cooled down over the years, but Damon Albarn still refuses to make up with Oasis.
The Beatles vs. The Rolling Stones
This rivalry seems more like a marketing campaign than an actual feud.
The Beatles
and Rolling Stones rode their musical and commercial rivalry to greater sale heights in 1960's Britain. The suit-wearing Beatles and the rebellious, antithesis Rolling Stones both had an impact on the British Invasion and on music itself.
Despite the rivalry, the Beatles and The Rolling Stones were pretty good friends. They have both often collaborated with each other. Examples are on the Rolling Stones early hit
"I Wanna Be Your Man"
and The Beatles hit
"All You Need is Love"
with
Mick Jagger
on backing vocals.
Paul McCartney vs. Michael Jackson
I know some of you think that this is more of a pop rivalry, but Paul McCartney is more rock than pop to me, so this is more of a pop/rock rivalry, so I can accept that. They are two of the nicest guys in music. At first they were friends. Paul McCartney has performed with Michael Jackson in a duet on
"The Girl Is Mine"
for Jackson and
"Say, Say, Say"
for McCartney. But then in 1985, an auction came up for The Beatles back catalog rights.
McCartney felt betrayed when Michael Jackson outbid him. It has been reported that McCartney never spoke to Jackson again since the betrayal, especially after Jackson gave Nike permission to use the
Fab Four
hit
"Revolution"
in a 1987 commercial. Which was the first Beatles song to be put in an ad. Reports say that Michael may have left McCartney the rights to the songs in his will, but that hasn't been determined yet.
Guns N' Roses vs. Poison
Ok, I admit. It's not necessarily the whole band of
Guns N' Roses
having a feud with
Poison
. It's basically
Axl Rose
. He also has a feud with
Mötley Crüe
and
Nirvana
with the band credited for the feud. Anyway, how this feud stated when Guns N' Roses were the biggest band in the world in the 80's after the release of their debut album
"Appetite For Destruction."
Then Poison came into the picture and Axl was jealous, under the bands name.
The same was with Nirvana and Mötley Crüe, Axl was jealous. Axl has stated that Poison was a bunch of wannabes and have even crashed their concerts. Poison did once intimidate and threaten one of Guns N' Roses' publicists - one of their female publicists - at an L.A. night club. This is one hell of a rivalry. 
Courtney Love vs. Dave Grohl
Ok this was a real easy choice. Former Nirvana member and
Foo Fighters
frontman
Dave Grohl
and
Hole
front-woman and
Kurt Cobain
's ex-wife
Courtney Love
have been fighting for years. Basically, Courtney Love has a hatred for everything. Probably her favorite targets other musicians, mostly ex-Nirvana members.
This feud started sometime before Kurt Cobain's death (just a note, Love supported Cobain's little publicized desire to fire Grohl after the release of the 1993 album
"In Utero"
). Things got worse in 2001 when Courtney Love refused to release a Grohl and Nirvana bassist Krist Novoselic-helmed box set of Nirvana rarities.
Things have got even worse over the years, including Grohl calling Love a
"greedy prima donna"
and Love saying that Grohl has been
"taking money from my child for years,"
while Grohl has implied that Foo Fighters song
"Let It Die"
is about Cobain and Love's tempestuous relationship and that "
there are a lot of people that I've been angry with in my life, but the one that's most noted is Courtney."
Love replied:
"...he's hit on me so many times. He's just a very, very conflicted guy about me, which is why he continually writes songs about me to hear he 'hates' me more than 'anyone else.'... Kurt loathed him more than anyone else."
Why does Courtney Love always have to be such a b-tch?
Tommy Lee vs. Kid Rock
What do these musicians have in common. They've both married
Pamela Anderson
. The Mötley Crüe drummer
Tommy Lee
and
Kid Rock
both had a feud since the 2007 VMA's. What happened was that Kid Rock slapped Tommy Lee after allegedly overhearing Lee talking trash about him to
Diddy
. This hasn't been determined true yet. Kid Rock then went to punch Lee in the face until security broke them up. Since that incident, they have both despised each other.
Gene Simmons vs. Carlos Santana
It took a while for
Carlos Santana
's anti-
KISS
statement to piss off a member, and that member was no surprise, 
Gene Simmons.
Simmons once fired back, he did so in typically unrestrained fashion.
Back in 2005, Santana said of Simmons,
"He's not a musician, he's an entertainer. KISS is Las Vegas entertainment, so he wouldn't know what music is anyway. That's why he wears all that stuff."
At first, Gene didn't bother with the statement, he just took the insult in stride saying, "
Not everyone likes the same meal."
Four years after Santana's statement, Simmons slammed Santana by saying
"I'm sick and tired of these bands like Carlos Santana looking at his shoes and thinking that's a rock concert. Get off the stage."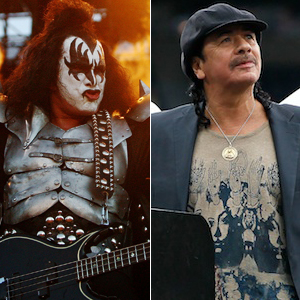 Vivian Campbell vs. Ronnie James Dio
Although they made great records together in the early '80's, the
Def Leppard
guitarist
Vivian Campbell
and
Ronnie James Dio
really didn't like each other that much. A few years before the tragic death of Ronnie James Dio, Dio made a statement about his feeling towards Campbell, saying
"he's a f--k a-s... he's a piece of sh-t."
Although Campbell says he regrets referring to Dio as
"one of the vilest people in the industry,"
Campbell maintains it was he who has wronged the legendary singer:
"I didn't quit that band. They quit me. I'm proud of those records and for years and years, Ronnie excluded me from that."
He reunited the original line-up of Dio with a new singer. Campbell says promising,
"I wrote those riffs. I'm going to take them back."

Honorable Mentions:
Sammy Hagar vs. David Lee Roth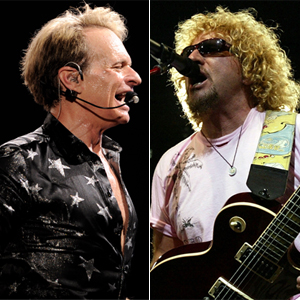 Red Hot Chili Peppers vs. Mr. Bungle


Trent Reznor vs. Marilyn Manson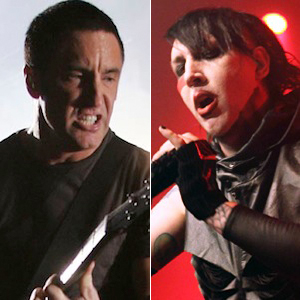 Kerry King vs. Robb Flynn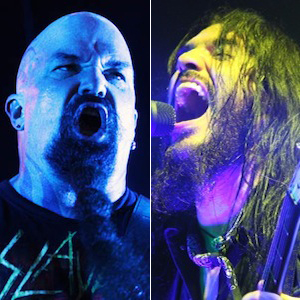 I am pretty sure I am missing a few rock and metal feuds in the list and honorable mentions. So let me know in the comments which rock and metal feud I am missing. Plus I didn't even know about some of these rivalries. Also, before I forget, let me know which side you support out of these feuds and rivalries. Please don't post in the comments in band feuds because that's a different list for a different time. Hope you enjoyed this list.