Ed Sheeran - Thinking Out Loud
Posted Aug 24, 2017 07:47 AM, 13 revisions total, last modified Aug 25, 2017 11:25 AM by Udjine
"Thinking Out Loud" is a song from Ed Sheeran's second album "x" (pronounced "multiply"), released in 2014.
Contents
Story behind the song
The song was co-written with Amy Wadge, a Wales-based singer-songwriter.
Sheeran revealed that their songwriting session was held as a favor to help her deal with financial issues. "[Amy] was going through financial troubles... She drove to my house – my album was nearly done – and she asked if I could put a song from when I was 17 on the deluxe album, so she could get a little bit of money and pay the mortgage and bills and stuff." [1]
Wadge visited Sheeran in his house in February of 2014. [1] She admitted:
His album was finished and I was just going to his house to have some chilling out time with my mate – it wasn't ever supposed to be a songwriting session. [2]
While Ed was taking a shower, Amy played a few chords on his guitar, which he got from One Direction's Harry Styles. Ed immediately ran downstairs, when he heard the progression and said, "What's that? We have to do something with that." They went for dinner with his mum and dad and then came back and wrote the song, which Ed recorded on his phone. [2]
The next day Sheeran send a message to Amy saying, that he had recorded the song and it was on "x". [2]
Sheeran wrote the lyrics of the song for his then-girlfriend, Athina Andrelos, who worked for chef Jamie Oliver. Ed and Athina split up in early 2015 after dating for about a year. [1]
"Thinking Out Loud" received three nominations at the 58th Grammy Awards, winning Song of the Year and Best Pop Solo Performance.
On 10 August 2016, it was announced that Sheeran was getting sued by the family of Ed Townsend for copyright infringement, who claim that "Thinking Out Loud" plagiarises elements of Marvin Gaye's "Let's Get It On." The court papers claimed:
The harmonic progressions, melodic and rhythmic elements, as observed in Let's, have made Let's one of the most well-known and instantly recognizable songs in R&B history.

These elements of Let's composition are the "heart" or qualitatively, the most important elements of the song as indicated by critical acclaim.

The Defendant, Mr. Edward Sheeran, has had access to Let's by virtue of its wide dissemination, and, in fact, has referenced and performed the song while performing Thinking. In addition, the Defendant, Edward Sheeran, by and through the Defendant, SONY/ATV, had increased access to Let's because both songs are administered through SONY/ATV.

The Defendants copied the "heart" of Let's and repeated it continuously throughout Thinking.

The melodic, harmonic, and rhythmic compositions in Thinking are not the product of independent creation. [3]
A federal judge dismissed the suit as Townsend's heirs failed to serve the complaint before the deadline of January 20, 2017. [1]
Music videos
Official music video
The song's music video was directed by Emil Nava. The video shows Sheeran and his partner Brittany Cherry ballroom dancing. Brittany Cherry was a contestant on Season 10 of the American TV dance competition "So You Think You Can Dance." [1]
The most of the video was shot all at once in 16 mm film. Unlike Sheeran's earlier videos, where he assumed a low profile, he took the lead role on "Thinking Out Loud." He revealed:
I wanted the video to be a little different, so I opted for ballroom dancing. I had lessons for five hours a day when I was on my US tour last month. [1]
Acoustic version
Live version
The first time Amy Wadge saw Sheeran perform "Thinking Out Loud" was on the BBC show Later... With Jools Holland when she was in the audience. [2]
Sheeran performed "Thinking Out Loud" at the Grammy Awards in 2015 with John Mayer on guitar, Questlove on drums, and Herbie Hancock on keyboards. [1]
Notable covers
Boyce Avenue made an acoustic cover of the song in 2015.
The song is a constantly covered by various fingerstyle guitarists.
Fingerstyle cover by Sungha Jung.
Jeremy Renner made a parody on the song, describing his troubles of being Hawkeye in "Avengers."
Gear and settings
Guitars
Ed Sheeran
Ed Sheeran used Martin 00-28VS custom guitars with figured Koa back and sides, the gecko inlays on the neck (which copies of one of Ed's tattoos), and the inlaid koa "X" logo on the soundboard. They are fitted with Fishman Matrix Infinity electronics.[4]
The guitars are all strung with Elixir Nanoweb 0.012–0.053 80/20 bronze strings.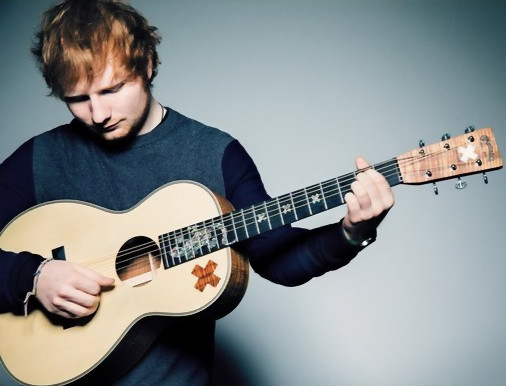 Also, Ed Sheeran can be seen using a replica Fender Eric Clapton "Crash 1" Stratocaster Electric Guitar to play this song live.
He reportedly no longer uses this guitar after learning it was an unauthorized reproduction. [5]

Chris Leonard
Chris Leonard was responsible for guitar (most probably, solo) and bass parts on the song, but it's unclear, which gear he used for the recording. Plausibly, he could use Ed Sheeran's gear.
Amps and effects
Sheeran once admitted, "This album was all written around the loop pedal. And most of it recorded with the loop pedal."
Onstage Ed Sheeran used custom built Midi Foot Controller, named the Chewie Monsta, that controlled a Roland FC-300 Midi Foot Controller off-stage. Ed's loop pedal had 4 tracks, which he could loop onto. Ed's guitar, looping mic, and the off-stage Midi controller were connected to an audio interface (off-stage), which on his turn was connected to both a laptop and FOH (front of house) where each individual loop track got treated at FOH. The laptop ran a looping software called Mobius and showed Mobius User Interface on the Chewie Monsta screen, so Ed could visually control his loops. The Pedals on the Chewie Monsta itself were Boss twin pedal integrated into the Chewie Monsta unit. Actually, Ed could use the offstage Roland FC-300 as the loop pedal on stage but he favored the Chewie Monsta instead as a matter of personal preference. The signal chain had the following look:
Guitar > Boss TU-3 > Audio Interface > FOH and Looping Mic > Audio Interface > FOH and Chewie Monsta > FC-300 > Audio Interface> FOH
Audio Interface was attached to Laptop running Mobius via USB, Audio Interface outputs for guitar, looping mic and Chewie Monsta went to FOH sound desk, Laptop connected to Chewie Monsta screen via VGA or HDMI cable. [6]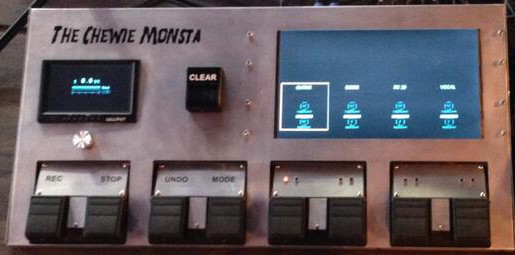 The Chewie Monsta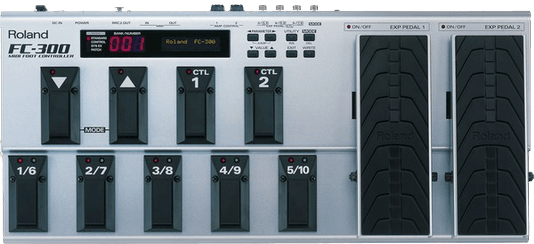 Roland FC-300 Midi Foot Controller
Ed Sheeran also used Vox AC30 Guitar Combo Amp, when he performed this song on a fake replica of "Crash 1" Stratocaster.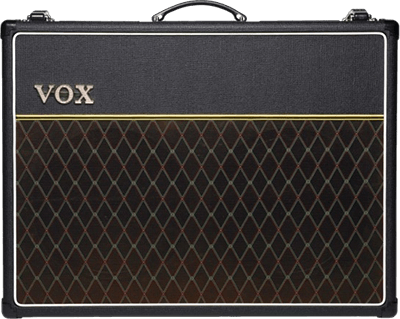 Amp settings
Gain - 0-1 (very thin)
Treble - 7
Mids - 4
Bass - 6
Tuning
Guitars: standard tuning (E A D G B E).
Bass: standard tuning (E A D G).
Song key
The song is written in the key of D major.
Techniques
The song is mostly based on chords, which are accompanied by a percussive right-hand rhythm. Ed Sheeran uses this rhythm around a series of simple chords that are sometimes ornamented with hammer-ons and pull-offs. [7]
The solo has a lot of double stop guitar work. It is a nice combination of aggressive double stop hammer-ons and bends along with delicate melodies. [7]
Song breakdown
The song has the following structure:
Intro - Verse 1 - Pre-chorus 1 - Chorus 1 - Verse 2 - Pre-chorus 2 - Chorus 2 - Solo - Chorus 3 - Outro
Recommended lessons
Acoustic guitar chords lesson
Electric guitar lessons with solo
Bass cover
References