Killswitch Engage - My Curse
Posted Aug 04, 2017 06:13 AM, 11 revisions total, last modified Aug 05, 2017 10:38 AM by Udjine
"My Curse" is a song from the Killswitch Engage's fourth album "As Daylight Dies," released in 2006.
Contents
Story behind the song
Killswitch Engage frontman Howard Jones sings about a love that has left him, and his curse is that he can't be with her. But band's guitarist Adam Dutkiewicz has a much more grounded interpretation of the song. "That's just about chicks. A lot of Howard's songs are about girls. It's always a topic guys can relate to." [1]
The song was featured in video games Burnout Dominator, Burnout Paradise, Guitar Hero III: Legends of Rock, Sleeping Dogs and as downloadable content for Rock Band as part of the "Roadrunner 6 Pack".
Bassist Mike D'Antonio admitted the fact that the song was featured as a secret track in Guitar Hero III was a privilege: "We were stoked when they asked us. We only got asked because a band dropped out and they needed someone, so we were just super psyched about that." [2]
Music videos
Album version of the song.
Official music video
In the music video, the vast majority of the lyrics are sung more cleanly, however on the album version of the song, much of the lyrics are screamed. The video tells the story of a man, who tries to reunite with the love of his life (most probably dead) through a bookcase. The band is shown performing while the man flips pages of books.
Live version
Live at Vans Warped Tour 2007.
Live performance with Jesse Leach on vocals at Elbriot in 2013.
Notable covers
Piano cover of the song appeared on Sean Townsend Youtube channel in 2012.
Piano cover.
Piano cover with the added original vocal line.
AEKO Recording made an acoustic cover of the song in 2015.
Into The Flood covered this song in 2017.
Gear and settings
Guitars
Adam Dutkiewicz
Adam Dutkiewicz used Caparison guitars, favoring the Caparison PLM-3, fitted with EMG pickups, an 85 in the bridge, and two SA single coils in the neck and middle positions. His guitars were fitted with .012-.052 gauge DR Tite-Fit strings. [3]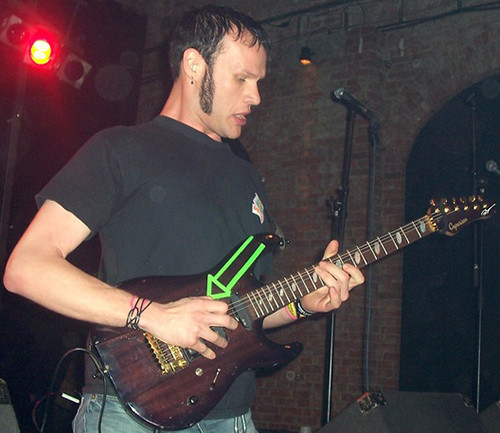 Joel Stroetzel
Joel Stroetzel also used Caparison guitars, though it is unclear, which model was used for the recording. During this period he most notably used 2 models: Caparison Dellinger, fitted with EMG 85 in the bridge and SA pickups in the middle and neck positions (which can be seen in the official video and live) and Caparison Angelus with EMG 85 in the bridge and EMG 81 in the neck (which can be seen in various live performances).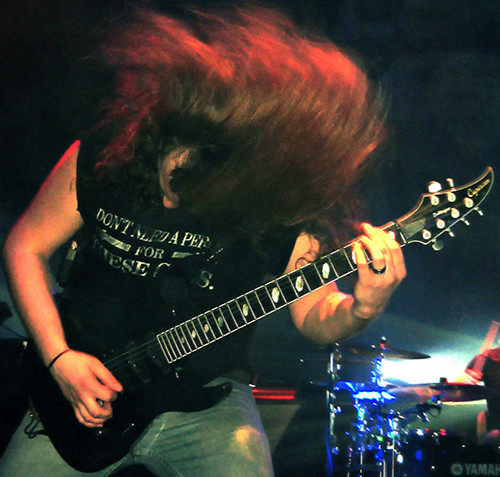 Joel Stroetzel with his Caparison Dellinger during the live set
Mike D'Antonio
Mike D'Antonio used Ibanez SRX 700 4-string bass, which later became the basis for his signature Ibanez MDB models.
Ibanez MDB1, which came out in 2007
Amps and effects
Adam Dutkiewicz and Joel Stroetzel
In the studio for the recording of "As Daylight Dies", Dutkiewicz stated, that they used a "guitar plugged into a Soldano [modified Soldano SLO-100] plugged into a Mesa Boogie cab. We never really got too crazy with the guitar stuff at all. It's just plug in a good guitar into a good amplifier, into a good cabinet." [3]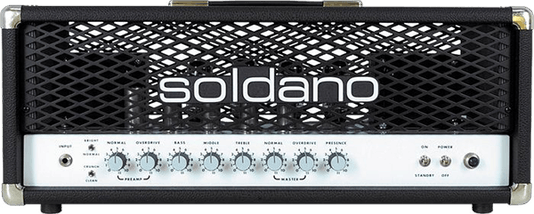 Soldano SLO-100
For the live performances, they both used Hughes & Kettner Triamp MK II amp with Mesa straight-front 4x12 cabs (Adam Dutkiewicz additionally used Hughes & Kettner straight-front 4x12 cab), Maxon OD808 Overdrive pedal and Boss NS-2 Noise Suppressor. Joel Stroetzel also used Ibanez TS-808 Tube Screamer.
Mike D'Antonio
Mike D'Antonio used Mesa / Boogie Bass 400+ with Mesa / Boogie 4x12 cab for the recording, but shortly after the release of "As Daylight Dies," he is seen using live Mesa Big Block V12 amp head with Mesa / Boogie 8x10" cabinets.

Mesa / Boogie Bass 400+

Mesa Big Block V12
Amp settings
Gain - 8
Treble - 6-7
Mids - 4-5
Bass - 8-9
Tuning
Guitars: drop C tuning (C G C F A D).
Bass: drop C tuning (C G C F).
Song key
The song is written in the key of C minor.
Techniques
The song is based on the use of double stops, chords, and arpeggios. "My Curse" needs good palm muting as well.
Song breakdown
The song has the following structure:
Intro - Verse 1 - Pre-chorus 1 - Chorus 1 - Interlude - Verse 2 - Pre-chorus 2 - Chorus 2 - Bridge - Chorus 3 (Fading)
The intro of the song starts with Adam Dutkiewicz's clean arpeggios supported by Joel Stroetzel's clean chords. Then Adam plays the same progression, but this time it's distorted and palm muted, while Joel plays sets of palm muted double stops merged by chords.
The intro ends with a riff, which contains several slides, a pull-off and a pinch squeal. This riff is also played throughout verses.
Pre-chorus consists of several different parts: few palm muted double stops riff, short simple single note riff with a single pull-off, and a riff, which repeats the closing section of the verse riff.
Choruses repeat a palm muted section of the intro.
The interlude is played with the verse riff.
The bridge consists of three parts. The first one contains two guitar lines, which are played with the octave chords with slides. The second part switches between fast palm muted double stops and melodic single note riffs. The third part is played with chords.
The last chorus is longer than previous two and slowly fades.
Recommended lessons
Guitar lesson by Adam Dutkiewicz and Joel Stroetzel
Dual guitar cover
Bass cover
References
↑ SongFacts.com "Adam Dutkiewicz of Killswitch Engage"
↑ The Aquarian Weekly "'Killswitch Engage: Interview with Mike D'Antonio' by Adam Desiderio"
↑ 1 2 GuitarFXDepot.com "Adam Dutkiewicz Guitar Rig (Killswitch Engage)"