Paramore - Misery Business
Posted Aug 03, 2017 09:11 AM, 7 revisions total, last modified Aug 04, 2017 10:16 AM by Niass
"Misery Business" is a song from the Paramore's second studio album "Riot!" released in 2007. The song was the lead single from this album and aired on radio on May 22, 2007.
Contents
Story behind the song
"Misery Business" is considered the band's "breakthrough" hit and is introduced the band to a mainstream audience.
Paramore lead singer Hayley Williams explained the story behind this song in a post at the band's LiveJournal in 2007:
"'Misery Business' ... is a true story. The song was written at a time in my life that I felt very bitter towards a girl, who I still haven't forgiven, for a lot of things that she did a few years ago. Until this person came into mine and my friend's lives, I had no idea what power someone could have over another. I watched her use sex to manipulate one of my friends, in particular, to the point that none of us - in our little circle of friends - recognized him. He went from being someone so innocent and joyful to becoming someone who was shut off from everything. Needless to say, it hurt. Not only because he was a close friend but because I felt that I was in love with him... The pain that I felt, I decided to hold inside. I thought that if people knew how hurt, angry and bitter I'd become, they'd think I was a bad - or worse, a weak - person because of it... He eventually decided that the relationship had nothing to do with love and after that discovered that our friendship was becoming something different...
"I can remember exactly where I was and what everything looked like around me when I was writing the lyrics. I forced myself to relive some of the very vivid memories that I have of the times he dated her. I don't think anyone can understand how awkwardly dark those times were at such a young age. But I do. To finally explain my side of the story and feel freed of it all... well, I was so angry and so happy at the same time. Every word I wrote was like a thousand weights lifted off my shoulders." [1]
The album's producer David Bendeth recalled the songwriting process in 2017:
"'Misery Business' was called 'Mexico' at the time, and it was pretty well together. I added a lot of different little things with the beat and the chorus. We broke the song down in the break, and we wanted to have a big sort of ending to it. Everybody in the band and the A&R [Artists and repertoire] guy ended up loving that song from the beginning - and I liked the song, but I thought it was kind of kitschy, and really when I compared it to 'Hallelujah' or 'When It Rains' or even 'Crush,' I felt that it wasn't hip enough, that it was too pop. I didn't think it was going to get on the radio. [2]
"I mixed the song first, and I remember going and taking a break because when you work on something all day, you don't even know what it sounds like. It was like a 10-hour mix, like open surgery stuff where you take stuff out and you experiment with this and that. I remember walking back into the room the band and the A&R guy was in, and listening to it finished like, 'Oh, my God. This is amazing.' Not that what I had done was amazing, but that what we had created was amazing, and certainly it hit me like a ton of bricks. [2]
"Hayley was upset about that girl [the subject of the song]. In fact, in the lyrics she wrote, 'Once a whore, you're nothing more' - and I remember at the time, she looked at me and said, 'I don't think I can sing this. I don't think I can say this. This just isn't me,' and I said, 'Hayley, it is you and you wrote it. You have to sing it,' and she answered, 'I just don't think it's right. I think morally it's wrong to call somebody that.' I said, 'You're not. You're explaining the situation,' and she said, 'Okay, I'm going to sing it. I'm not going to like it, but I'm going to sing it."

This particular lyric line became the subject of negative reaction in recent years, with some people depreciating its "anti-feminist" message. [3]

Williams admitted on the issue:

"The thing that annoyed me was that I had already done so much soul-searching about it, years before anyone else had decided there was an issue. When the article began circulating, I sort of had to go and rehash everything in front of everybody. It was important, however, for me to show humility in that moment. I was a 17-year-old kid when I wrote the lyrics in question and if I can somehow exemplify what it means to grow up, get information, and become any shade of 'woke,' then that's a-okay with me." [4]

Though, when Paramore played "Misery Business" at the Royal Albert Hall in London in 2017, and it was time for the lyrics in question, Williams opted not to sing the offending line. [4]

The song was certified triple-platinum in the United States in 2015, the first of the band's songs to have sold three million units. [5]
Music videos
Album version of the song.
Official music video
The video for "Misery Business" was the third to be directed by Shane Drake for the band.

The video starts out and has cut scenes of Paramore performing the song with an assortment of "RIOT!"s (a reference to the album's name) in the background all throughout the video. At the same time, a girl as a subject in the song dismays students at a high school. She pushes aside cheerleaders, cuts off a girl's braid, further injures a boy in an arm sling, and ruins a relationship between a couple. In the end, the band members themselves give her a taste of her own medicine by revealing her true self and humiliating her, putting an end to her egotistical reign at the high school.

Alternative Press named "Misery Business" the Video of the Year in 2007. The video was also nominated for the "Best Video" award at the Kerrang! Awards 2007 but lost to Fall Out Boy's "This Ain't a Scene, It's an Arms Race." [6]
Also, an alternative version of the video exists, which contains shots of the band's performance without high school segments.
Live version
Paramore performed this song on Late Night with Conan O'Brien in October 2007.
The band sometimes performs acoustic versions of this song.
Famous covers
Vitamin String Quartet covered this song in 2007.
The song was also covered by Piano Tribute Players in 2007.
Sea of Treachery made a metalcore cover of "Misery Business." Williams has praised their cover:

"Sea of Treachery's cover of "Misery Business" IS better than the original version. Faces will be melted. Floors will be punched. Change will be picked up. Limbs dismembered." [7]
Aaron Marsh of Copeland covered "Misery Business" on January 9, 2010, at House of Blues Orlando.
Gear and settings
Guitars
Josh Farro
Josh Farro used Fender Classic Series '72 Telecaster Deluxe for this song. He plays this guitar in the official video and in several live shows.

Also, he used various Gibson Les Pauls for the live shows.
Taylor York
Taylor York is credited as a composer on this album, but it's doubtful whether he took part in the recording of guitar parts or not as he didn't take part in the official videos. [8] But he definitely played rhythm guitar in live performances, where he used several models of Gibson Les Paul guitars.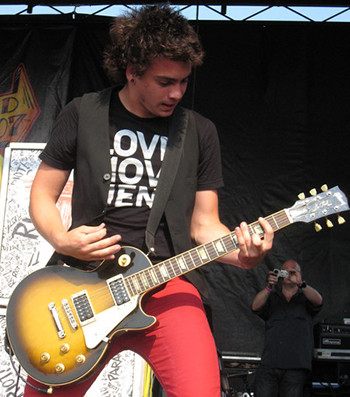 Jeremy Davis
Jeremy Davis used Fender Precision basses for the recording and during consequent tours.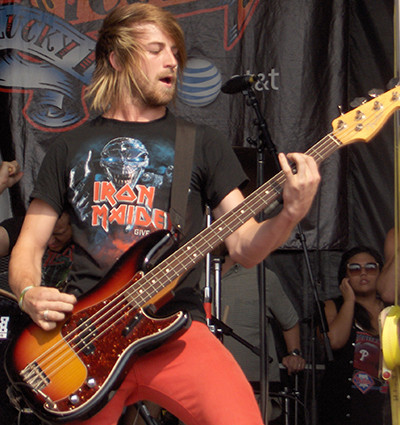 Amps and effects
Josh Farro and Taylor York
They both used Marshall JCM 2000 DSL 100W Amps with Mesa/Boogie 4x12 cabs.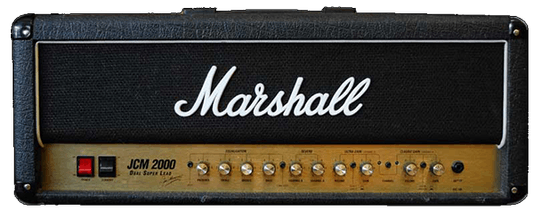 Also, Josh Farro notably used Boss DD-20 Giga Delay Digital Delay Pedal.
Jeremy Davis
Jeremy used Ampeg SVT-CL head in combination with the Ampeg SVT-810AV.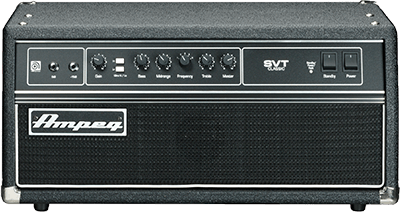 Amp settings
Gain - 4-5
Treble - 6-7
Mids - 7-8
Bass - 5
Tuning
Guitars: drop C-sharp tuning (C# G# C# F# A# D#).

Bass: drop C-sharp tuning (C# G# C# F#).
Song key
The song is written in the key of F minor.
Techniques
Guitar parts of the song are mostly based on power chords and hammer-ons. Also, note that the song is played in a fast tempo.
Song breakdown
The song has the following structure:

Mariachi intro - Guitar intro - Verse 1 - Chorus 1 - Verse 2 - Chorus 2 - Bridge - Guitar solo - Pre-chorus - Chorus 3 - Outro

The song starts with a mariachi intro, which presents the main theme of the song.

Guitar intro is played with single note riff with several hammer-ons, while the second guitar plays power chord progression with hammer-ons.

The rhythm guitar plays palm muted intro progression in verses. The lead guitar stays silent until the middle of verses, then it starts playing single note riff. Verses end with both guitars playing palm muted power chords in unison.

Choruses is played with octave chords, while the second guitar plays power chords. Also, the lead guitar plays a variation of the intro riff at the end of the first chorus.

bridge is played on clean guitars with a notable delay. The first guitar line consists of chords, while the second is presented with arpeggios.

The solo of the song is rather straightforward and like the most of the song consists of power chords, played by the rhythm guitar and single note riff, played by the lead guitar.

The final chorus varies from the first two as it starts with a lyric line sung without guitars.

The outro is performed with a variation of the intro riff.
Recommended lessons
Guitar lesson with tabs
This lesson in Portuguese, but it's easy to understand as all guitar lines are provided with tabs.
Guitar cover
Bass cover
References