Pull-off
Posted Mar 27, 2017 08:08 AM, 7 revisions total, last modified Apr 22, 2017 11:56 AM by Udjine
Pull-off is a technique when we use a finger to fret a note and sound that note, while the note is still sounding, a finger can be placed behind the first finger, and then the first finger can be 'pulled off'. By doing this, the effect is the same as plucking the string with a finger, it creates vibrations. And now the note that is being fretted right behind the first finger will be sounded.
Pull-offs create vibrations, while hammer-ons mostly don't. In other words, in performing a pull-off, it is possible to make the second note sound louder than the first. [1]
Contents
Motives of use
It's used to make a passage easier to play. This is true for two reasons. The first is that we can usually do a pull-off faster than we can pick two notes in succession. The second reason is that while performing a pull-off with two fingers of the fretting hand, it's possible to play something else at the same time with other two fingers and pick.
"How to play pull-off" guitar lesson
History of pull-off technique
In "Ellis's Thorough Course For 5 String Banjo" written around 1900, the term 'pull off' is used to explain the action of performing technique called 'snap'.
The term pull-off was first defined by Pete Seeger in his book "How to Play the 5-String Banjo" in 1962.
Tablature notation
In tabs, pull-offs are usually shown by the letter 'p' accompanied by a number to the left and a number to the right. E.g.:
e|------------------|------------------|
B|------------------|------------------|
G|------------------|------------------|
D|-10p9p7-----------|-----------10p9p7-|
A|-------10p8p7-----|-----10p8p7-------|
E|-------------10p8-|-10p8-------------|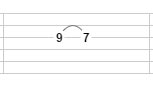 Songs for learning pull-off technique
Foo Fighters - Razor
Interactive versions:
Original track
"Razor" guitar lesson
References
↑ "Hammer-ons and pull-offs lesson" Ultimate Guitar