Hey guys, this is a really stupid question, but I've been examining my own playing style as much as I can - I've had a guitar for ages, but have tried teaching myself and other inefficient stuff, so I am basically a beginner. Also sorry about the diagrams, I have no way to take pictures right now.
I've been watching some videos, and what's been bothering me lately is this. In
this Freepower video
,
this Nevermore lesson
,
this Mattrach lesson
and basically tons of other videos of guitarrists I respect, people hold their forearms almost perpendicular to the strings, something like this :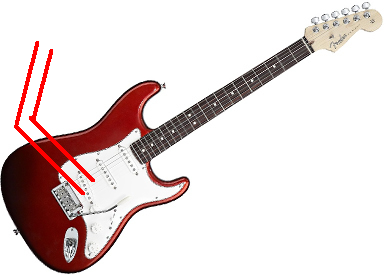 It's most obvious in the Nevermore video with the way Jeff Loomis plays.
Whereas I hold my hands at a much greater angle, something like this - basically leaning my bicep on the top of the guitar body :
Which feels a lot more comfortable to my upper arm, but I'm not sure if it doesn't cause tension in my wrist when I play the low E string, especially on upstrokes. I am quite short, though, so my arms are a bit shorter, too, which might be a factor, but still. Oh, this is with the guitar on my right leg, btw.
Now this allows me to move my arm across the strings like this :
But that changes the angle I get between my hand and the different strings, which has to be detrimental, I presume. I'm not sure if my wrists actually hurt me, since I just started going to the gym after a long pause and it could be that.
As far as I see, the advantage of holding my arm more vertically is that I get the same angle between my hand and the strings, but I have to move my entire arm, not just the forearm to switch strings, and I don't think it'll be overly comfortable for my upper arm and shoulder and triceps in particular when playing the low E.
Am I missing some obvious benefits of the one position and/or debilitating problems with the other?