Decadent Custom Guitar
A picture of the back plate... hand engraved and chromed (the jack plate also will be chromed).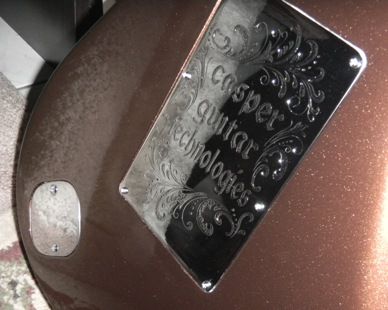 Guitar received today. I must say that pictures don't do it justice, and particularly the quality of the metal flake paint. The feel of the fingerboard is the best I have experienced... perhaps that has to do with the ebony, but Steve Casper also makes the best necks I have played. Over the next few weeks I plan on recording some music and writing a detailed review, with photos.
R45VT
Doesn't speak guitar

Join date: Dec 2009
1,110

IQ
Cool. It will suck when it gets its first ding.
Any chance of you posting some hi res photos? I would love to see a good quality photo of it with correct lighting.
Congrats!

wursty
Just some Windows IT Guy

Join date: Jan 2009
423

IQ
That guitar looks okay, IMO it doesn't look much fun to play though since the player will always be worried about messing it up with smudges or scratches but custom guitars are cool still.
The only thing that could get a smudge would be the chrome pickups or the mirror pickguard... so far there's not much of anything on there... it's not like I'm dragging it through a mud hole, lol. And in terms of fun, the neck is incredible!!!!!!!! That ebony fingerboard with all the inlay makes it feel far superior to anything else I have played. Yes, lots of fun!

Join date: May 2007
1,803

IQ

Join date: Mar 2009
243

IQ
I've just read the entire thread. This guitar is crazy expensive and frankly ridiculous, but in a way I guess thats what you're after. I know if I paid that much on fancy parts I'd want my guitar to stand out.

I'm really quite surprised you didn't go down the pretty wood route and have a birds-eye maple neck and carved zebrano top or something. Some of the decoration is really nice, like the back plate up there, and the knobs are beautiful, although I think they would look better round.

Saying that though, I think you went way overboard with the whole garden theme on this. It would look much nicer if you scaled it back a bit, because its just too much and looks gaudy. Less is more ect.

Btw, could you link to the RFID chip thing you use? Thats a great idea.
Same price as a stock JEM!!!! Considering I played one of those, and this is superior in quality, build and feel/playability, it's not over-priced. In any case, it's called Snagg.
Also, I already have guitars with natural wood look... with the silver and mirror guard, it would not look right, and I wanted a car finish quality... something you don't get on regular guitars.