Lots of Gear for Sale (Amps, Guitars, Pedals)
AmpsMarshall MG15DFX
Marshall MG15DFX, fully working with a few marks on the back.
Have had mains IEC connection fitted to save long trailing lead.
Plus internal speaker connection has been fitted to chassis so that internal speaker can be disconnected and an external speaker used.
Features:
15 watt Solid State
2 Channels
Digital Effects - Reverb, Delay, Chorus and Flanger.
CD ins, plus emulated line out, and emulated headphone jacks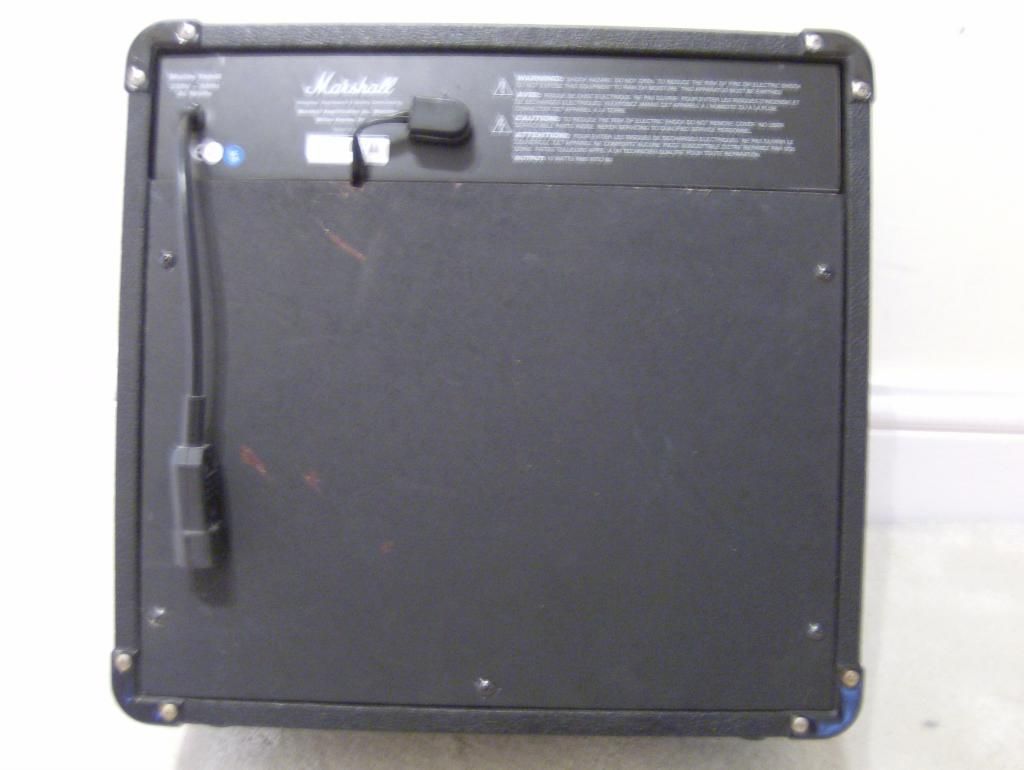 Looking for around £40 + P&P
OHM GR100
his was an English company which manufactured amps and PA Systems in the 1970's, but I don't really have much info on this amp. I used it as a practice, and occasional gigging amp. Although it is a solid state amp, it provides a nice warm tone and is capable of playing in small/medium sized venues.
Features:
Volume, Gain, Bass, Middle, Treble, Graphic EQ and Reverb
100 watts
2 Speakers (Unknown)
There is one scratchy pot, which will need to be treated with some contact cleaner.
This amp will need to be collected as it does weigh a fair bit.
Looking for around £50
Laney Linebacker 100w Bass Head
Laney Linebacker bass head, made in England around the 1980's, the construction is solid and is built to be gigged.
Specs:
100 watts
Controls - Presence, Volume, Bass, Mid Controls (Sweep and Gain), Treble and Gain
Effects Loop
Speaker Input, Headphone Input aswell as a Direct Input.
Price - £90 ONO
GuitarsMIJ Fender Strat (1970's Reissue)
A 1970's Fender Strat reissue, Made in Japan (Fuji-Gen factory) between 1984/1987.This has not been used a lot, only occasional use for a few drop tunings, as it is a very versatile guitar.
It has all the original parts, except a Schaller 5-way switch, which is wired in a way that position 3, which uses both the bridge & neck pickups simultaneously.
In regards to the damage, there are only a few buckle scratches on the back of the Strat, aswell as a small dent towards the bottom of the body.
This Japanese era of Strats was regarded as higher quality and better playability of US Strats of that time.
Packing and postage will cost around £15, depending on where the guitar is being shipped to, but collection is also an option if possible.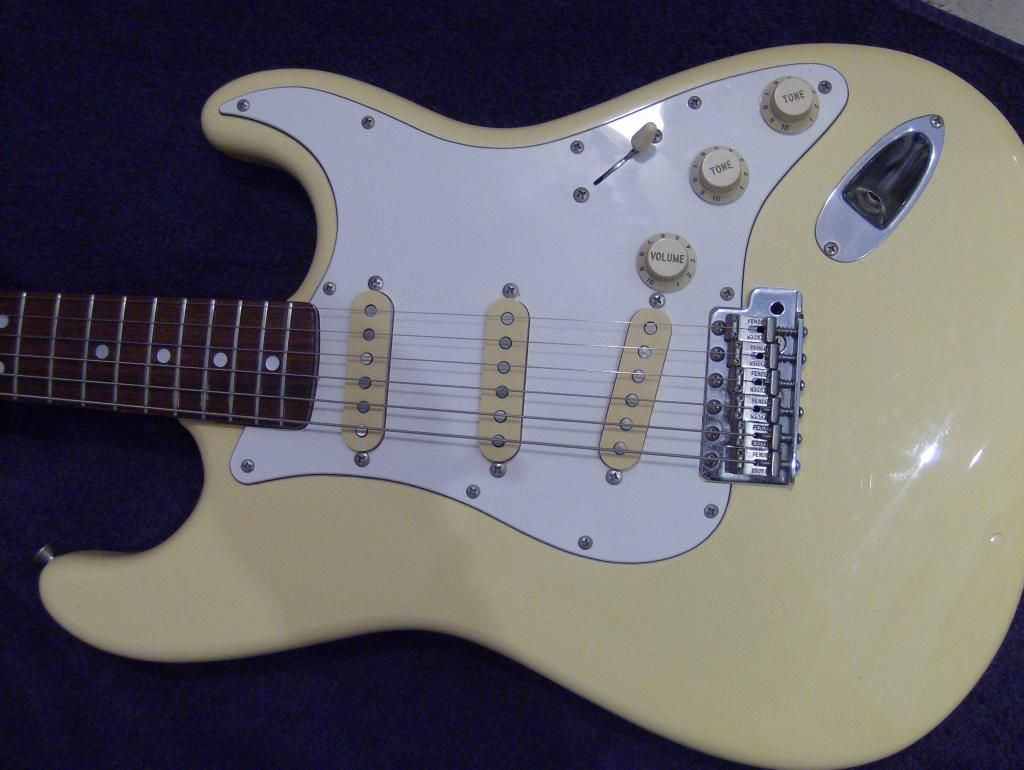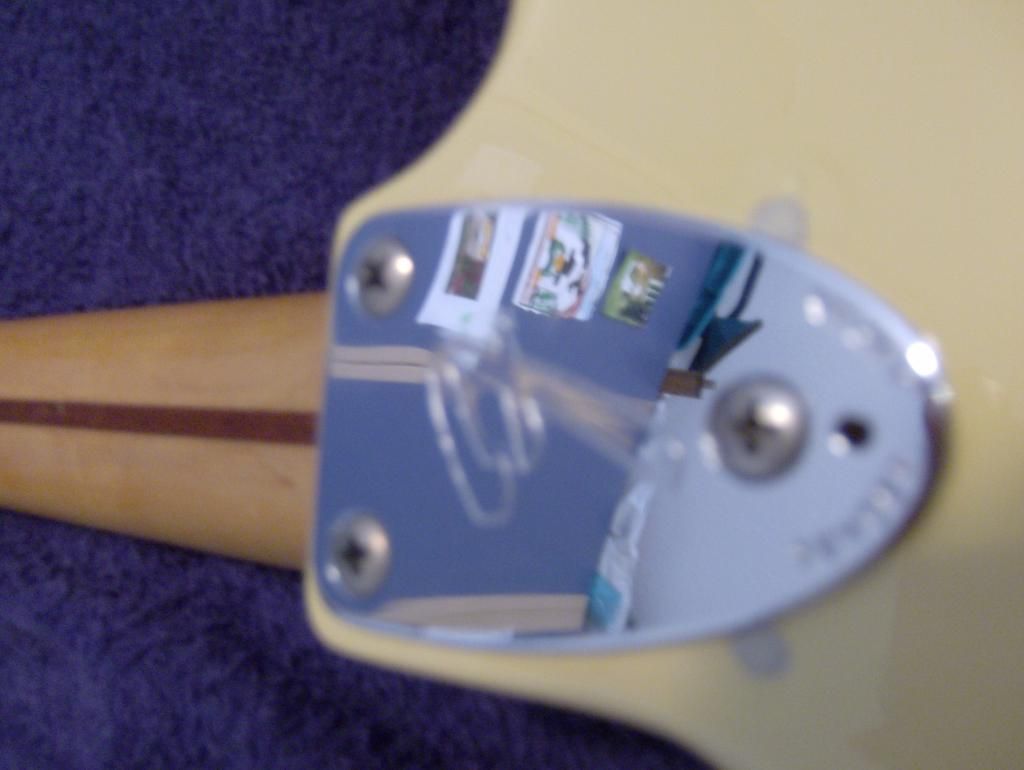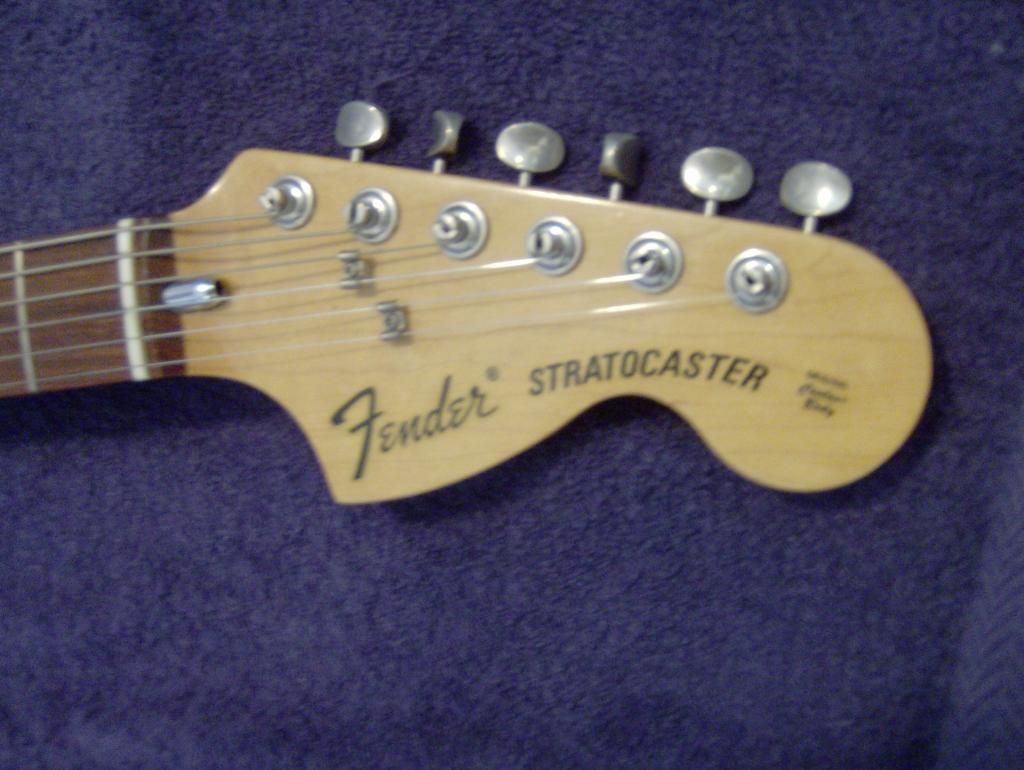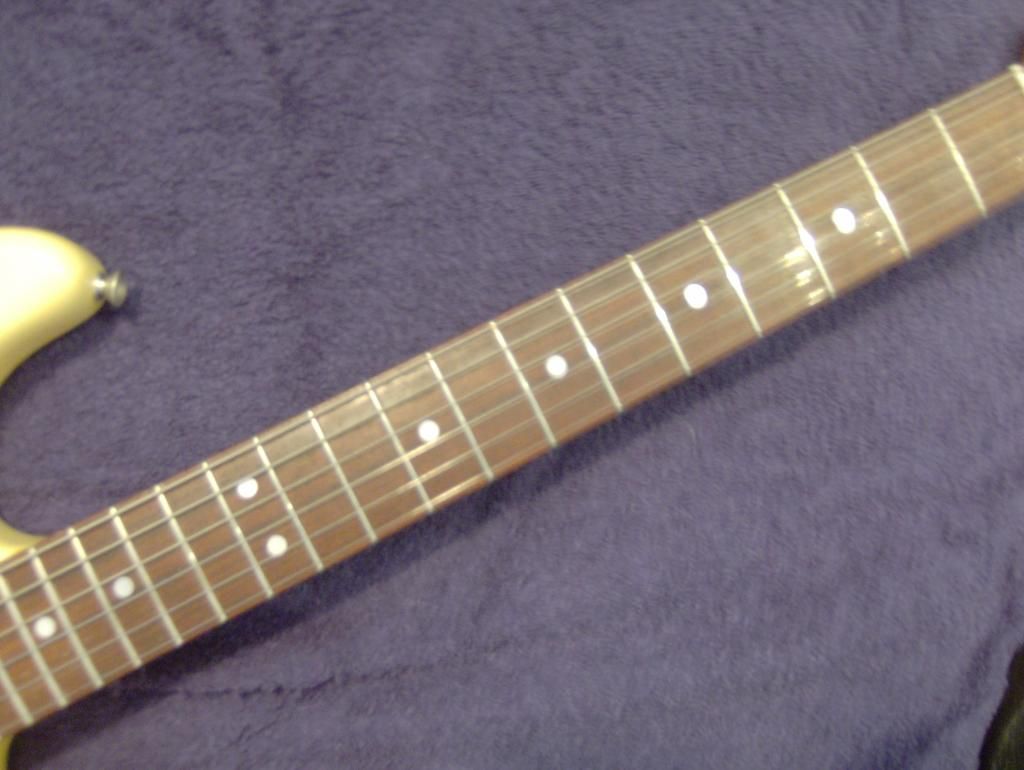 Price - £380 ONO
Charvel ST Deluxe
Made in Japan in 1990/91 Serial No.357629
It has Staggered vintage tuners, Jumbo frets, Slim neck, Lock down saddles, Roller nut.
The electrics - Volume,Tone, 5 way switch and 3 way toggle switch. With the 5 & the 3 gives 15 tonal positions. The 5 way has been upgraded with a Schaller sw and wired so position 3 gives you bridge & neck pickups.
The Charvel pickups are stacked single coils which are a bit under powered, so I have upgraded the a bridge and neck pickups with Hot Rails (B) Cools Rails (N) from Brandonni of Wembley.
There are few scratch/dinks on the back of the body.
This guitar was reviewed in Guitarist June 1991 where in the conclusion reviewer wrote "For the price, it takes some beating, and the standard of workmanship is excellent - a quality shared by most Charvels".
It comes with the case, which is pictured. It has been gigged and does have some cosmetic wear, but is well serviceable.
http://s465.photobucket.com/albums/...20and%20Custom/
Price - £270 ONO
PedalsBoss Bass Flanger BF-2B
The BF-2B Bass Flanger adds swirling and dynamic effects to the bass sound. The LFO (Low Frequency oscillator) is variable between 100ms and 16 seconds and this gives a wide spectrum of tones. The MANUAL knob controls the delay time, the DEPTH knob controls the sweep range, the RATE knob sets the sweep speed and the RESONANCE knob sets the amount of feedback desired.
Features:
Controls - Manual, Depth, Rate, Resonance
Input, Output, 9v DC
Price £30 + P&P
Arion SCO-1 Compressor
This compressor has hardly been used, although there is velcro on the back for pedalboard use. This can be used to add sustain, level balance or for the effect the compressor may add to your tone.
Features:
Controls - Level, Tone, Sustain and Attack.
9v Power
Can be shipped or collected. Price of postage will vary depending on where it's being sent.
Price - £15
Also got another amp for sale:

Epiphone Valve Special 5w
reat little all-valve 5w practice amp. Equipped with 2x12ax7 and 1xEL84 Valves.

Features:
Gain and Master Volume Controls
3 band EQ
DSP Effects E.g.Delay, Chorus and Flanger.
Reverb

The original speaker was replaced with a Celestion Greenback, giving it a much more open and warm sound.

Looking for around £170 + p&p (Collection is an option if viable)
Price drop on the OHM GR100 - £40
Price drop on the Bass Flanger - £25
Wouldnt mind the Ohm, if your about London sometime...
I don't really go into London to much unfortunately.
That strat is lovely, looks the spit of my Squier SQ. Interested in PXs?
Curious, this looks like it was originally drilled for a four-hole neck-plate and then filled in. There's also a variation in colour on the paintwork that seems to support this. Can you shed any light on this?
Curious, this looks like it was originally drilled for a four-hole neck-plate and then filled in. There's also a variation in colour on the paintwork that seems to support this. Can you shed any light on this?
Yeah, it did at one point had a 4-bolt neck fitted, but now is back to the original neck with holes being filled. In regards to colour, it's always been this creamy colour, but it may be the ageing causing the variation of colour.
Bit of a bump, but the Strat, the Marshall MG and Boss Flanger have all been sold. Still have the Laney, Epiphone Valve Special, Charvel and the Arion.
the pic to the arion pedal seems to be a pic of a strat headstock, any chance you could post another, might be interested in the compressor