FS (USA): EG463SC, EG544CK, and EG523SC

Join date: Jan 2013
20

IQ
Hey guys. New to the forum here. To give some background on my credentials, I have somewhat extensive experience with online commerce. The following are links to my profiles in each of my online sales handles:
****
****
My Yo-Yo Expert Forum Profile
My Yo-Yo Nation Forum Profile
I prefer PayPal for payment vehicle. Sales within the US only. Guitars will be shipped fully insured via UPS Ground. Since the price of shipping can vary so widely based on distance, my prices DO NOT include shipping -- please contact me with a quote. I will most likely absorb some shipping costs if they end up being too astronomical.

Also, when contacting me with any offers or requests for more pictures, please send an email to ratfacedudeguy@aol.com with the following information in the subject line:
-Model # of the guitar you're offering on
-Nature of the e-mail (Offer/Picture Request)
-Which forum you saw this thread on
-Username on said forum
-Example: EG544CK Offer, Takaminefan, Takamine Forum
The reason I request that it be done this way is because I have these guitars posted for sale on several forums and I want to be able to properly keep track of offers.
All guitars will include a fresh battery for the preamp, and I'll give each of them a good polish before they head out the door. Each has been well cared for in a smoke-free environment.
Now, on to the guitars:
EG463SC: $400
Near mint with the only cosmetic "damage" being some tarnishing on the machine heads of the tuners. Definitely the best looking guitar I own. Solid spruce top, rosewood laminate sides with a 3-piece back of rosewood-quilted maple-rosewood with intricate wood purfling that's absolutely
gorgeous
, maple binding, abalone rosette, awesome 12th-fret inlay, rubberized tuning pegs for a cool look and comfortable grip. Freshly installed Elixir 80/20 Light (.012) strings. TP-4T preamp with built in tuner. Also includes upgraded buffalo horn bridge pins and a bone saddle. Will also include the OEM saddle and bridge pins. As is the action is just a tiny bit too low (minor fret buzz, no outright dead notes) with the bone saddle, but that can easily be fixed with a shim, or by switching back to the OEM plastic saddle. No noticeable fret wear. NEX mini-jumbo body style gives a tone just as sweet as the looks, and is very comfortable to boot. Usually goes for $550 on ebay with no upgrades (I spent over $100 on the bridge pins and bone saddle).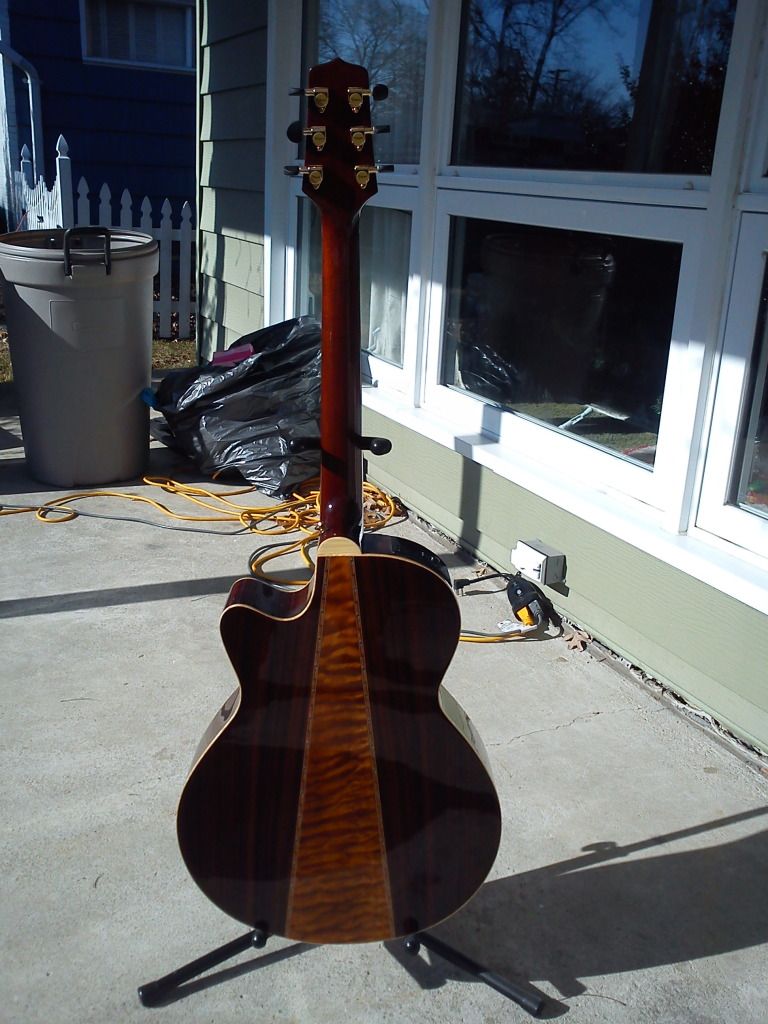 EG544CK: $500
Mint condition, original owner. Best sounding guitar I have. Koa laminate top, back, and sides provide a rich, sweet tone with beautiful harmonic response that one would expect from the golden hue of the koa. Deep cutaway for unrestricted access to all the high frets. TP-4T preamp with built in tuner. Abalone snowflake inlays and rosette. Currently set up with the OEM Tusq-esque saddle, but will also include a custom bone saddle that would require shimming if used (causes dead frets in the upper register, usually 15th or 17th frets). Upgraded bone bridge pins with abalone dots also installed, but will also include OEM plastic bridge pins. NEX mini-jumbo body style. Seems to have a very light V contoured neck profile. I usually don't like V profiles, but I really don't hardly ever notice it unless playing intensely on the lower frets for long periods of time. Freshly installed Phosphor Bronze Elixir Light (.012) strings included. Going for $650 on ebay with no upgrades (I spent over $100 between the bridge pins and the bone saddle).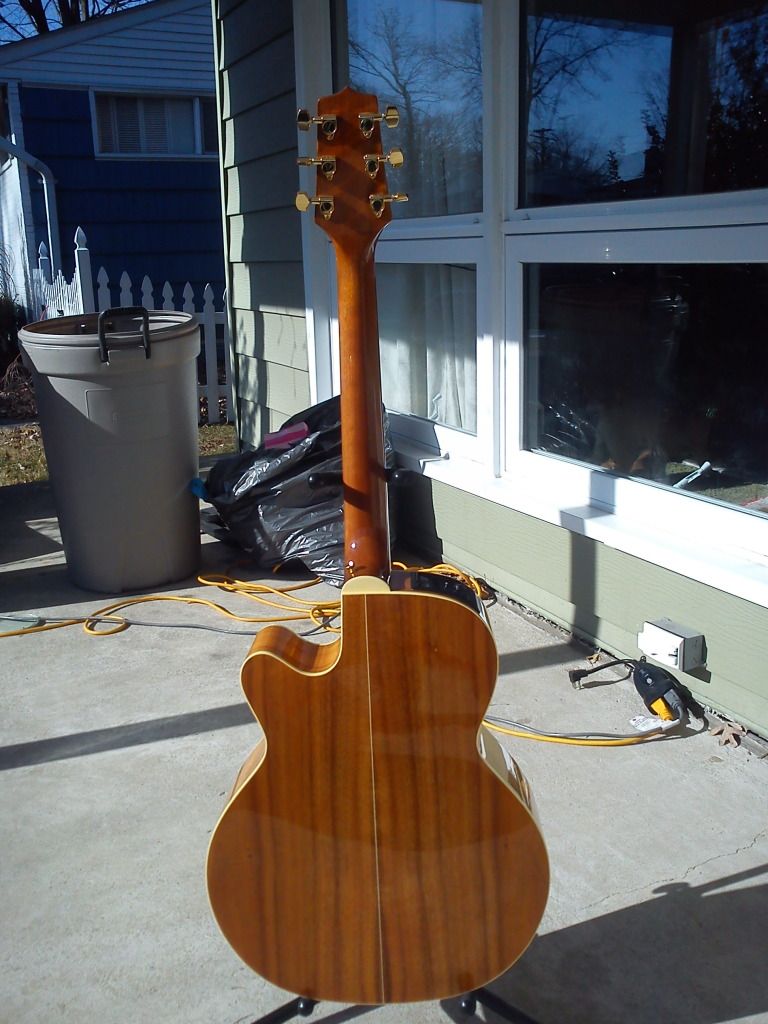 EG523SC: $450
Couple dings on the top where your arm rests. Also one small dent on the side right by the other ones. I tried to picture it but it's so shallow and doesn't break the finish, so you can't even see it unless you look at it at just the right angle. Also one small dent where the fretboard meets the neck right around the 7th fret that doesn't at all affect playability or even extend onto the actual fretboard. Jumbo body, solid spruce top with beautiful blonde flame maple laminate back and sides. Sweet looking guitar with all the fat tone that you'd expect from a jumbo. Previous owner had it set up with nice low action, and the relatively slim neck profile allows for awesome playability. String-thru saddle makes for easy string changes. TK-40 preamp with built in tuner -- most people agree that it's a better preamp than the TP-4T that the other ones come with. I can't really comment on it because I pretty much only played these unplugged.
Needs a change of strings, so I'll leave it up to the buyer as to which strings end up going on it. I'll purchase the strings and install them myself if available locally; otherwise I'll buy the strings online and have them sent to the buyer directly
. Usually goes for $600-$700 on ebay.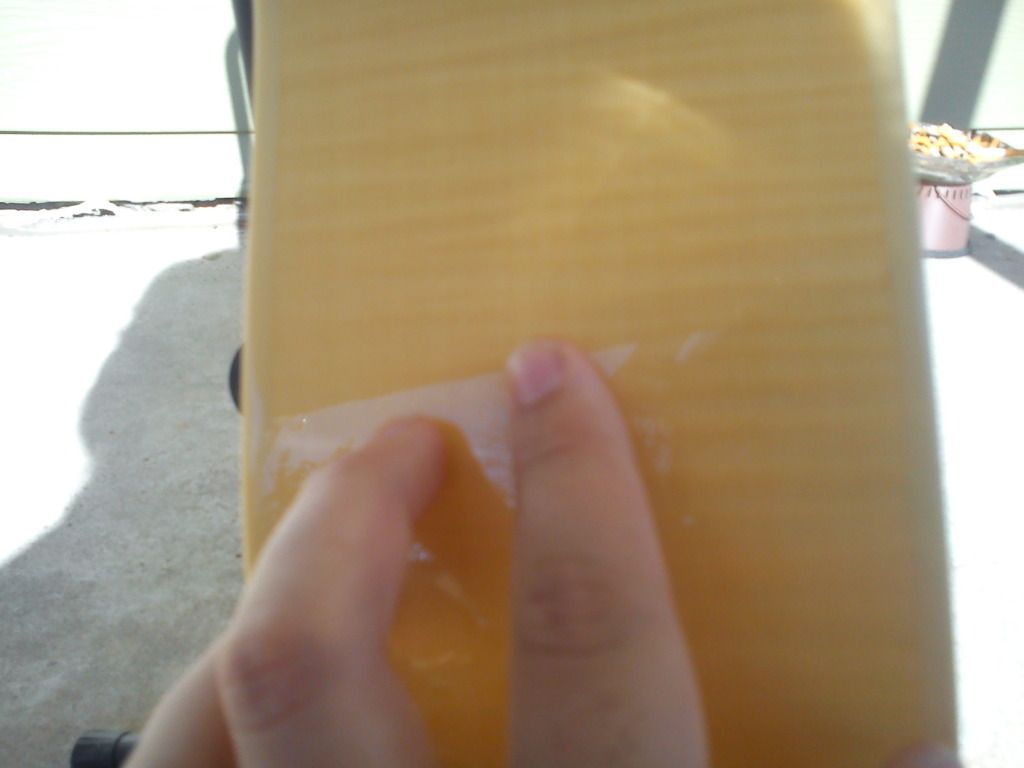 Thanks for looking!

Join date: Jan 2013
20

IQ