Npbd!
New pedal build day.
Recently i got a build your own pedal kit online for a wee fuzz, it took me about 3/4 hours in total to build and paint and here is the result. I had a few difficulties from my lack of experience with these things but got there in the end.
First thing i did was spray a base coat of black and then done splashes of a few different colours to make it a bit more interesting. It doesn't look so good in the photos but looks pretty sweet in real life. Heres a close up from just after i painted it: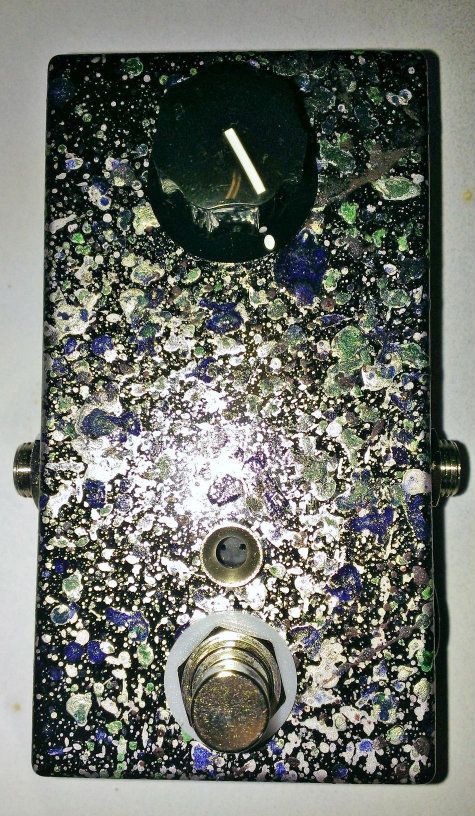 This thing is really quite a versatile pedal for only a single control. I've not had much of a chance to play with it yet but it can go from actually cutting the volume to full on fuzzy goodness and everything in between. Its a really smooth fuzz and the low notes sound thunderous through my rocker 30, it all seems to stack well with the ocd. Im not sure whether to run it before or after the ocd tho, and ideas? Also one thing you cant see from the photos in the led is really bright,might have to put a bigger resister in to dim it abit lol
Just posted this picture aswell so you can see a size comparison. You can get this pedal in a wee enclosure or a normal (like mine). The normal enclosure is a little smaller than a fulltone ocd sized pedal.
Last edited by billabob at Jan 12, 2013,

Join date: Jul 2007
206

IQ
damn, that's a pretty sweet paintjob.

haha thanks man. I just thought it would make it stand out from the standard block colours.
Also loki i had a look through the a5 booklet thing i got with it but i didn't actually get a schematic with it. Sorry im sure if u email the website they'll send you one.

Join date: Jan 2006
162

IQ
Awesome dude. Glad you got it finished.

It's such a great little pedal. I was amazed once I finished mine.

Don't worry about the schematic ill draw one up when I get a chance. (Was just being lazy really)
Last edited by loki_lulamen at Jan 12, 2013,
Yeah i got there in the end, it was well worth the it too. Only thing is now i have withdrawal symptoms from having nothing to build...

Join date: Nov 2010
30

IQ
Can I get a link for where you got it? Iv been wanting to learn some soldering and wiring skills and a kit sounds like a fun way to so it.
yeah thats the same one i was looking at, i was gonna build that and replace my ocd with it :P It sounds like a really cool concept. Have you any idea what its a clone of? or has he designed it himself?
heres a shot of my guts. I would show the pcb too but i used a glue gun to glue it to the case stop it moving about.