NGD & NPuD: Spandau Ballet would be proud
Part 1: NGD
Needed to cut down my collection; sold a bunch of gear. Realised this left me with some extra cash and a spare slot in my guitar rack. Went bargain hunting.
LTD PB-401, made in Korea in 2010. £360, including delivery and a very, very nice case. Not bad given they're £550 or so new and the last few runs were made in Indonesia and China, to boot.
Sold as second hand, but described as new and it does seem to be totally untouched; it even still has the plastic film on the rear cover. Judging by the strings, frets and the action, I don't think has even been played since it left the factory.
Mahogany body, slightly slimmer than a normal Les Paul or PRS Custom, but slightly thicker than the ESP/LTD Eclipse. Mahogany body, mahogany neck (set), rosewood fretboard, 22 frets (slightly larger than standard), 24.75" scale. Neck heel is slightly contoured, it's not exactly the 'set-through' design on ESP's super-Strats, but it's an improvement over the usual set neck heel.
Hardware's pretty basic: Grover standard tuners, generic tune-o-matic and stopbar and an Earvana graphite compound nut, which is nice but it's a little odd that they used a black one when Earvana make them in ivory too, which surely would have fitted the look better.
Electronics are where it gets fun. Stock, this has two Seymour Duncan P-Rails, a 3-way to select rail/series humbucker/P-90, 3-way pickup selector toggle, 500k master volume and 500k master tone.
However, I've used P-Rails before now and I know that the rail coils sound terrible. Additionally, I don't like A5 magnets in anything, I never use tone controls and I use out of phase tones a lot. So, I've swapped magnets over and rewired everything.
I now have just the series humbucker and P-90 tones, and on the bridge pickup I have the option to switch phase while in humbucker mode, which also brings in a 1meg volume control (in place of the original tone control); this gives me one volume control on the bridge to change the neck/bridge blend, and the master volume to control the overall output. The magnets in the bridge have been changed for one A2 and one A4 while the magnets in the neck have been replaced with an A3 and an A4, so the tone of both pickups in all modes is a little softer than the scooped tone of the stock A5s.
Additionally, the stock volume pot was logarithmic taper, which I loathe, and it was quite stiff to move as well as measuring 482k; this has been replaced with a linear taper pot which measures 512k, that also turns faster.
Pictures!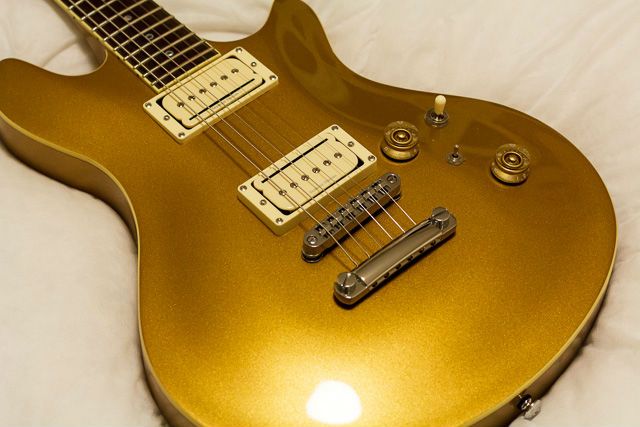 Not seen dot inlays done this way before.
The heel is only a slight contour, but combiend with the double cutaway the fret access is improved over the usual set neck design; it feels like playing an SG, despite the thicker body and earlier join.
I do love Korean guitars. Most of the guitars that I have ended up keeping are Korean, whilst I've sold every Japanese and American guitar I've ever had. They're not the greatest guitars ever, but it's nice to have something that is A) built decently enough that you can rely on it while B) being cheap enough that you can focus on playing it, rather than looking after it.
Part 2: NPuD
(I realise that pickup talk is meant to go in GG&A really, but I didn't think this deserved its own thread, though I still wanted to give it a mention.)
A while back I grabbed a dirt cheap Epi LP Studio, which had some surprisingly decent pickups in it, as far as MIC stock pickups go, at least. But they were destined to be removed, as I had been on the line to Seymour Duncan and had some unique SD Custom Shop pickups on their way to me.
Basically, I just want to say that if you want some custom pickups where you can just say "I want to make THIS guitar sound like THIS", the SD Custom Shop will nail it for you. They got it perfect for me first time around.
My request was for something that was a proper humbucker but which had a bit of the extra bit that a P-90 has; additionally, I wanted a smooth, 50s still tonal balance, but the more compressed response of modern pickups. They were to fit into a basic Les Paul with a naturally darker tone than most LPs, with just 500k volume controls on each pickup (I always disconnect the tone controls) and phase switching. Finally, I wanted the neck pickup to be wound for a quarter
more
output than the bridge. These are the result.
The bridge pickup has 42 AWG wire wound to a total of 9.4k (uneven; coil closest to the neck is the slightly hotter of the two), wax potted, an A8 magnet, one row of slug coils and one row of allen screw poles.
Neck pickup is 43 AWG wire wound to 12.7k (again, the coil closest to the neck is slightly more powerful than the other), unpotted, an A2 magnet and the same slug/allen combination as the bridge; it is made 'reversed', so it is installed in the Peter Green style with the visible pole pieces towards the bridge.
Still not sorted out this whole recording thing, other than using the UX1, which practically disregards pickups. So all I can do is stress how ridiculous these sound. It's like if Peter Green had grown up listening to too much Nightwish. The neck pickup sends a lot of the output to the amp, but the tone has the same balance and clarity of a typical PAF copy, with just a tiny bit more treble; pinch harmonics scream out of it, completely killing the motion that you need to use a bridge pickup to do them. The bridge has the tight wound strings of modern pickups and the smooth plain strings of classic ones; with low gain it sounds very close to a P-90, with high gain its got the sound of an EMG 81. The middle position sounds like the clean tone on Prince's
Purple Rain
when in phase, and out of phase the extra power of the neck pickup instantly gives a Peter Green/Joe Perry/Gary Moore solo tone.
Lacking sound clips, a picture of the unusual—but I think, rather swank—look will have to do.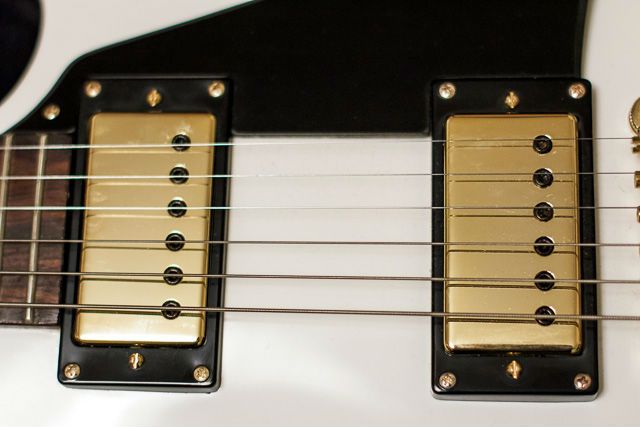 ... Though, they did cost more than the guitar. Each. Maybe I should have saved them for something a bit nicer. Eh, it sounds bang-on perfect and plays decently enough.