Favourite Album Covers
Hey all! I'm currently studying graphic design with the University of Hertfordshire and as part of one of my modules, I'm studying album covers. I just wanted to ask what everyone's favourite album cover of all time is? It'd be awesome to see and it'd really help out with my studies, thanks guys!
I know it's a bit simplistic, but one of my favourite album covers is the one used for Reuben's compilation album 'We Should Have Gone to University'.
http://userserve-ak.last.fm/serve/_/32767839/We+Should+Have+Gone+To+University+wshgtu.jpg
Just researched that painting a bit.

Painted in 1562 by Pieter Bruegel the Elder and titled "The triumph of Death"

Awesome....

Join date: Oct 2012
50

IQ
While in college I did a speech on "The album cover as artwork". Here's 10 I remember using:

1) Sgt Peppers - Beatles (the 1st album cover to include printed lyrics)
2) In the Court of the Crimson King - King Crimson (incredibly disturbing portrait...the artist Barry Godber died of a heart attack at the age of 24)
3) Brain Salad Surgery - ELP (Fold out cover featured artwork by HR Gieger)
4) Tales From Topographic Oceans - Yes (masterpiece by artist Roger Dean)
5) Sticky Fingers - Rolling Stones (original album had a real zipper on it)
6) Thick as a Brick - Jethro Tull (original album folded out to an actual newspaper)
7) Animals - Pink Floyd (photo of a huge flying pig at the Battersea power station)
8) Meet the Beatles - Beatles (simple B&W 4 faces layout - classic)
9) Trout Mask Replica - Captain Beefheart (cover is as bizarre as the music)
10) We're Only in it for the Money - Zappa/Mothers (a brilliant parody on Sgt Peppers)

And as people above mentioned, the cover to the 1st Sabbath greatest hits album.

Have fun!

Join date: Aug 2009
10

IQ
Personally I love most of Storm Thorgeson's artwok with Floyd.
A few I enjoy, I'll add more later.
Oh, and for some reason the album in your OP reminded me of Zeke.
and maybe one more for good measure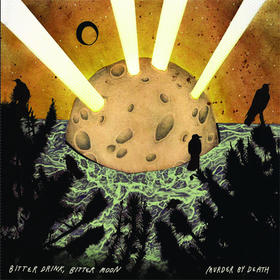 californication by rhcp. Such a cool cover
Join date: May 2012
958

IQ
Aenima - Tool
Facelift - Alice in Chains
Animals - Pink Floyd
Dark Side Of the Moon - Pink Floyd (Simple but elegant)
Anything by Iron Maiden is always good. I liked how they picked a mascot and used him on every album cover. Neat concept, neat artwork.

Join date: Feb 2013
30

IQ
The Velvet Underground and Nico.
dark side of the moon. so simple, yet never boring
F#$k her Gently by Tenacious D, Dueling Banjos, really builds dexterity, Nothing Else Matters

Join date: Dec 2012
10

IQ
Metallica - The Black Album

10) The Scorpions – "In Trance" (nudity, provocation and censorship)
9) Deep Purple – "The Battle Rages On" (I love dragons)
8) Iron Maiden – "Number of The Beast" (classic one)
7) Rammstein – "Liebe is full Alle Da" (very romantic-period photo)
6) Ghinzu – "Blow" (the trash one with the head in the hand, not the French one)
5) Nightwish - "Oceanborn" (allegories and nature presence)
4) Wolfmother - "Wolfmother" (another Epic one)
3) H.I.M. – "Love Metal" (the logo is a strong idea and there is a lot of detail with arabesques)
2) Rhapsody (of Fire) – "Symphony of Enchanted Lands II" (I love dragons again, deep picture with a lot of plans)
1) Gnidrolog – "Lady Lake" (I love the swan, I love the hand and the tension in a quiet picture)

Join date: Mar 2013
10

IQ
Live - Throwing Copper
I guess I've always preffered paintings, they seem less trendy.

Join date: Mar 2008
188

IQ
Load by Metallica... Do some research and you'll find out why
Fleetwood Mac - Rumours

Join date: Jan 2013
20

IQ
Brand New - The Devil and God Are Raging Inside Me
You're right.
R.I.P Storm Thorgerson