NGD! (Agile content inside!)

Join date: Apr 2005
680

IQ
Well, after much debating and finally making a decision on what to order, a special package made its arrival the other day! Due to being busy (and also playing this new guitar!), I had to postpone the NGD thread. Nonetheless, I'll stick to the traditional "unpacking comic strip" style of presentation with it!

Only the case is MIC, btw. And sorry for the not-so-great photos!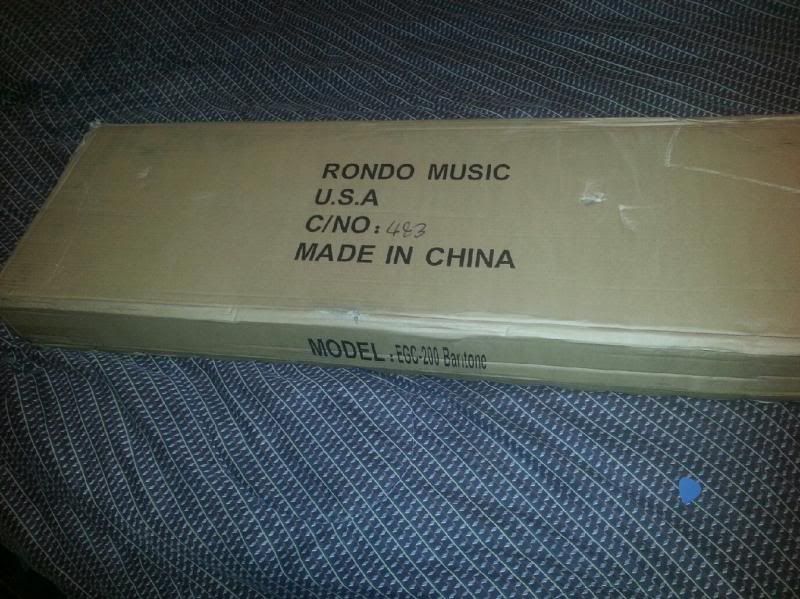 Behold! An Agile Septor Pro 727 EB!
Since there are probably many Agile-curious folks on here, I figured I would offer an in-depth review on my thoughts so far. I'll divide it into several categories - Build quality/fit and finish, Hardware/set-up and playability, and tone/sound, as well as an overall summary at the end. This is a bit of a lengthy review, so feel free to skim through it if need be!

QUALITY/FINISH –
Perhaps the first things that I noticed about this guitar when I opened the case it came in, were that that lizard burst finish on it is darker in person than in the Rondomusic stock photos online, and also, that the guitar's body wasn't quite as big as I thought it'd be (it's more along the lines of Jackson Dinky-ish). Maybe I'm just too used to playing odd-shaped guitars/basses lately. But either way, the first glance was promising.
Anyways, getting to the main point of this section – The craftsmanship for a guitar at this price point is truly stellar. The only flaws I could really seem to find were a VERY small cosmetic blemish (barely noticeable) on the edge of the neck where the fret markers/binding are. Everything else is great. Beautiful flame maple top and paint job, fantastic fretwork/fret wiring out of the box (ebony fretboard is very smooth!), very solid and well made body and neck-through design, etc, etc. To me, it feels like a more expensive instrument than it is.
I think some neck binding and fretboard inlays would have been a nice addition to what you're getting here, but I'm not complaining – The build quality itself more than makes up for any cosmetic shortfalls. Also, this thing manages to achieve a reasonably light weight for such a solid build, making it comfortable to play standing up with for longer periods of time.
HARDWARE/PLAYABILITY
- As soon as I actually picked this thing up and started playing it, I was blown away by how comfortable it is to play. The contoured body makes sitting down with this thing a pleasure, and is one of the more comfortable bodies I've come across in a guitar. It not only feels great to sit down with, but allows excellent upper fret access too.
The neck is definitely on the thinner side, and ideal for fast playing. It is noticeably thinner than the LTD I was borrowing up until a month or so ago, but thicker than an typical Ibanez neck – More in line with what you might expect from a Jackson, thickness-wise. The 27'' baritone scale didn't feel much different to me to play than a 25.5', but is noticeable, tone-wise (more on that later).
Hardware wise, I didn't find any issues out of the box. No fret buzz/intonation/truss rod issues, but I still feel that some small tweaks to suit your personal preferences like tuning and string guage choices will bring even more out of this guitar. Luckily, with a tone pros bridge and grover tuners, you're starting with quality parts, and keeping things simple! Perhaps my only real issues w/the way it came from the factory? I felt the strings put on it are a bit lackluster, and the bridge pickup was maybe a bit too high – easy fixes.
SOUND/TONE
– If the looks alone of this guitar didn't convince you, then the sound of it will definitely show you what it was primarily designed to do – crushing 7-string metal/hard rock, and progressive/shred type genres! Sure, you could try and use it for other stuff if you wanted, but you'll definitely want to swap the pickups out if you do.
Speaking of pickups, actives seem to stir up quite a bit of debate over their traditional passive counterparts, but I can't help but feel that the EMG 707's do their job well here, as they have lots of clarity that helps the low end notes cut well. In the neck, it is great for smooth, shred lead passages, and for an active, the cleans aren't too bad (but if you want truly good cleans, toss the actives out, honestly). The 707 in the bridge is noticeably warmer/bassier than the EMG 81-7. Although not THAT different than the 81-7 IMO, I feel it has a warmer/more natural lead tone, but a bit less clarity for rhythm tones. Better, but still not good cleans than the 81-7 too.
Lastly, I must say this is one area of this guitar that makes me REALLY glad I went with a baritone scale. Versus 25.5'' scale 7 strings that I've played, the extra scale length adds quite a bit of additional clarity and tightness to the whole note range, but especially with the low B string. So if you've found that standard scale guitars mush out too much with low tunings, a baritone just might be the ticket for you!
OVERALL
– The Agile Septor 7 is a truly great value if you're looking for a great, neck-through 7 string guitar. Out of the box, it will need only minimal attention/tweaks to bring out its full potential (And at that point, you've got yourself a truly killer 7 string - period). I feel that with guitars in the upper-midrange and beyond price brackets, what's "the best" option really boils down to personal preference, but I can honestly say I went with the right choice for me here, and plan to hang on to this thing and keep playing it!
That thing is gorgeous!
HNGD!
Join date: Nov 2007
420

IQ
sweet axe man!
HNGD


Join date: Jul 2010
50

IQ
Nice!

awesome green!