Is the Fender Blacktop Stratocaster any good?

Join date: Dec 2008
3,265

IQ
You might also look at Godin- I just checked on Thomann, and Session models go for just under 500€, and they have a b-stock Freeway for @550€. The regular price for the Freeway is @600€.
http://www.thomann.de/gb/search_dir.html?sw=Godin&oa=pra&viewMode=block
My
personal
feeling is that the Godins will be a little bit better than that Blacktop Strat, and they'll save you a few Euros you can direct towards your amp or other necessities. The Session has a humbucker in the bridge and single-coils in the neck. The Freeway, like the Blacktop, has a singlecoil sandwiched between humbuckers in the bridge and neck.
If you're not planning on playing with others in the relatively near future, you can save yourself a little more money by eschewing an amp and using headphones and a good portable amp/pedal modeling device (which is the way I went for 3 years before buying a Fender HRD combo amp):
Boss Micro-BR 4 track
http://www.guitarcenter.com/-i1169092.gc
Pocket POD
http://www.guitarcenter.com/Line-6-Pocket-POD-Guitar-Multi-Effects-Processor-104391875-i1173933.gc
Tascam GT-R1
http://www.guitarcenter.com/TASCAM-GT-R1-Portable-Guitar-Bass-Recorder-105125306-i1401677.gc
http://www.guitarcenter.com/TASCAM-DR-1-GT-R1-Accessory-Kit-105020473-i1402140.gc
Korg Pandora Mini
http://www.guitarcenter.com/Korg-Pandora-Mini-PXMINI-Guitar-Multi-Effects-Processor-H70754-i1746466.gc
Korg Px4
http://www.guitarcenter.com/Korg-Pandora-PX4D-Guitar-Multi-Effects-Processor-103381554-i1124641.gc
Korg Px5
http://www.guitarcenter.com/Korg-Pandora-PX5D-Guitar-Multi-Effects-Processor-104821715-i1387080.gc
Here is a visual comparison of (left to right) Tascam, my PX-5 and one of my Px4s to my old Aiwa cassette player: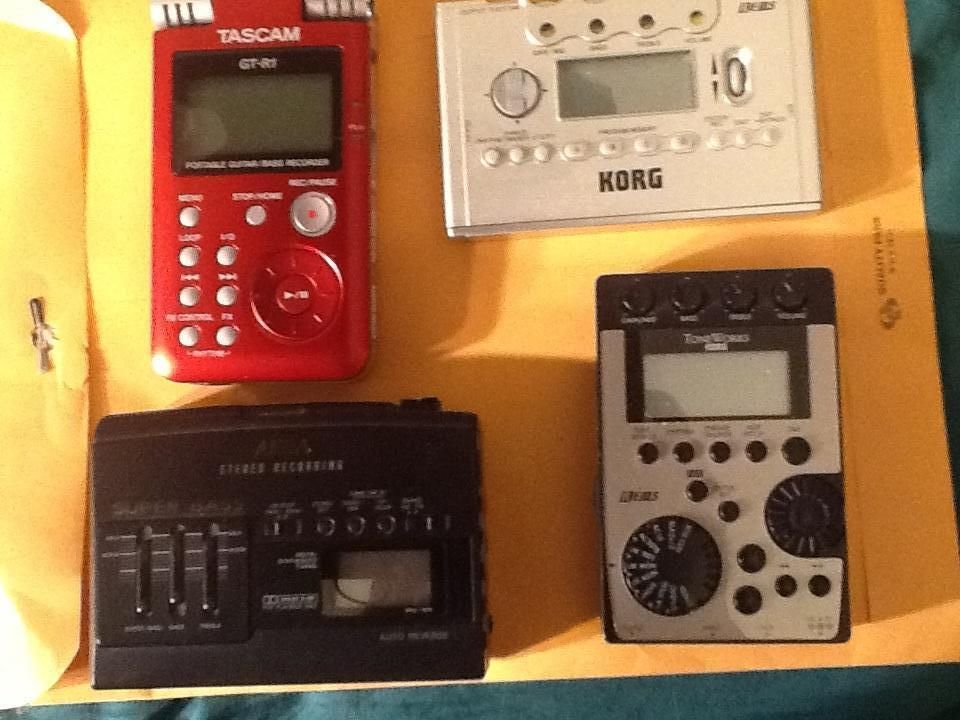 With the exception of the Tascam, none of the devices I pointed out has decent acoustic recording capacity. What they DO have are features like tuners, metronomes, drum synthesizers, and digital amp & pedal modeling.
So with decent headphones, you can rock out like you were playing Texas Stadium. And yes, they are all about the size of an old Walkman.
The ones I own: the Tascam has the external mics, a phrase trainer (loop & slow down stuff for practicing), and takes SD cards. Both it and the PX5 can connect directly to your computer via a USB port. The PX4 is discontinued, but it can still be easily found. It is less powerful than the PX5, but, oddly, the PX5 does not have a belt/strap hook.
The ones I don't own: The Line6 PocketPOD is, I believe, the most popular device like this; the Boss might be the most powerful (and priciest); the Pandora Mini is the smallest (its about the size of a stack of business cards), cheapest, and least powerful.
Last edited by dannyalcatraz at Mar 26, 2013,