Modding a Squier Vintage Modified Telecaster Special
I made this thread over on tdpri.com (telecaster forum) and nobody seems to care. I guess I should've just posted it here to start with. Here's my first post originally posted over there on 6-3-13.
I just got this guitar earlier today. I've already ordered some parts to customize it a little. It will be getting a new bridge, bridge pickup (DiMarzio Tone Zone T), pickguard (BWB), neck pickup (TBD humbucker) and new pots (push/pull on the tone) & 3 way switch.
Stock:
Mock up of what it will look like when I'm done.
Stay tuned for updates.
This post was originally posted over there on 6-4-13.
I got the bridge pickup today. The pickguard should be here Friday or Saturday. Due to limited funds after buying all this other stuff I'm gonna have to use an old Epiphone humbucker in the neck position until I can afford a better chrome covered pickup. I have some used 500k pots I'm gonna install for now. Later on I'll upgrade them and the switch with better parts when I have more funds.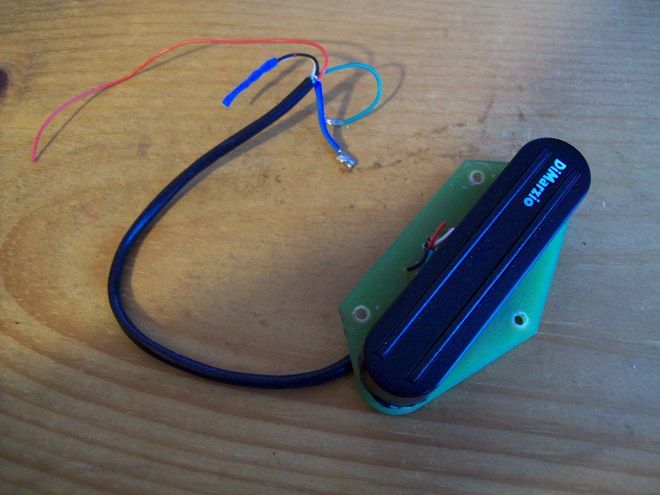 This post was originally posted over there on 6-5-13.
Well the bridge came in today. A day earlier than the estimated delivery said. So here are some pics to update the progress.
New bridge. Fender part number 0053354000
With stock parts removed.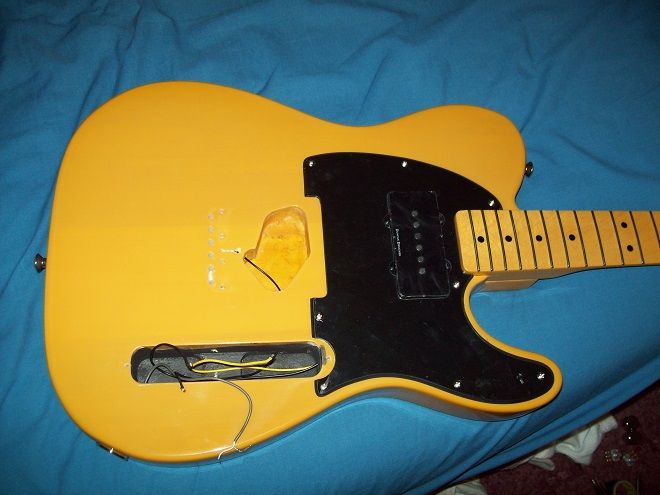 This one shows how the holes line up.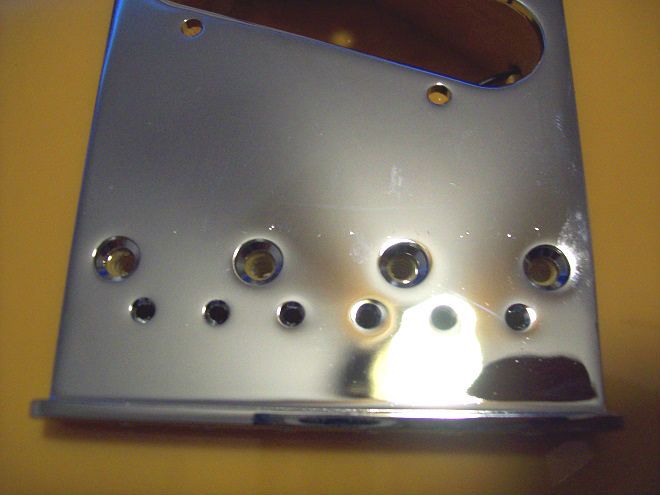 DiMarzio Tone Zone T mounted in the bridge and installed in my Tele.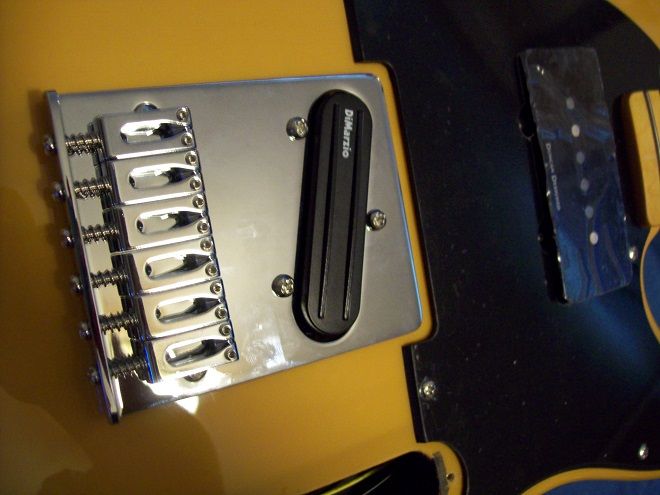 Strung up and intonated.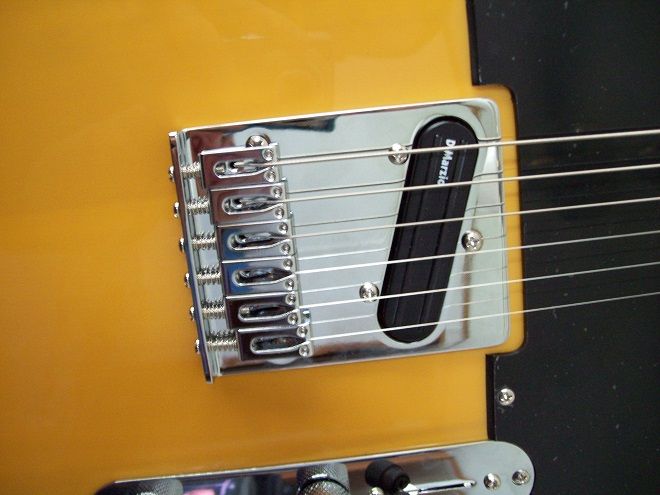 Dunlop Straplok strap buttons with black felt washers instead of the stock white ones. I thought they matched better.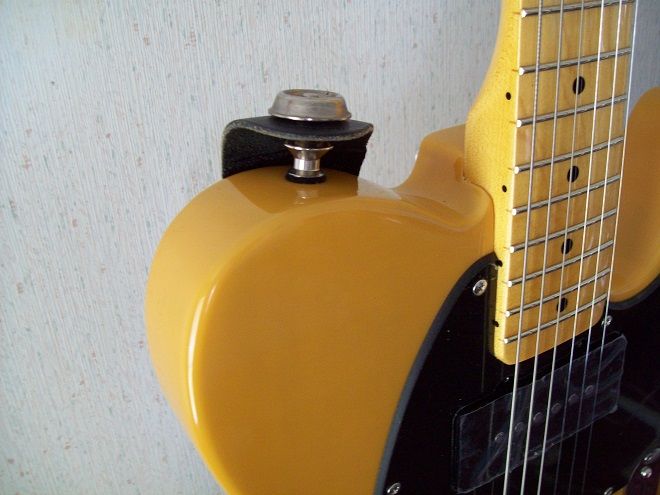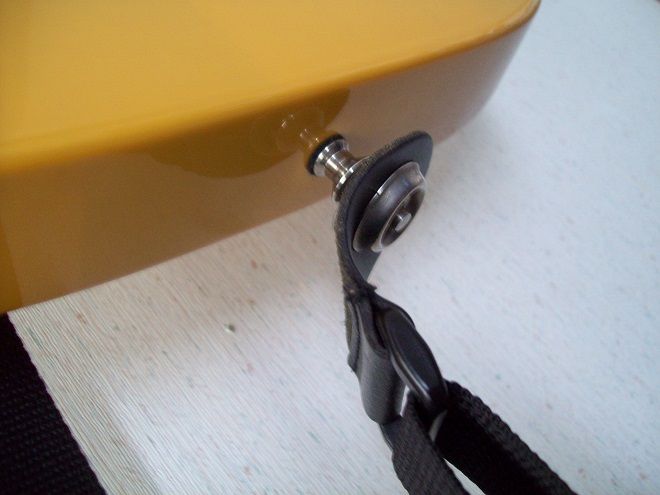 Full front shot.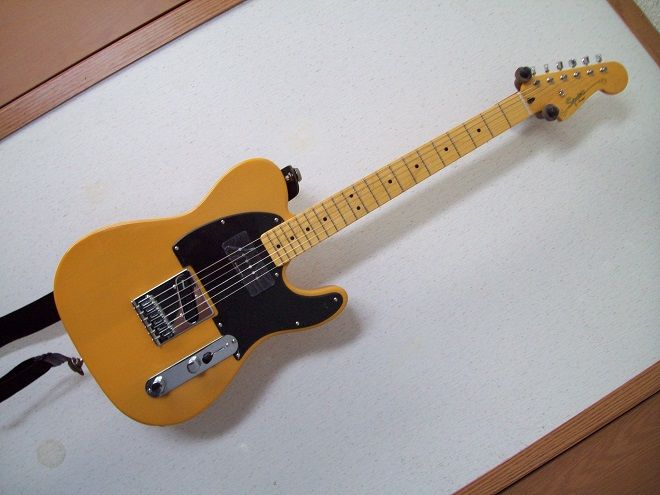 The new pickguard probably won't be here until Monday. The tracking number says it hasn't even been accepted by the post office yet.
The pickguard came in today.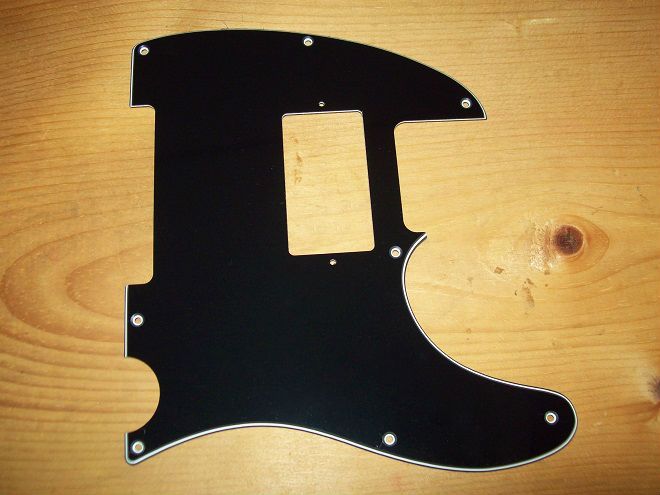 I had to mod the body a little bit to make room for the humbucker height adjustment screws. It looks great now and will look even better when I get either a chrome cover for this humbucker or a different humbucker with a factory cover.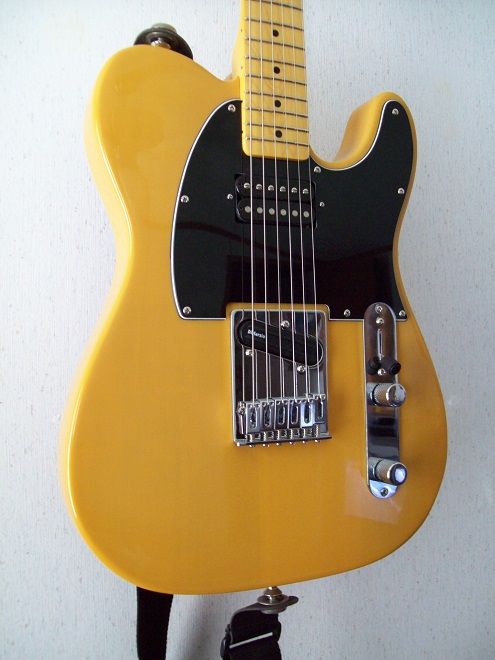 Join date: Nov 2006
1,108

IQ
Sorry to hear nobody had any comments for your mod over on TDPRI. While I like the more mature crowd over there, it does seem they're a bit quieter at times.

BTW, nice job on the mod.

Join date: Apr 2010
10

IQ
Looks pretty good! How does it sound?
It sounds really good. I'm really liking the DiMarzio Tone Zone T. It sounds a little different from the full size version but it still sounds great. The neck pickup isn't much but it will get a better one later on when I've got a little more cash. I'm also gonna add a push/pull pot too. That should make it pretty versatile.

Join date: Dec 2010
213

IQ
Nice job.

I'm starting to get twitchy for a Tele, but I've got waaay too many guitars already.

Join date: Dec 2011
30

IQ
Awww man! You're increasing my GAS for a tele again. Looks real nice.
Here's a side by side shot that I edited together to show how much was changed. I think it looks a lot better now and will look even better with a chrome cover over the neck pickup. The push/pull pot that I ordered should be in tomorrow, so I'll be installing it and updating this thread with more pics again tomorrow.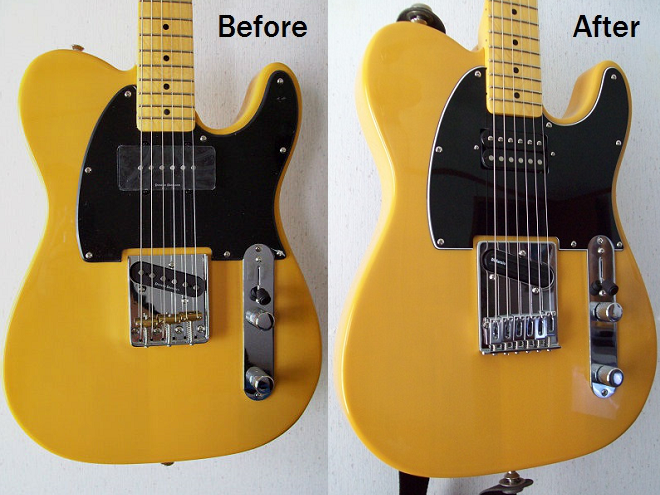 I got some more new parts today. I also tweaked the setup some more. This guitar just keeps gettin' better with each thing I do.
New push/pull pot on the tone control to split both pickups.
I also bought and installed a new jack, an Electrosocket. A great idea for Tele owners.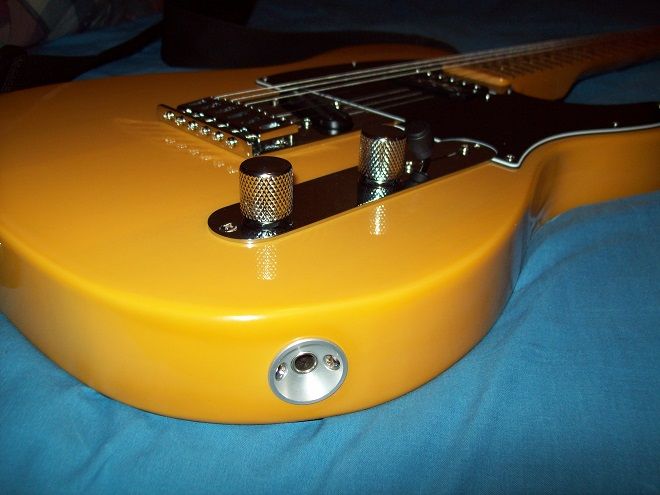 My chrome pickup cover came in today. So other than some electronic upgrades this guitar is done. I love how it turned out. It looks absolutely beautiful.
The pickup is a GFS but it has the same spacing as a Gibson pickup and I got this cover for cheap through ebay.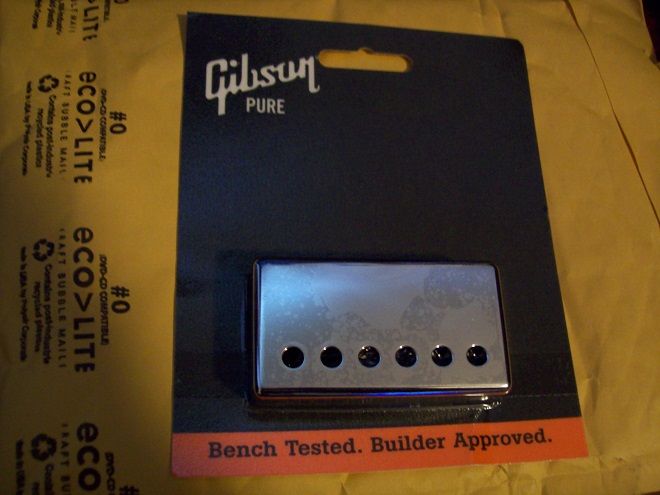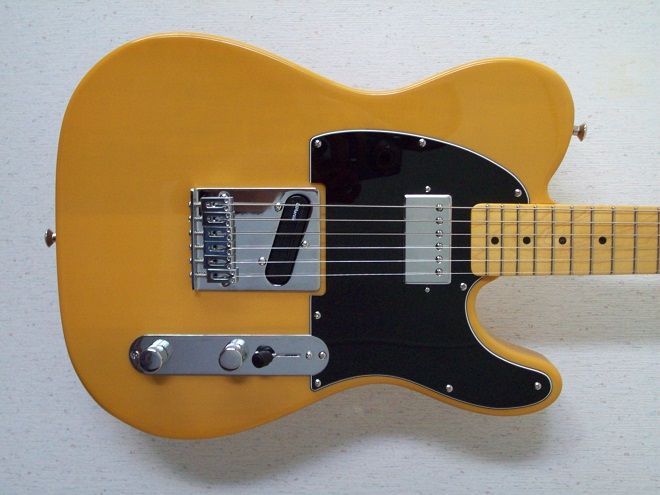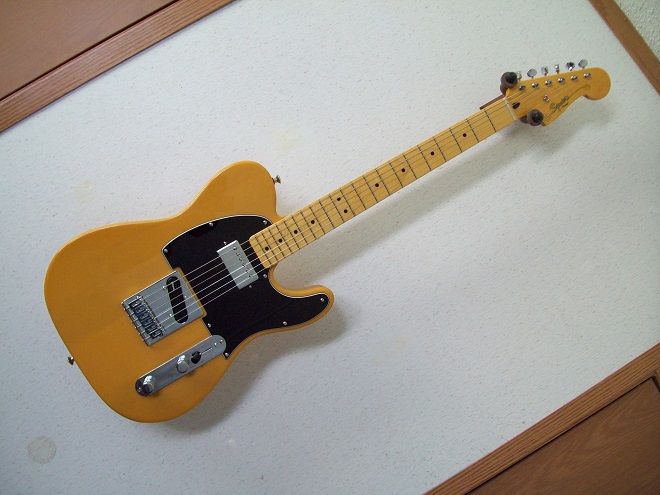 Here's an updated side by side before and after pic. I think it looks ALOT BETTER now. I'm very happy with how it turned out.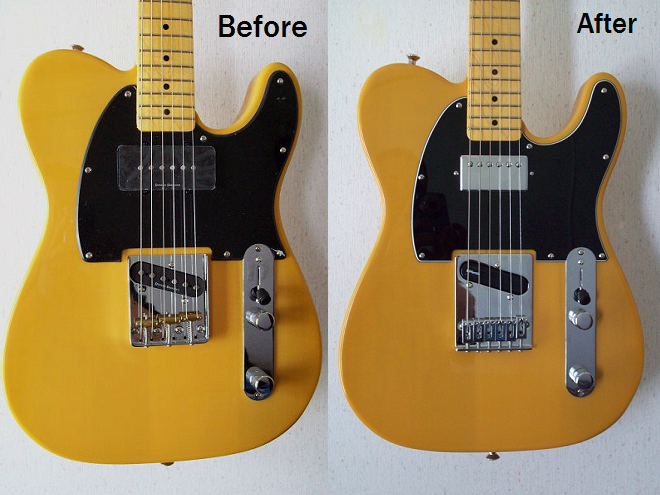 Join date: Jul 2012
50

IQ
looks great, the chrome bucker cover is a nice touch.

I also bought and installed a new jack, an Electrosocket. A great idea for Tele owners.
what the difference between that and a regular tele jack? as in, why is it a great idea? as a tele owner, I am intrigued.
jof1029, The jack screws directly into the Electrosocket cup. The cup screws to the body with 2 screws. It holds more securely than the stock setup. I've heard stories of guys playing and the stock jack and cup assembly just falling out of the guitar, just dangling by the wires. It's a real popular mod with the tele players over on the TDPRI forum. That's where I heard about them.

If your Tele has the jack mounted to a metal or plastic plate that is then screwed to the body then you don't need the Electrosocket. It's just for Teles that have the stock screw less cup.