Big Mufff Tone Wicker Issue
Hey guys.
I'm in need of your help in figuring out what a certain component that broke on my Big Muff (alright, stop laughing in the back, it's only a noun, get over it) whilst I was replacing the light. I broke the strip of wire that connects the footswitch to the PCB (the wires frayed as I was taking the circuit out of the enclosure) I've highlighted the part which I'm talking about in the photo below.
The problem is I have no idea what that particular type of wire is called

I'm pretty sure it's easy to get a replacement but I'm stuck as I don't know what to search for. So help me out please!! I'm relatively new to working with pedals so I really appreciate the help. Cheers!!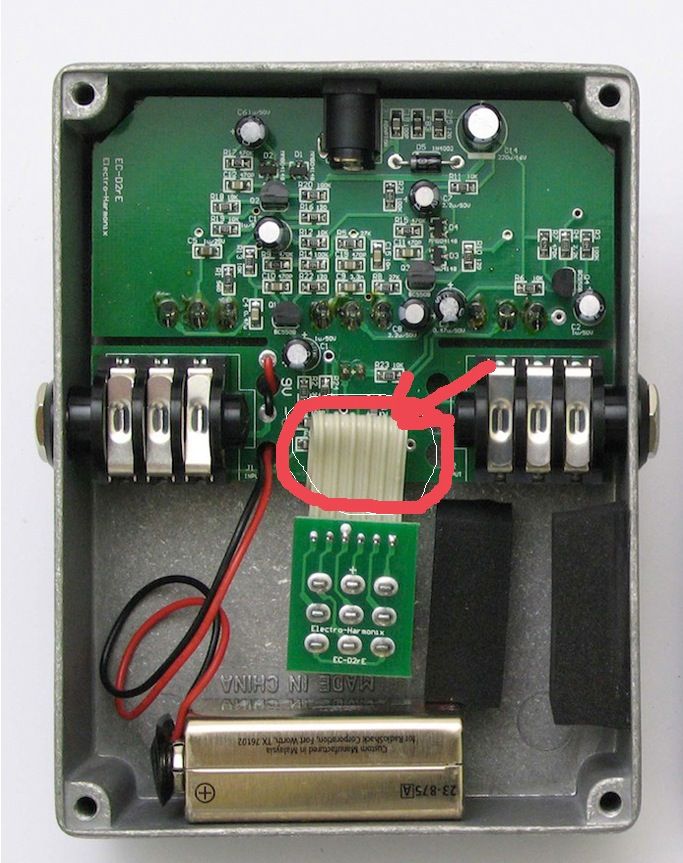 Join date: Aug 2005
210

IQ
It's a ribbon cable. Same thing used in computers to connect CD drives and hard drives to the motherboard.

You could just replace it with individual wires if it is too short to strip back and resolder.
Last edited by Invader Jim at Aug 14, 2013,
Ah brilliant Invader Jim! I have something to search now. The bad news is that the ribbon cable that was originally used was thrown away by my Dad, so the option of re-use has to be thrown out (literally) So is there any particular type of ribbon cable I should search for to act as a replacement? Meaning is there ribbon cables which have various types of wire in them (like ground wire ect) or are they all just multi purpose, so I could just use any of type of ribbon cable? Also, I've just had a quick search, and a 6 pin ribbon cable is pretty hard to get in the UK, is it ok if I bought say, a 9 pin cable and just removed the unnecessary strips? Hopefully you can see what I'm saying without me looking like a complete idiot. haha

Like Jim said, you can replace it with 6 individual insulated wires if ribbon cable is hard to find where you live. The end result will be the same.

Join date: Aug 2005
210

IQ
Ribbon cable is just wires that happen to be in a flat insulated ribbon. Nothing special.
Ahh ok. Thanks for your help guys.