Fryette Valvulator GP/DI
http://www.kickstarter.com/projects/9179415/fryette-valvulator-gp-di-tube-guitar-recording-amp

The Fryette Valvulator GP/DI is an all-tube low-power guitar amplifier, preamplifier, direct box, and all-around low-volume-playing solution. It is specifically designed to work in situations where you can't or don't need to play loud, such as late-night playing and recording, headphone practicing, and recording straight into the board live. It is the first all-tube guitar amplifier designed to do that without any additional equipment, and a minimum of trouble.

...
The preamp is based on the Fryette Deliverance Series, but has been specifically voiced for [even] more versatility in this ultra-low power tube amp.

...
The power amp section is a one-tube push-pull design feeding a specially designed reactive load, so you can use it without a cabinet, or you can plug in a speaker cabinet and wail away.
Seems pretty cool. I like the idea of how you can use it as a preamp into a power amp or a 1w standalone amp. No actual "metal" demo yet but sounded alright so far in the few vids they posted.
Looks alright size-wise too: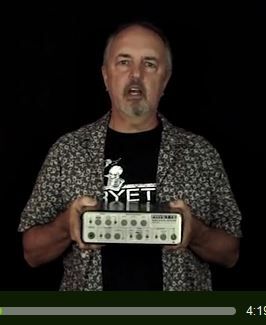 Last edited by godgrinder at Oct 11, 2013,
This is everything I've been wanting in a desktop tube setup. Tube sound, not a lunchbox amp with no tone stack, and I don't need to plug it into a computer to program sounds.

Join date: Sep 2008
390

IQ
Pledged a few days ago for $399. Would've done it at $499 though if they were all gone. Should be a killer recording tool. Steve Fryette doesn't disappoint. Not many guys in this industry you can say that about.

EDIT: Oh, and from what Phil has posted on another forum, the size is a half rack width, with a 2U height, and eventually a rack mount kit will be released, so that you can mount one or two in a 2U space.
Yeah I pledged at $399 too, now the tricky part is that how many people gonna pledge at $499... I reckon it's still a pretty good deal at $499 pre-order or even $599 retail. Laney Ironheart Studio is also at $599 with some more watts and similar feature, but if this thing is really a 1-watt Deliverance then it would be quite competitive.
Last edited by godgrinder at Oct 12, 2013,
They recently put up a video with Page Hamilton playing some hard rock with quite a bit of gain. It's on youtube and the kickstarter page. That little amp sounds incredible. Unrivaled clarity and note definition--even with high gain. That's the sonic signature of Fryette amps. To be able to get even that much from such a little amp--the thing is well worth the $600 retail price. Not to mention the features such as direct-in recording and cab simulation.

I'm a bit worried that the company won't hit the $60k though. The fundraising started off incredibly well, but it has since slowed down to a trickle in just 6 days. I'd probably order one myself if I had more disposable income. However, due to the fact that I don't have the money and the fact that I have doubts that they'll get the proper funding, I'm holding back on pledging money.

Join date: Sep 2008
390

IQ
You know that if they don't hit $60k, your card or account never even gets charged right? There's no real risk in pledging now. Though fair enough if you want to have the funds available before you do. Accounts/cards will be charged on the 5th, provided the total hits $60k. I'm also a bit worried they won't hit it, though it's looking much better than the Classic RI one they did last year, which had one backer and raised less than 10% of the money they needed.
I think the $399/499 thing made it a bit tricky. Once the $399 ones run out people are probably thinking "ouch now I have to pay $100 more" rather than thinking "I can still get $100 off".