NGD: Fender content

Join date: Feb 2008
160

IQ
Well I finally gave in and got an American Telecaster. Could have used to money for a down payment on a car but this was more important to me (lol). I played the Deluxe and the 52' Reissue and I didn't really think they were worth the extra money. The standard has really nice playability and sound. Perfect for the style of music I play. Has some really great sweet spots. Got this just in time for my band's show next week. Can't wait to play live with this.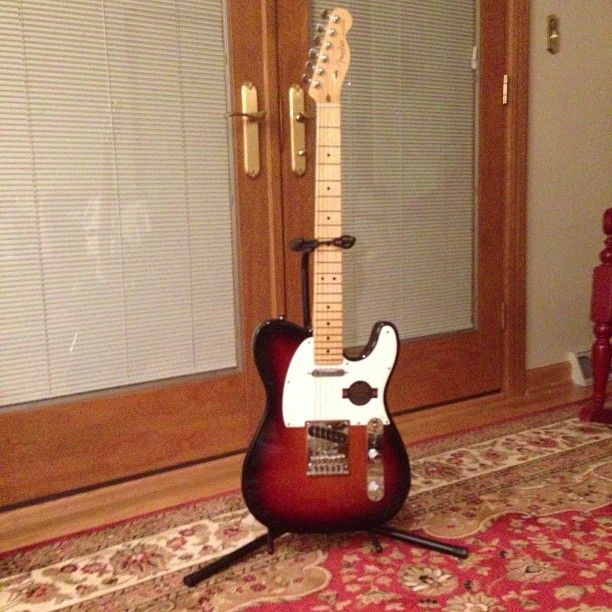 inb4 jokes about my username. I was 14 when I made this account guys, haha.

Join date: Jan 2008
130

IQ
Its okay, but I think Schecter FTW.

Sweet tele!
very nice

Join date: Jan 2005
616

IQ
The American Standard is the best sounding tele, IMO. Swamp Ash has it's place, but the AmStan is just too solid to deny.
Wow that is a great tele. I'm very picky about tele color, but that thing is amazing. A good solid overall guitar though, hngd.

Join date: May 2012
26

IQ
A little generic but damn its beautiful
A little generic but damn its beautiful
It's the original, the real deal. It can't be generic, it defines the genre, it set the standard to which other brands try to copy with their versions.
It looks suspiciously like mine and I'm not at home...
Last edited by Mephaphil at Nov 25, 2012,

Join date: Apr 2011
840

IQ
Telecasters are some of the best guitars ever made. They can do everything and take a beating. I bought one a wwhile ago. Played a 52 reissue and didn't go much on it, I preferred the Baja so I got that.
timeless.

Not bad, Schecter Tele ftw though