NGD (SG Content)

Join date: Dec 2010
414

IQ
After spending a serious chunk of time debating on the merits of different guitars at different price points, I finally decided to bite the bullet and buy my dream guitar.
It's a 2013 Gibson SG Standard.
I'll skip the unnecessary information on specs and cut to the stuff that is new for 2013.
-Smaller "61 pickguard. I think it looks quite a bit better than the old "batwing" monster.
-Compound radius neck. Nice and chunky at the low frets for chording, flat and fast for lead work closer to the body.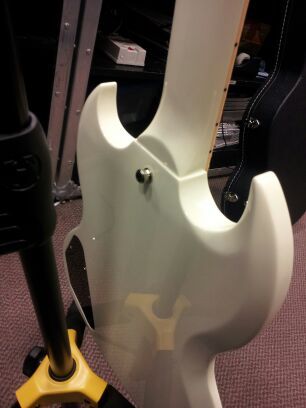 -'60s style neck joint, with the smaller heel. I personally love this, maintains high fret access even with a straplock installed.
-Classic '57 pickups. Much smoother than the departing 490 and 498.
I don't even know where to begin for a review. It plays beautifully. The neck is remarkably fast yet still comfortable. I've never come accross a compund radius that I liked before, and this one blew me away.
It's very light and comfortable. Nice thick leather strap solves the balance issues inherant to SGs. I'm used to LPs, so I'm looking forward to not being nearly as worn out after a show.
The pickups are phenominal. Lots of bite, but extremely dynamic, especially with a little volume rolled back.
I'm very pleased with it.