MLP:FiM MKIV - The Waiting
MLP:FiM MKIV - The Waiting
(The waiting ends November 23rd
(Though maybe not the thread)
)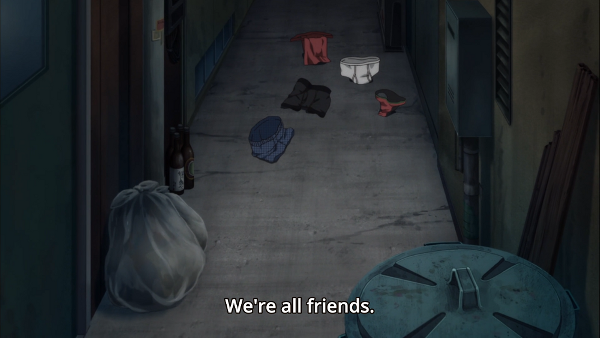 About This Thread
This is the 4th FiM thread where we talk about a saturday morning cartoon with people who also watch that same cartoon and some that don't. If you wanna talk just post and we'll most likely respond to whatever it may be.
My Little Pony: Friendship is Magic (MLP:FiM) is the 4th generation (G4) of My Little Pony (owned by Hasbro) TV show that began in late 2010, with FiM being written by Lauren Faust; who also wrote the Powerpuff Girls, Foster's Imaginary Friends, among several others.

This show is NOT to be confused with the first 3 generations of MLP from the 80's and 90's, which by comparison are bastardized monstrosities made to blatantly advertise Hasbro's toys and nothing more. With G4, Lauren Faust wanted to make a show that was not only entertaining for its young target audience, but their parents, too.

Of course, a lot of haters still exist because of ignorance, even the writers of the G4 show predicted ridicule. But hopefully whoever is reading this that isn't familiar with what this pony business is all about, will at least give it a chance. There is nothing shameful about liking MLP as it's a legitimately good show.


Soon after Season 1 was released, FiM was found to be so entertaining that people from a much wider demographic were drawn to it. Those who discovered the cartoon created threads about it on 4chan's /co/, and became a massive hit, with the show spreading it's way to the infamous random board, /b/. From there, the popularity of the show exploded. Ever since then, it's been constantly growing.

And that's how Equestria was made.

The Mane 6
Ripped from the old thread which was ripped from the FiM website:
For a unicorn who's new to the magic of friendship, TWILIGHT SPARKLE gets an "A+." She uses her magical powers to help her friends, and she's always ready to lend a helping hoof. Sometimes she gets on her high horse, but her love for her pals makes her a natural leader.
APPLEJACK is a country pony who grew up on her family's apple farm. She's down to earth and dependable, and she's not afraid to get her hooves dirty. To her, any job can be done with a little horse sense and hard work. APPLEJACK has a knack for figuring out how to fix a problem -- fast!
Graceful FLUTTERSHY has a special way with forest animals. Her favorite thing is to care for them in her quiet meadow cottage. That's because FLUTTERSHY is, well ... shy. She's sweet, soft-spoken, and kind of a scaredy-pony. Her friends love her for her kindness, and they work hard to bring her out of her shell.
PINKIE PIE is a free spirit who prances to the beat of her own drum. Actually, she prances to the sound of her own singing. She's playful and full of energy. She can talk till the ponies come home. She loves to invent silly songs, giggle, skip, and make her friends laugh.
RAINBOW DASH lives for adventure! Whenever there's a problem that involves danger, distant lands, and mysterious beasts, she's the first to help. She's bold. She's brave. She's also a bit proud and mischievous -- but wouldn't you be too if you were the fastest Pegasus around?
With her gleaming white coat and royal purple curls, RARITY is the most beautiful unicorn in PONYVILLE. And she knows it. After all, heads turn when she prances down the street. A talented fashion designer, Rarity loves to give the other ponies makeovers, and her dream is to design for PRINCESS CELESTIA.
The General Plot
The story begins with a unicorn named Twilight Sparkle who has been told by Princess Celestia, ruler of Equestria, to go find some friends as she is completely obsessed with her studying. From there onward she meets many new friends, confronts villains and embarks on many different adventures, whilst learning about the values of friendship and how to deal with all sorts of difficult situations in life.
Canon Seasons, Episodes and Livestreams
The episodes in MLP: FiM are mostly standalone episodes with a few story arcs that span across an entire season. Due to this, new members typically ask which episodes are the best to start with. While I would recommend starting at the very beginning and working your way through the seasons in chronological order, some others feel that this is not the best way to view the episodes since the beginning episodes can be quite boring. Here is a list of recommended episodes, most of which can be found on youtube:
Luna Eclipsed: Season 2 Episode 4.
The Return of Harmony: Season 2 Episode 1.
A Canterlot Wedding: Season 2 Episode 25.
Lesson Zero: Season 2 Episode 3.
Sleepless in Ponyville: Season 3 Episode 6.
Applebuck Season: Season 1 Episode 4.
Party of One: Season 1 Episode 25.
Note: All three seasons are available on Netflix!
New episodes are usually streamed live on The Brony Network. However, due to the season being over the livestream is currently inactive. The new season will not be starting until next winter.
All of the above are non-profit, fan-based organisations. Content is a registered trademark of Hasbro inc.
All rights reserved. Please support the official release.
Canon PMV's
The most memorable MLP songs. A load of good ones are missing, but character limits on UG mean only so many can be put up. 'PMV' stands for 'Pony Music Video'.
Giggle at the Ghostly
Evil Enchantress
Evil Enchantress (Flutterguy)
Winter Wrap-up
Art of the Dress
Cutie Mark Crusaders Song
So Many Wonders
At the Gala
Find a Pet
Becoming Popular (The Pony Everypony Should Know)
Flim Flam Brothers Song
Smile, Smile, Smile
B.B.B.F.F
This Day Aria
Failure Song
Ballad of the Crystal Empire
Babs Seed
Babs Seed (Daniel Ingram reprise)
Notable Users
NUMA-WAFFLE
T00DEEPBLUE
Shotgunmerc
dawgeth321
stratman_13
davrockist
metal4eva_22 aka Scythurr aka Twolot Spockle
necrosis1193
l69l
SkeanAR
ESPLTDV401DX
bassofthe
Fatlumpthe1st
iwannabesedated
FireFromTheVoid
MetalronForce
Andrea55
Bladez22
losing battle
stratkat
Obsceneairwaves
whywefight
anvil is god
Bottleofsmoke
jjfeu662
Musicforyou17
The Joshua Garcia
Chookiecookie
Blake1221 (Totally never got removed)
AllJudasPriest
Adamgur96
Livestream Site
(Go to one of the theaters to watch the airing episode)
Want a MLP avatar? Feel free to ask.
Rules
All
Pit Rules
apply. It's suggested by moderators to try to keep on-topic.
Last edited by FireFromTheVoid at Nov 22, 2013,
Join date: Dec 2012
20

IQ
I was hoping the bronies were gone for good....
Last edited by Obsceneairwaves at Aug 5, 2013,
man am I happy to not be in the OP this time
Still are, just not in big bolded pink
New thread, f
u
ck yeah.

2nd post

Although I'm going to delete it.


Join date: Jun 2009
5,600

IQ
It's supposed to be THE Joshua Garcia. Darnit void, you had one job. One.


...


Err... I mean I don't know you pony weirdos.
I got rid of the The because I thought you didn't do that anymore

Still are, just not in big bolded pink
yeah with a link to my profile and a totally out of context quote

Ponies!
Okay, so for this title to make sense we kind of have to get through at least most of it before season 4 starts.

New thread?
Alright. Back to work

I was hoping the bronies were gone for good....
ikr
ikr
Can I be a cool cat yet?
right?
So how is everyone?
Awwww yeah got Yoshi on the front page, now adbots can quote it

Close enough, Obscene

I am not in notable users.

Brb committing hara-kiri.
Can I be a cool cat yet?
you'll have to get rid of the dude in your avatar and get a cat avatar

Can I be a cool cat yet?
Are you a cat yet

Join date: Oct 2010
460

IQ
**** I missed the first page!

I was busy doing the dishes
I am not in notable users.

Brb committing hara-kiri.
I asked you if you wanted to be

You did not respond
I am at the top of the noticeable user list - this pleases me
Are you a cat yet
You're not even a cat but you do have a nice pussy
I asked you if you wanted to be

You did not respond
You....didn't ask anything.

Join date: Oct 2010
460

IQ
Where is the title banner?
**** I missed the first page!

I was busy doing the dishes
please the first page is ongoing
You're not even a cat but you do have a nice pussy
am too

I could be a cat for you, but not here