Custom Schecter C-1
Hey guys, I wanted to ask for some oppinions on a guitar I'm going to buy and sink money into.
The story is short and simple: Best Buy has opened a musical instruments section with some (surprisingly) nice equipment in it, and there's a great deal on a Schecter C-1 guitar, black with white trim, looks great and I've had a great time with every Schecter C-1 I have ever played.
My aim is to take advantage of that good deal on a good guitar, and make this guitar something special. Something that will do the job and then some in the sound department.
The Seymour Duncan pickups in there are probably alright, but I've been reading up on the various pickups I could put in there and I like EMG brand since I had such a good experience with the EMG 81/85 setup, but I think I'd like to do somthing different in order to get a more unique and tighter sound for my metal playing.
I'm thinking of a EMG 81TW / 60 combo.
I'd like it to have some great distortion, be very punchy and crushing for rythym, but also be able to cut through hard for lead playing.
I play a lot of different styles of music (though I'm more focused on Metal and Grunge), but here's the combination of sounds from various albums I'm looking to produce:
- Shadows Fall - The War Within
- System of a Down - Self Titled
- Trivium - Ascendancy
- In Flames - Come Clarity
- DevilDriver - The Fury of Our Maker's Hand / The Last Kind Words
- Dimmu Borgir - Stormblast / Death Cult Armageddon / In Sorte Diaboli
- Silent Civilian - Rebirth of The Temple
- Godsmack - Faceless
Now before you reply, listen up...
I know I can't get those exact sounds of out my guitar, I know it depends on pedals, effects, amps, play style and other things. I'm well aware. My basic question is if the 81TW/60 setup I'm thinking of will do a good job for my metal playing.
I like grunge and rock too, but metal is my main focus here in case you couldn't tell. I chose specific albums because they had their own unique tones that made me say "Wow...".
The cleans are semi-important, but I figured the 81TW would be a good choice because it's versatile thanks to that little push/pull switch making it dual or single coil when I want.
So what I want to know is:
- Your oppinions on the pickups I picked
- Do you agree or disagree, and why
-Possitions for the pickups (which for bridge, which for neck)
Now lastly, some pictures of the hardware:
Schecter C1 (mine will have two volumes instead of one, however):
EMG 81TW: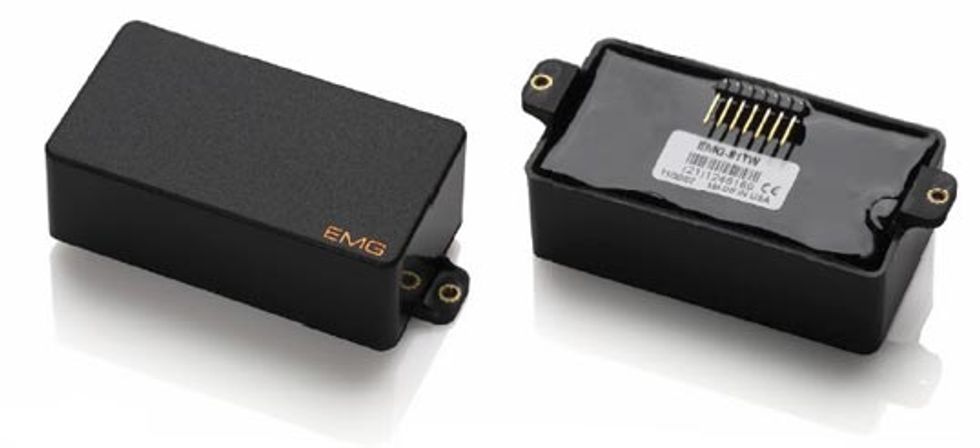 EMG 60:
EMG 81/60 set, apparently:
Thanks guys.
Last edited by HardAttack at Nov 15, 2008,
Remember, EMGs are active, so you'd have to install a battery. I've heard some great metal sounds out of those Duncans, I'd consider giving them a chance before you switch them out.
Point taken, although since the SD's are actives, wouldn't there be an adequite battery in there already?
Yes there would should be a seperate compartment for the battery already in the guitar. i have a 60 in the neck of my ESP eclipse and i love it, a great bluesy tone for solos, but when you crank that bad bay man does it have some crushing distortion with plenty of bass. the 81tw is great in humbucking mode, and single coil. the single coil mode for that is much like a strat, so the cleans are great and with a heavy distortion you will get some muddyness but doesn't sound to bad
Oh wow, I didn't know Schecter was using the Blackouts. I figured it would be JB/59 or whatever. In which case I've actually heard that the Blackouts are a bit fuller sounding than the EMGs. That said, I also have EMGs (81/60) on my EC-1000, and I like them a lot.

Join date: Sep 2008
121

IQ
If it has Blackouts in it, i wouldn't change. If it has JB/59, just depends, i like the sound of the SD set a lot, but i like emg's too, can't go wrong either way, although you will have more versatility with the passives.
wait.

I thought only the ATX series came with blackouts stock.
that 81/60 set looks old as hell, doesnt even have quick disconnects
Last edited by cruc1a7 at Nov 15, 2008,
He hasn't written anywhere, that these seymour duncans are blackouts.

Join date: Sep 2008
121

IQ
He hasn't written anywhere, that these seymour duncans are blackouts.
that's why i'm laying out the options, because if it is a C-1 ATX it has blackouts, pretty much any other c-1 minus the hellraiser has JB/59.
that's why i'm laying out the options, because if it is a C-1 ATX it has blackouts, pretty much any other c-1 minus the hellraiser has JB/59.
No, the original C-1 has Duncan Designed Blackouts. They're good pickups.
The pickups in the guitar are Duncan Designed Active HB-105. Now that we know the model, has anyone changed their minds about the Duncans?
And yes, the 81/60 set in that pic above is about 20 years old. I just wanted to show off a set, heh. The website I got them from was this guy who was reselling parts from his older guitars. His description was as follows:
"EMG-81 and EMG 60 Set, "vintage" EMG's, around 20 years old but these things work forever. Covers are well worn but no issues other than cosmetics. $99/pair"
From what I'm reading so far, people say that the DD HB-105's only come in Schecters. They're not in any other guitars, nor can you buy them seperately from SD. They don't appear to be the AHB-1 Blackouts which you might be thinking of.
Here's a picture of the guitar from Best Buy's website:
Funny thing though, I believe when I physically picked up the gutiar in the store, there weren't any pickup covers. I'll look into it more next time I'm in the store.
Last edited by HardAttack at Nov 15, 2008,
HB-105's are cheaper Korean made Blackouts.
That whole 'Cheaper Korean' thing doesn't sound too good. lol That description alone tells me that there's probably some differences in the electronics themselfs that will probably affect sound. I'll ask the guitar tech where I work what he thinks about them vs. real Blackouts.
Last edited by HardAttack at Nov 15, 2008,
don't worry, they still sound good. I've played it.
I'll have to lug in my amp to try it on my equipment. I already know the EMG's work great with what I have, I'll have to see if these can get the job done too.
No pickup covers? That's weird. I've never seen open-coil actives before.
Right, so that makes me wonder if they're really actives, or if I maybe just missed them.